Stevie Nicks Says She Is Not a Witch
When some people think of Stevie Nicks, they think of witchcraft and all that is dark and otherworldly. However, Nicks says she is not a witch. Here's how the Fleetwood Mac singer became associated with witches and what she said about the matter.
Stevie Nicks and 'Rhiannon'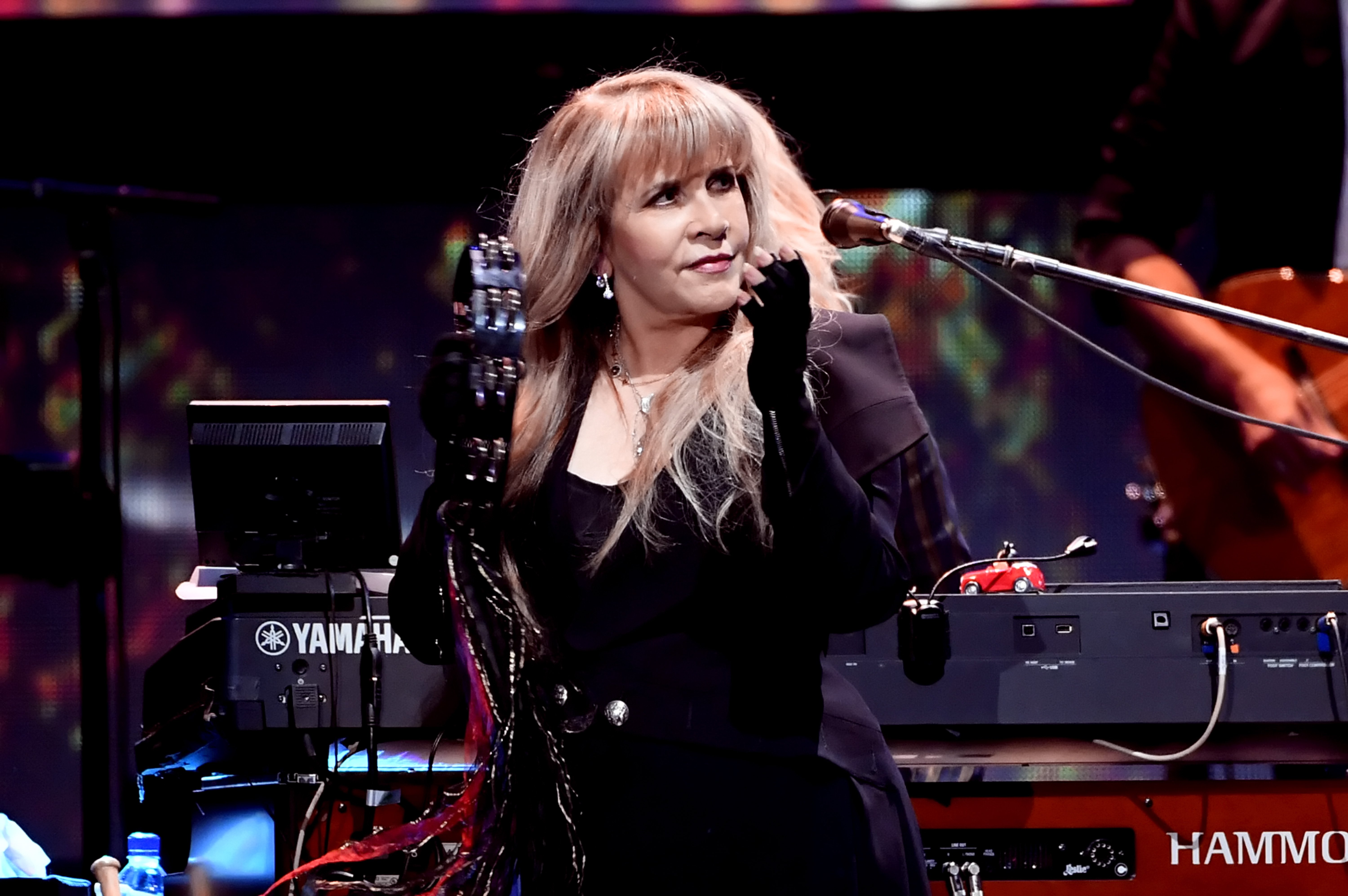 Rumors began to circulate about Nicks being a witch after the release of Fleetwood Mac's "Rhiannon" in 1976. According to Stephen Davis, author of Gold Dust Woman, Nicks would sometimes start the song during concerts by saying, "This is a song about an old Welsh witch."
Nicks says she began receiving letters from people saying she was a witch because of her style and the songs she wrote. "In the beginning of my career, the whole idea that some wacky, creepy people were writing, 'You're a witch, you're a witch!' was so arresting," she told the Los Angeles Times. "And there I am like, 'No, I'm not! I just wear black because it makes me look thinner, you idiots.'"
Is Stevie Nicks a witch? The singer says 'no'
Although Nicks is interested in mysticism and dressed up as a witch every year for Halloween when she was a child, she makes it clear she is not a witch. At one point, she says the witch rumors bothered her so much she stopped wearing black. However, Nicks resolved to stop being afraid of what others thought, and she went back to her signature look.
"I stopped wearing black for like a year," says Nicks in her Los Angeles Times interview. "Then I was just like, 'OK, just bring it freaks. I'm not going to wear apricot. You think whatever you want because I'm going to wear my beautiful, long black dress. Get out of my face.' I got mad. I went back to black."
Stevie Nicks' dark style
People continued to accuse Nicks of being a witch not only because of the way she dressed but also the way she performed onstage. Former Interview magazine journalist Ray Rogers described the singer as "straddling the spirit world and the rock-n-roll world" (via fleetwoodmac-uk.com). Nicks often wore long, black skirts or dresses, platform boots, a black top hat, and a dark shawl or black blouses with long, chiffon sleeves. She is known to dance around in her black outfits as if communicating with an unseen being.
Nicks told Interview magazine that mysticism has always been part of her work and style. She says she dresses the way she does because "twirling around in chiffon" is fun. She also wants to have a "mystical presence."
"Having a little bit of the spiritual is ultimately better than having none," says Nicks in her discussion with Interview magazine. "For me, the whole idea of twirling around in chiffon onstage is a whole lot more fun than standing there in a straight dress that doesn't move."
Nicks made a conscious decision to incorporate mysticism into her life and work. "A long, long time ago, I decided I was going to have a kind of mystical presence, so I made my clothes, my boots, my hair, and my whole being go with that. But it wasn't something I just made up at that point. It's the way I've always been. I've always believed in good witches–not bad witches–and fairies and angels."
Follow Sheiresa Ngo on Twitter.
RELATED: Stevie Nicks Says Her Abortion Is Why Fleetwood Mac Existed