Stevie Nicks Shared the Fan Behavior That Makes Her Cringe: 'I'll Sue'
Stevie Nicks fans may want to buy flowing dresses or black top hats to imitate the musician. There's one thing that she doesn't want fans to do, though.
Ever since she joined Fleetwood Mac, Stevie Nicks has drawn an impressive number of fans. Her unique style and onstage presence have also inspired these fans to imitate her look. While she values her fans, she shared that one type of behavior makes her uncomfortable.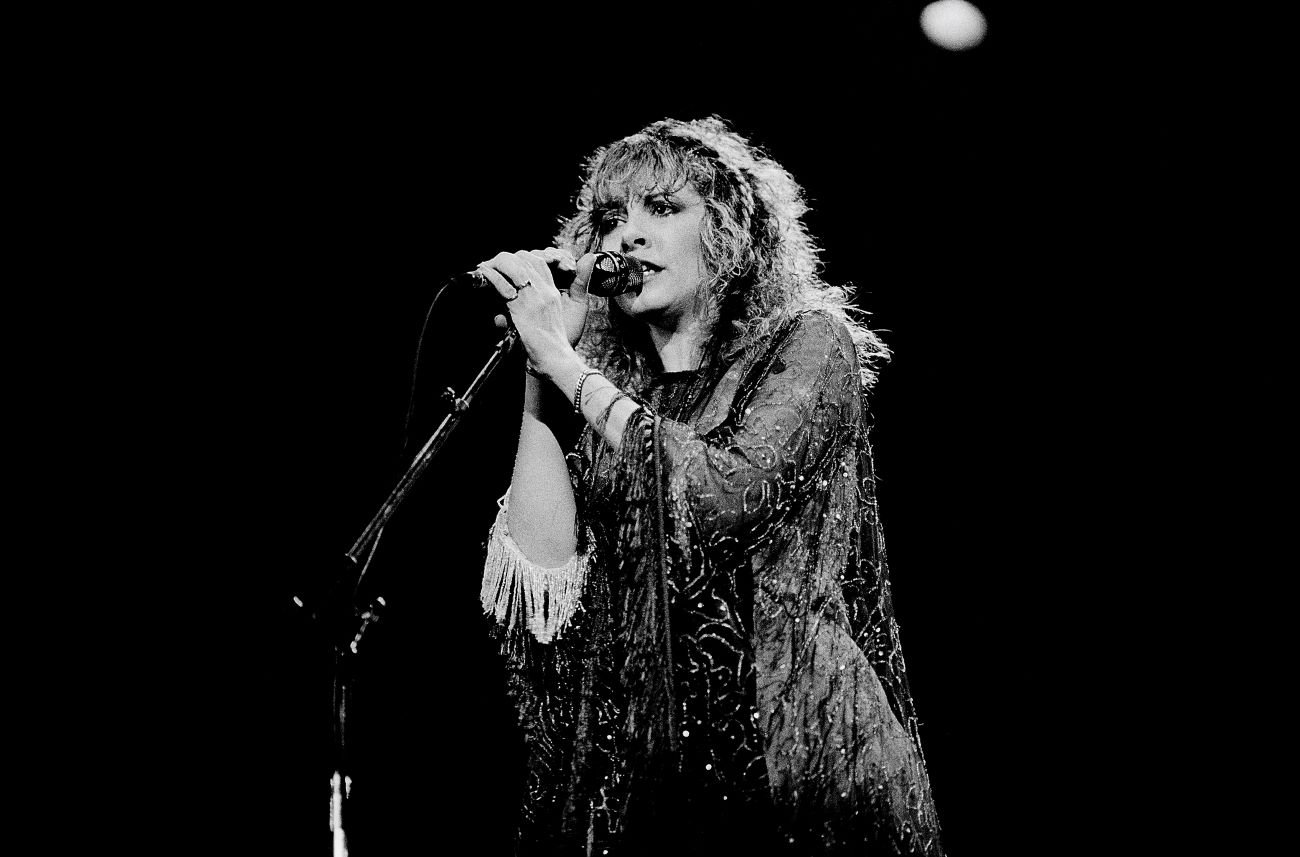 Stevie Nicks has a significant fan following
Although some reviewers criticized Nicks when she first joined Fleetwood Mac, she picked up a significant fan following. By 1976, just a year after she joined the band, it was clear that she was the primary attraction for many concertgoers. 
"This was truly a gig I'll never forget," Mick Fleetwood said, per the book Gold Dust Woman: The Biography of Stevie Nicks by Stephen Davis. "As I looked out from my drum riser at the crowd that jammed the huge football stadium, I realized I was looking at hundreds — no, thousands — of girls dressed exactly like Stevie in black outfits, many sporting top hats, Stevie's new stage costume, which they must have seen in magazines and on TV."
He shared that the crowd danced feverishly to Nicks' signature songs.
"At the point in our set when Lindsey [Buckingham] played the guitar intro to 'Rhiannon,' and Stevie stepped to the front of the stage and told them that this was a song about an old Welsh witch, these girls went bonkers — barking mad! — swaying and singing along and really giving themselves to the spirit of the thing."
She shared the type of fan behavior that made her uncomfortable
While Fleetwood said that Nicks looked like she was "in heaven" while facing these fans, she said that there are certain types of behavior she doesn't like. She discovered this while rehearsing for a solo show.
"I came out of the stage door and a girl was crying hysterically," Nicks said. "I can never walk away from someone in tears, so I asked what was wrong. She said, 'Will you sign my arm?' So I did. The next night she was back with her arm tattooed with my name!" 
Nicks told the girl that she shouldn't have gotten the signature tattooed. The next night, however, the fan's friend came hoping to get her own arm signed and tattooed.
"So I told her, 'I'm not touching your arm. Don't put that on me. I'll sue! That's pain. I'm not here to bring pain. I'm here to bring you out of pain. It's not funny — it's stupid.' It bummed me out. I felt like I'd come out the wrong door."
So, any fan looking to express their undying devotion to Nicks may want to find another route.
Stevie Nicks offers advice to some fans
Given her long and successful career, it's no surprise that many musicians count Nicks as an inspiration. For those who get the chance to meet her, Nicks is happy to offer advice she's picked up from years working as a musician. She's offered people like Harry Styles, Sheryl Crow, and the Haim sisters advice on music videos, solo acts, and navigating fame. Nicks also gives away crescent moon necklaces that she describes as lucky charms.
"We'd heard about them from other friends who'd received them saying that they hold the power of the moon," the Haim sisters said, via Vogue. "Stevie said when we meet someone who is in need of healing, it's our job to give it to them."