How Stevie Nicks' Song 'New Orleans' Inspired Fans to Read Anne Rice's Books
Stevie Nicks' song 'New Orleans' reinvigorated Anne Rice's career. The late author sent a message on social media confirming it.
If you think Stevie Nicks and Anne Rice would have been good friends, you're not wrong. Nicks might not be a witch any more than Rice was a vampire. However, just by looking at the successful women, you can gather they would have been able to strike up an interesting conversation about the sun, moon, and stars. We know they'd definitely have exciting discussions about one magical city in particular too.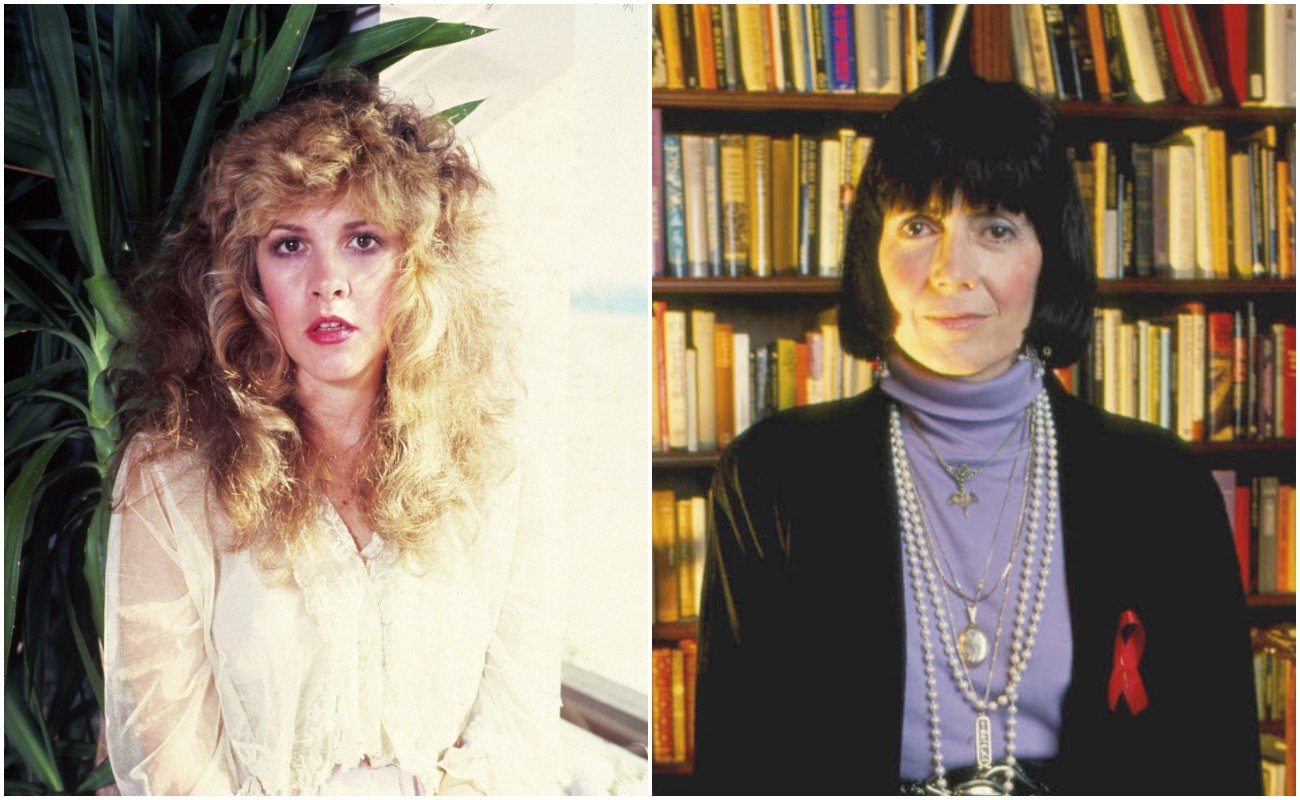 Stevie Nicks loves New Orleans just as much as Anne Rice
In 2011, Nicks released her seventh studio album, In Your Dreams. The album includes "New Orleans," where Nicks explicitly describes her love for Louisiana's famous city.
The song is like a love letter to the city with lyrics like, "In the city of dreams lies the city's ghost. There's a beginning. There's a middle and an end. In this city we reach out for the middle ground. We throw a great party so hearts will start to mend.
However, Nick's "New Orleans" is also a letter of reassurance. After Hurricane Katrina ripped the city apart, Nicks jumped to write a song in response. Still, Nicks wanted a song that would inspire rebirth and talk about how the city would live on.
"In the midst of the sea of dreams lies a perfect storm," she sang, "In the sea of tears lies a city ghost. In the spirit of the Mardi Gras. Well, the people hope that their lives will get better."
"It's about New Orleans. It's about Hurricane Katrina … your worst nightmare," Stevie said in the In Your Dreams documentary. "I was horrified. So I immediately started writing my poem. I had to be very careful as a songwriter. I was conflicted on how much I could say. Yes, you have to say, 'We may never forgive you, government of the United States, for not coming to our aid. But we are a flamboyant city, and we are a city of music, so we will come back.'"
Nicks' "New Orleans" also reminisces about some of the most iconic aspects of the city, including a certain writer. "I wanna get a room in New Orleans. I wanna sing in the streets of the French Quarter. I wanna dress up, I wanna wear beads. I wanna wear feathers and lace. I wanna brush by Anne Rice. And go down Bourbon Street."
Anne Rice loved the song and not just because of her own love of her hometown, which serves as the backdrop of some of her most famous books, including her series, The Vampire Chronicles.
Nicks' 'New Orleans' gave Rice new readers
Toward the end of "New Orleans," Nicks changes the line, "I wanna brush by Anne Rice" to "I wanna brush by the vampires," but they're practically the same. Rice found fame writing about vampires living in New Orleans in the 1970s. Her first, Interview with the Vampire, is one of her bestselling.
Fans who weren't familiar with Rice and her work probably didn't understand the connection. However, one fan took it upon themselves to look Rice up, and they found something they liked. They started reading her books.
According to StevieNicks.info, Rice wrote about Nicks' song on her Facebook on May 9, 2011. The author said she was honored that Nicks mentioned her in the song, which also helped her get new fans. She wrote, "I just got my first letter from a person who says he is trying my work thanks to the new Stevie Nicks song.
"I must say, I'm honoured by Stevie Nicks' mention of me in that song. And hearing it makes me so homesick for New Orleans. So homesick for the oaks of uptown and the twilight sky over the Garden district, and the breeze off the river."
Rice wasn't the only vampire that inspired Nicks on the album. The Twilight series inspired her to write her song "Moonlight (A Vampire's Dream)." However, Nicks' interest in the occult and New Orleans didn't end there.
Nicks returned to New Orleans — sort of
The AV Club gave In Your Dreams a D+. They wrote that Nicks "sounds as clueless about the outside world as she does about matters of the heart, becoming increasingly unmoored from a real-world depiction of the city as she sings about the merits of Bourbon Street, the French Quarter, beads, feathers and lace, and brushing up against author Anne Rice."
However, this didn't discourage the singer. It definitely didn't taint her love of the city either. Nicks returned to New Orleans later — well, sort of. She filmed a cameo in Ryan Murphy's American Horror Story: Coven in 2013. Nicks played a white witch version of herself who visits the young witches at Miss Robichaux's Academy for Exceptional Young Ladies in New Orleans. She came in, sang "Seven Wonders," and made her grand exit.
Like "New Orleans," that season of the hit show also capitalized on the city's history of the occult, exploring witchcraft and voodoo. What would have taken it to the next level is if Rice made a cameo along with Nicks.
Still, the singer and the author didn't need to star on a show about New Orleans to know that they were great fans of each other's work. Unfortunately, Rice and Nicks never got to meet, but their love of New Orleans united them.