Why Stevie Nicks Was 'Terrified' of Filming Her 'American Horror Story: Coven' Cameo
Stevie Nicks is not a witch. She just loves "witchy" things almost as much as she loves music. Nicks loved to dress as a witch every Halloween as a kid, but she's never dabbled in witchcraft and hates it when people claim that she does. So it was definitely a surprise when Nicks appeared on Ryan Murphy's American Horror Story: Coven, which is about witches. She played a version of herself that practiced witchcraft.
But why did Nicks want to play a witch when she's spent most of her career trying to remind everyone she doesn't do witchcraft? More importantly, why would Nicks agree to do a cameo when she's terrified of acting?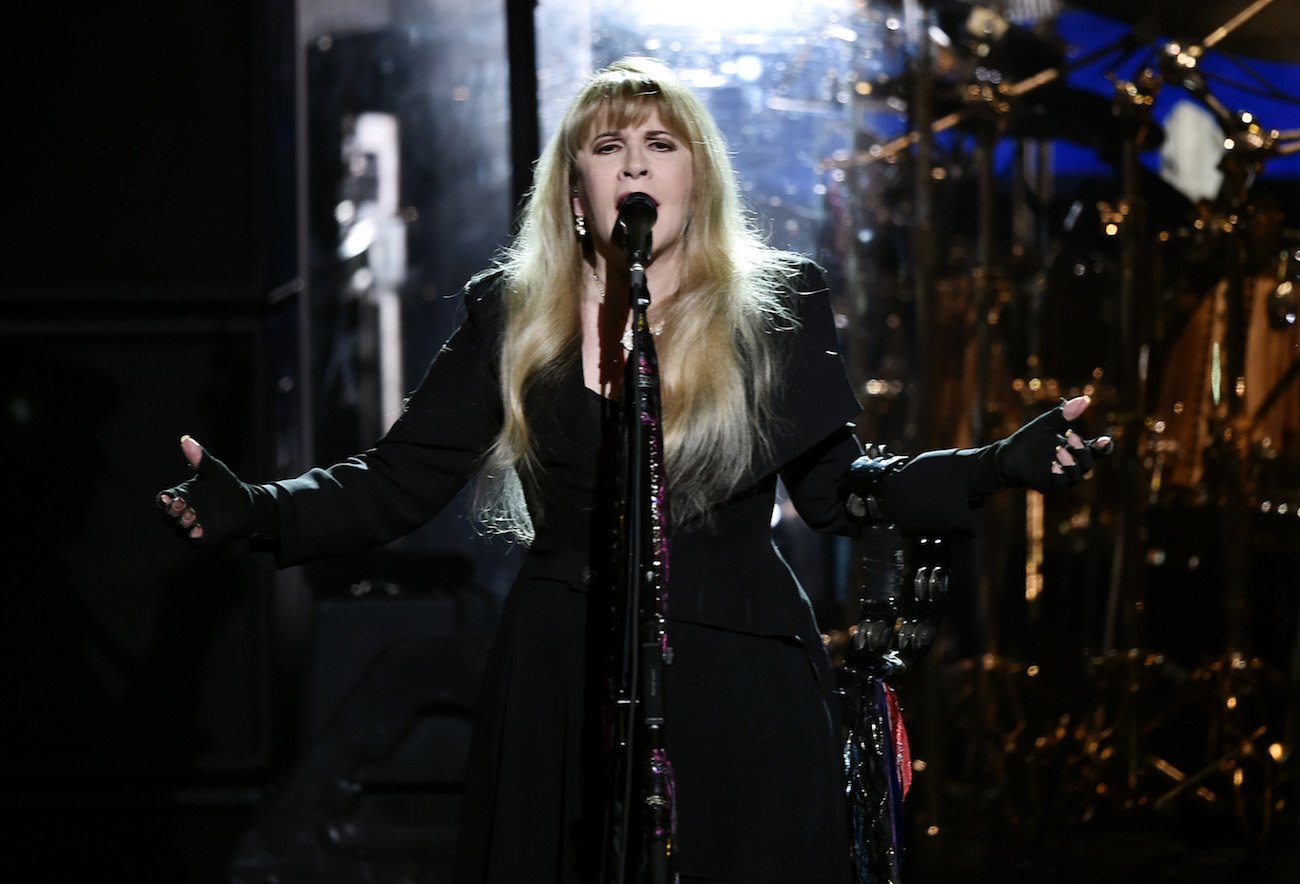 Stevie Nicks' involvement in 'American Horror Story' changed multiple times
Initially, Ryan Murphy only got in touch with Nicks to ask if they could use her music in American Horror Story: Coven. Murphy and Nicks had worked together before. Nicks had consulted during Glee's Fleetwood Mac episode.
Murphy explained Lily Rabe's character, Misty Day, and how she's an outsider who lives in the swamps listening to Nick's music on repeat. When Nicks heard that, she agreed to let them use her music. "That's what I've always ever wanted to be to anybody with my songs," Nicks told the LA Times. "So, yes, I was like, 'absolutely, Ryan, you can use my music.'"
After that, she didn't think about it because she went on vacation and then on tour with Fleetwood Mac. While on tour, Nicks watched the first episode of Coven. She was "taken aback" by how well Murphy writes about misfits. Then John McVie was diagnosed with cancer, and suddenly, Fleetwood Mac canceled their tour, and Nicks had some free time.
So she decided to call Murphy and suggest that she do a "walk-through" on the show. "I thought, I'll walk through in this beautiful black dress and fantastic hair and makeup and maybe a fan and I'll just walk through and say, 'Hello, witches!' and just keep walking," Nicks said. That's not exactly what Murphy had in mind.
Nicks was terrified when she found out she had lines during her cameo
Nicks said that Murphy never actually asked her to appear on the show, most likely because he knew she'd be on tour, and Nicks had told him that she wasn't an actor. But Nicks called Murphy and said, "I want to make just a visionary appearance. Like in a moment of a dream. Let me walk through Misty's mind and out."
Nicks should have reiterated that she isn't an actor. Murphy sent her the script at 2 a.m. the night before filming, and she saw that she had lines in her cameo. Suddenly she was terrified; this wasn't what she signed up for. "I read it and I was like, 'Do they know I'm not a good actress? Do they not know about my Alamo incident in the fourth grade?'" Nicks told the LA Times. "I was pretty terrified. Honestly. I did not sleep well. Yvonne, I was scared to go there. When I went in the next day, I thought, I'm never going to be able to do this."
"I got up at 7 o'clock in the morning so I could drink coffee for three hours like the basket case that I am; I got dressed and I got down there at 10 a.m., which is early for me because I don't go to sleep until 4," Nicks said. Walking on to the set for Nicks was "like a dream."
Nicks hates acting because of a bad experience in a school play
We know why Nicks agreed to do the cameo, despite her views of witchcraft. But why did she agree to it if she was afraid of acting? She didn't know she'd have any lines; Nicks just thought she'd have a "walk-through." When she saw her lines, she could have dropped out.
Nicks has had some bad experiences acting before. Her mother tried to get her into acting when she was a kid and signed her up for her school's play, The Alamo.
"I am not an actress," Nicks explained. "Since the fourth grade when I was in an incredibly bad play about the Alamo and I played one of the last two surviving girls in the Alamo, I have vowed to stay away. It was so bad that I came home–in the fourth grade!–and said to my mother, 'never put me in a drama class again! Ever! Because I suck! I'm a terrible actress, mom!' From that moment on, all I did was sing. I have never had much faith in me as an actress."
So we can understand Nicks' fright. But apparently, Nicks didn't have too much of a bad time on set because she reprised her role in American Horror Story: Apocalypse. Fans loved both of Nicks' cameos but don't expect to see her star in anything else ever again.