Stevie Nicks Wants Harry Styles for Her 'Rhiannon' Inspired Fantasy Series
Stevie Nicks has expressed her love of Harry Styles' music on more than one occasion. She's compared his album Fine Line to Fleetwood Mac's seminal album, Rumours, and praised his decision to create songs that evoke '70s rock. Evidently, though, she's a fan of more than just his music. Nicks wants to capitalize on Styles' burgeoning acting career and have him star in a TV series based on the song "Rhiannon."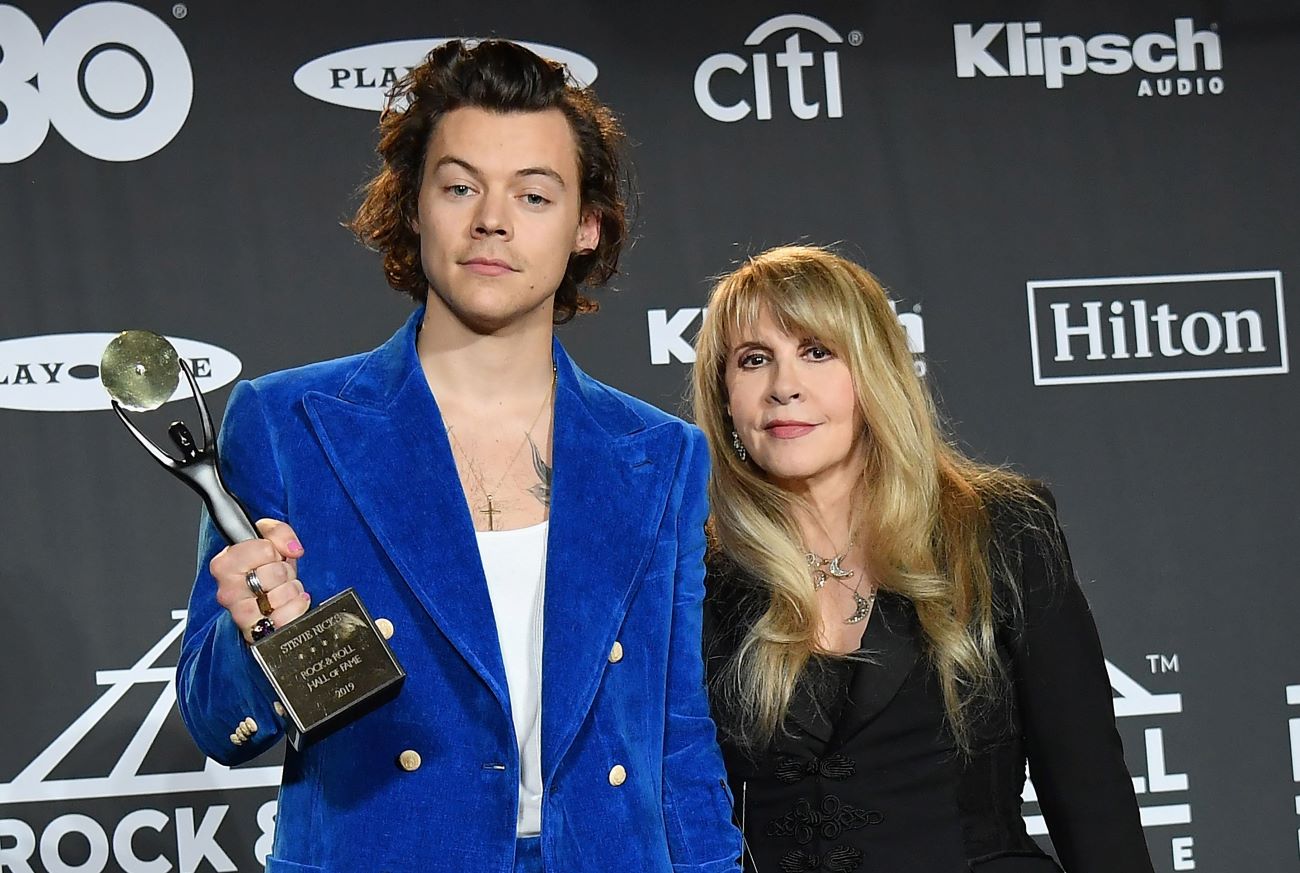 Stevie Nicks and Harry Styles have formed a friendship
After meeting backstage at a Fleetwood Mac concert, Nicks and Styles became fast friends. The pair have performed together and praised one another's music. Nicks thinks of the young singer as her love child with bandmate Mick Fleetwood.
"He's Mick [Fleetwood] 's and my love child," she told Rolling Stone. "When Harry came into our lives, I said, 'Oh my God, this is the son I never had.' So I adopted him."
In 2019, Styles inducted Nicks into the Rock and Roll Hall of Fame. In his speech, he spoke about how much her music meant to him as a child and the importance of her friendship now.
"She is more than a role model — she's a beacon to all of us," he said, per Us Weekly. "Whenever you hear her voice, life gets a little bit better. When she sings, the world is hers, and it is yours. She is everything you've ever wanted in a lady, in a lover, in a friend."
She wants Harry Styles to star in her upcoming TV series
In 1973, Nicks wrote the song "Rhiannon" about a Welsh deity. After the song gained popularity, a fan sent her author Evangeline Walton's books about the folklore. Hooked, Nicks bought the rights to the books with the goal of making a movie. Further along the development road, however, it was decided that the story would function better as a miniseries.
In 2020, Nicks signed on with a studio and set aside ten songs for the project. She told the LA Times that Styles is "definitely in the running" for a starring role.
"There's an amazing part for Harry," she told Vogue. "My favorite character in the series is the only man who goes through all four books. He's a magician who doesn't wanna be king, and I think Harry would just be so perfect."
Nicks believes she has a solid chance of getting Styles for the part.
"I'm going, 'Harry, you cannot age one day. You have to stay exactly as you are,'" she said. "I've already sold him on it."
While the project is a long way from fruition, fans of Styles and Nicks can remain hopeful for this new form of collaboration between them in the future.
Stevie Nicks does not like acting
Though Nicks is the driving force behind this project, she said any onscreen involvement would be limited to "riding by on a white horse or something." Nicks is a seasoned performer, but she does not like acting. She appeared on American Horror Story, but she described the whole experience as terrifying.
"I was pretty terrified. Honestly. I did not sleep well," she told the LA Times. "Yvonne, I was scared to go there. When I went in the next day, I thought, I'm never going to be able to do this."
Though she did make it through her scenes, there's little chance of Nicks stepping in front of the camera for her TV series.
RELATED: Stevie Nicks Supported Christine McVie's Exit From Fleetwood Mac: 'Pack Your Bags and Go Home'
Related post url: