Stevie Nicks Will Never Retire: 'When You Retire, You Just Get Small'
Stevie Nicks has been performing music since she was 5 years old. Her grandfather taught her to sing harmonies, and they performed together at local saloons all around Phoenix, Arizona. Her mother wanted her to be an actor, but after a horrible experience in her school's play, Nick's trashed that idea. Music had already wormed its way into her heart, anyway.
Later, she met Lindsey Buckingham and started touring with his band, Fritz. They joined Fleetwood Mac in 1975, and the rest is history. Today, Nicks is one of the most famous frontwomen in rock. So, why would she ever want to retire? Nicks is having some of the most exciting years of her career right now. Why waste away in retirement? Music and performing are all she knows.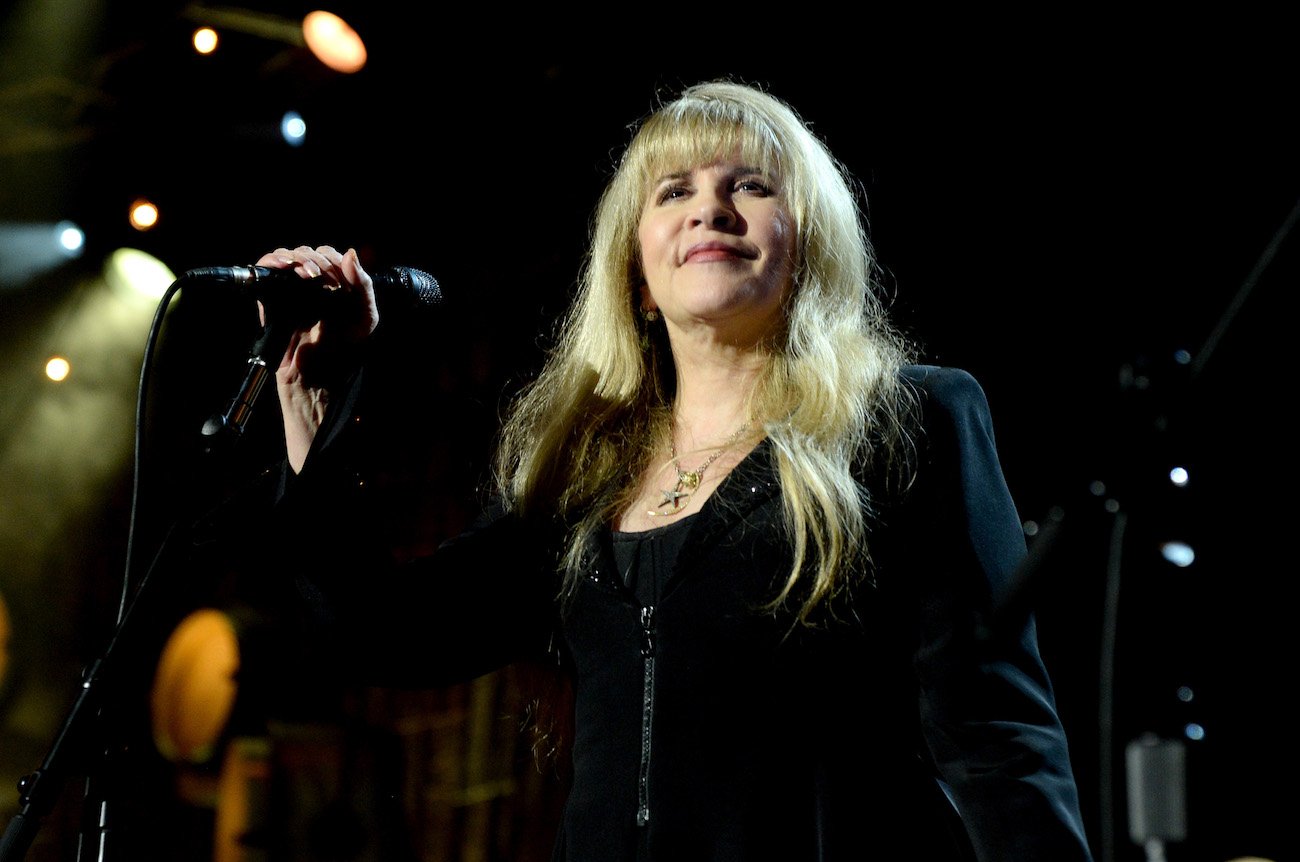 Stevie Nicks will never retire
Nicks told Rolling Stone in 2017 that she'll never retire. No matter how old she is, she will try to continue giving the fans what they want. However, Nicks hasn't continued all these years just for the fans; she does it for herself too. She has to keep at because someone once told her some interesting retirement advice.
"I'll never retire," she said. "My friend Doug Morris, who's been president of, like, every record company, said to me once, 'When you retire, you just get small.' Stand up straight, put on your heels, and get out there and do stuff."
Nicks has become even busier in her later career. She's filmed two cameos in Ryan Murphy's American Horror Story, she's been inducted into the Rock & Roll Hall of Fame a second time, she's continued to do inspiring work with the USO. Not to mention, she's still touring solo and with Fleetwood Mac.
Nicks has so much more she wants to do, even if it's not recording new albums or singing her hits to thousands of fans.
Nicks wants to do a project outside of music
In the same Rolling Stone interview, Nicks touched on what else she wants to do in her career, and it doesn't involve music. The project centers around a character she's made popular through one of her most famous songs, "Rhiannon."
"I want to do a miniseries for the stories of Rhiannon and the gods of Wales, which I think would be this fantastic thing, but I don't have to retire from being a rock star to go and do that. I can fit it all in," Nicks explained. During live performances of "Rhiannon," Nicks would introduce the song saying, "This is a song about a Welsh witch." However, Nicks later clarified that Rhiannon was really a powerful goddess.
Nicks also told Vulture that she hopes to one day make a cartoon based on the Buckingham Nicks song "Goldfish and the Ladybug."
However, these projects are "way down the line," she told Vulture. "Those are, like, when I'm 70 and can rent a castle in Scotland on the ocean and just take all my books and go there and write. I have all these amazing projects that I'm never gonna get to, for years and years and years and years. So the things that I can get to now, you need to start. Stop wasting time, basically."
Well, Nicks is now 73 years old, and we're still waiting for a "Rhiannon" miniseries and a "Goldfish and the Ladybug" cartoon, amongst other projects.
Nicks doesn't feel her age
Despite having a horrible sleeping schedule and getting whipped out at shows, Nicks told Rolling Stone that she didn't feel her age, which was 68 at the time. In fact, she thought she looked pretty good for 68, compared to other people younger than her.
"I don't like that number," she said. "I see lots of people my age, and lots of people who are younger than me, and I think, 'Wow, those people look really old.'"
Nicks thinks that if you want to look young, you try. Some people just don't care about trying. "I think it's because they didn't try," she said. "If you want to stay young, you have to make an effort. If I wanna walk onstage in a short chiffon skirt and not look completely age-inappropriate, I have to make that happen. Or you just throw in the towel and let your hair turn white and look like a frumpy old woman. I'm never gonna go there."
We love that Nicks tries to make an effort in everything she does, either with her looks or her career. There are plenty of fans out there who'd gladly pay to hear Nicks sing "Rhiannon" for years and years to come.