Stevie Nicks Wrote Fleetwood Mac's Only No. 1 Single 'in About 10 Minutes'
It may be hard to believe, but the acclaimed music of Fleetwood Mac's iconic Rumours album is more than 40 years old. Even more amazing is the fact that the band's sole No. 1 hit single took Stevie Nicks a mere ten minutes to write. What does Nicks have to say about it?
Fleetwood Mac's popular album 'Rumours'
If ever there were a soap opera set to music, it's Rumours. Thanks to songs such as "Gold Dust Woman," "Go Your Own Way," "Don't Stop," and "Dreams," the album that chronicled the romantic breakup of two couples at the core of the band soared to the top of the Billboard Top 200 list and stayed there for a mind-boggling 31 weeks. Despite taking only a few minutes to compose, "Dreams" cemented Stevie Nicks' place as one of Fleetwood Mac's most stalwart songwriters.
It didn't make the top of the chart as "Dreams" did. But "Go Your Own Way" came pretty close. It was the first single off Rumours and the first to become a top-ten hit in the U.S. Other songs such as "Never Going Back Again," "You Make Loving Fun," and "Gold Dust Woman" dominated radio airwaves. In 1978, Rumours took home the coveted Grammy for Album of the Year.
Rolling Stone ranked 'Dreams' the No. 9 best song of all time
Rumours was the band's 11th studio release. It marked the second Fleetwood Mac album featuring relative newcomers Lindsay Buckingham and his then-sweetheart, Stevie Nicks. While recording their follow-up to the super successful Fleetwood Mac, Nicks and Buckingham broke up. This split can be heard in the latter's thumping "Go Your Own Way" and Nicks' ethereal response, "Dreams."
During a respite from recording at the Record Plant in Sausalito, California, Nicks found her way to a room once inhabited by Sly and the Family Stone. According to Rolling Stone, Nicks found a tune she liked. And she composed "Dreams" in record time.
"I sat down on the bed with my keyboard in front of me, found a drum pattern, switched my little cassette player on, and wrote 'Dreams' in about 10 minutes. Right away I liked the fact that I was doing something with a dance beat, because that made it a little unusual for me."
Nicks on her relationship at the time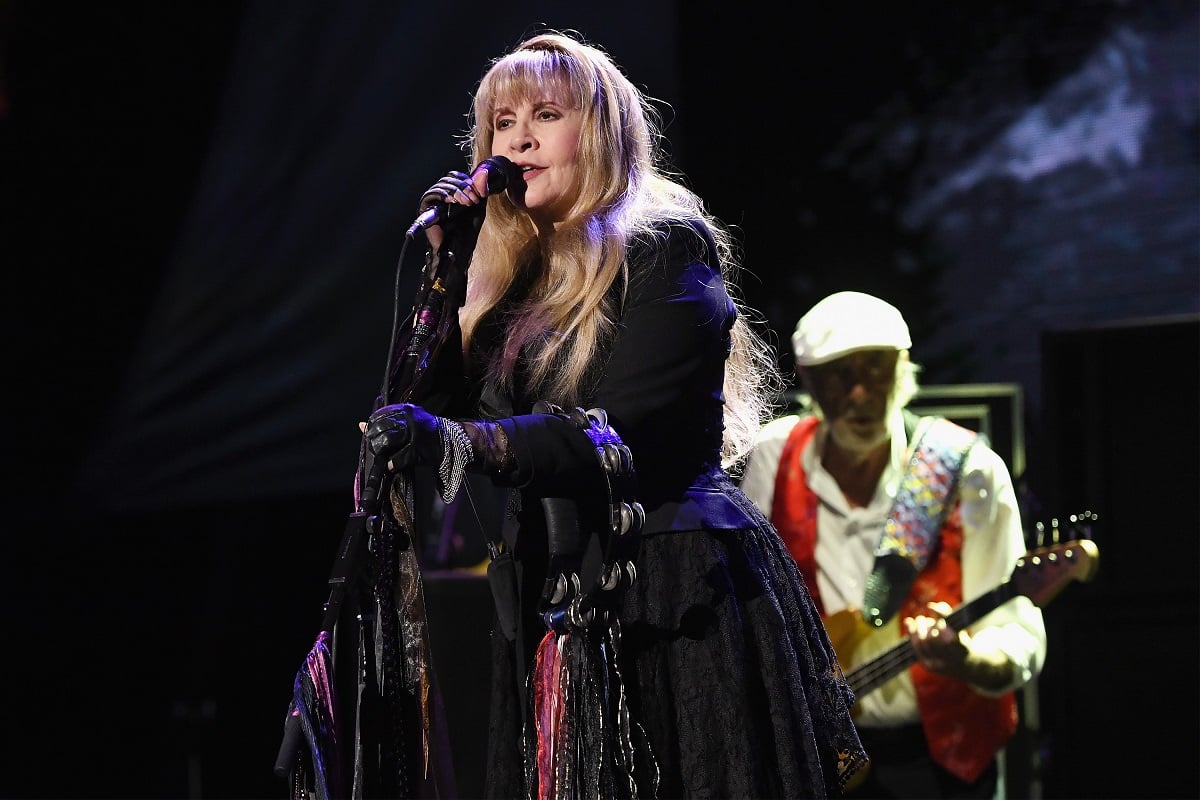 As Rumours progressed, a musical tug of war between Nicks and her ex became evident. After Buckingham smacked her upside the proverbial head with "Go Your Own Way," Nicks fired back with the subtle diss of "Dreams." According to Society of Rock, Nicks walked into the studio and handed Buckingham the cassette tape she'd made in Sly Stone's erstwhile hideaway. Noting the rough time the band was experiencing, Nicks remembered the scene well.
"Even though he was mad with me at the time, Lindsey played it and then looked up at me and smiled. What was going on between us was sad. We were couples who couldn't make it through. But, as musicians, we still respected each other – and we got some brilliant songs out of it."
RELATED: Fleetwood Mac: Which Band Member Has the Highest Net Worth?