Stevie Nicks Wrote 'Show Them the Way' After She Dreamt of These Political Figures
So many things inspire Stevie Nicks when she's writing songs. However, she doesn't go looking for inspiration. She prefers to be inspired naturally and unexpectedly. Nicks got her wish when her song, "Show Them the Way," came to her when she was least expecting it; in a dream.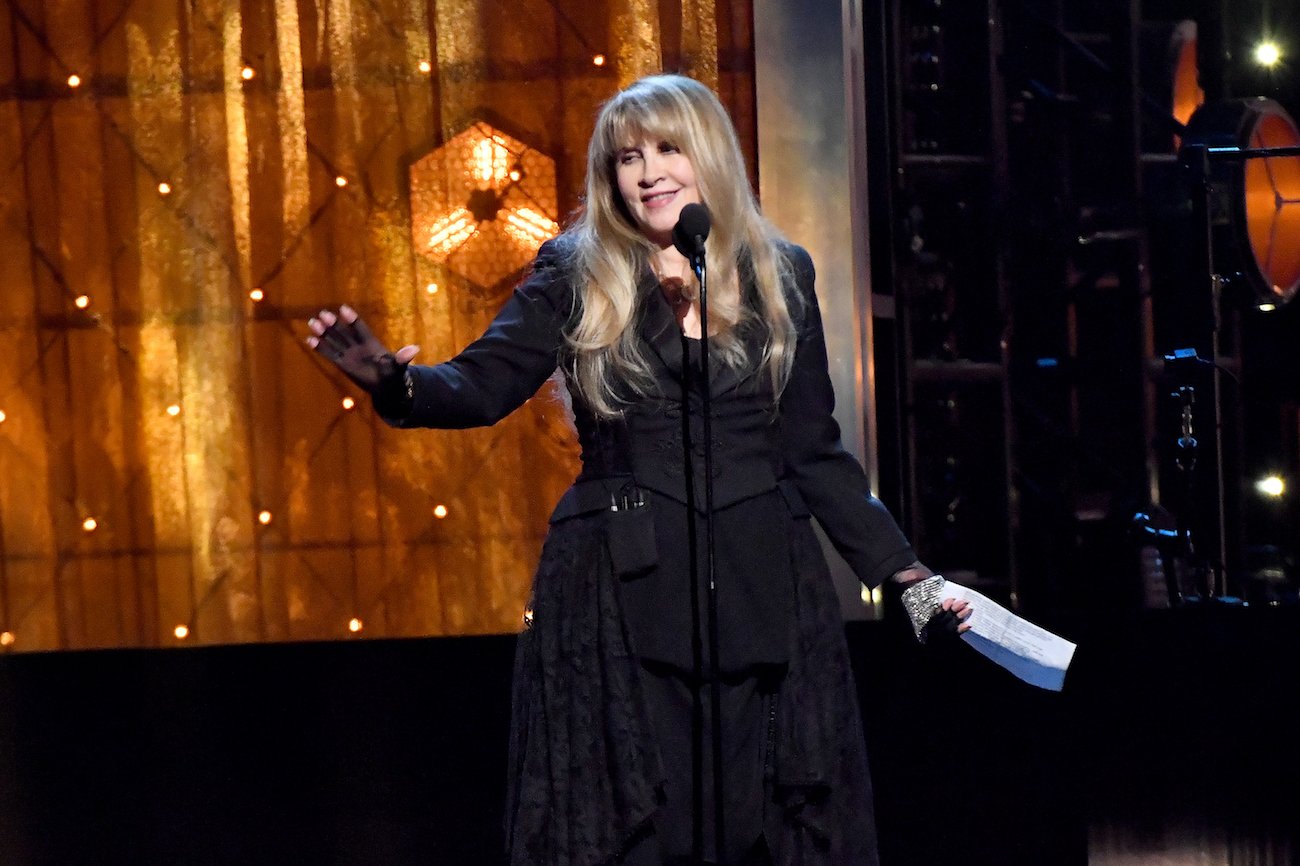 Stevie Nicks said a dream inspired her song 'Show Them the Way'
A dream that featured some of America's most famous political figures inspired Nicks' song "Show Them the Way."
In 2020, the Pocono Record wrote that the song "was born out of a dream Nicks had in the run-up to the 2008 presidential election. In it, she was invited to perform at a political benefit for icons of history. Martin Luther King Jr. led her by the arm into a ballroom where John F. Kennedy, Bobby Kennedy and John Lewis were seated, awaiting her.
"The dream was so vivid that the instant she awoke, she wrote it down and within days, put it to music. But it was only this year that she decided to record it for release."
They continued to write that Nicks' viewed the song as "a hopeful balm" during this "very strange and dangerous time." But the tune was always in the back of Nicks' mind.
RELATED: Stevie Nicks Said Songwriters Who Are 'Blissfully Happy' Can't Write Good Songs
Nicks initally called 'Show Them the Way' 'The Kennedys'
Initially, Nicks called "Show Them the Way" "The Kennedys."
In 2015, Nicks told MacLean's, "That was about a strange dream I had about meeting the Kennedy men, at a cocktail party benefit in the Hamptons. I went in to play the piano and sing [for the party] and Martin Luther King walked me down the hallway. It has this amazing part that I just think would fit with the world right now: 'Please God, show them the way. Please God, on this day. Spirits all gather round. Peace will come if you really want it. Peace will come if you fight harder. I think we're just in time to save it.'
"I'm ready for Jack Kennedy's dreams. I'm ready for there to be somebody leading the country that somehow puts some kind of a respect and charisma into things… basically the same thing that Clinton had."
However, Nicks told Rolling Stone that the dream came after she'd watched a lot of historical documentaries. While staying in St. Charles, Illinois, editing a concert film for two months, she had a lot of time to kill.
"Then, what happened was, one night I went to bed and I had this dream," she said. "I dream a lot, but I almost never remember the dreams. I'll wake up and I'll go, 'I remember a train with some people smiling and waving at me that went by really fast,' and that's it. This dream was so really real that there was a little bit of me, for a minute, when I sat up was like, 'Did that just really happen?' So I wrote it down just in prose. I didn't write it down in a seven verse poem. I wrote down what had happened."
RELATED: Stevie Nicks Turned Down an Early Version of This Blondie Hit
Nicks dedicated the video for 'Show Them the Way' to President Biden and Vice President Harris
"Show Them the Way" almost appeared on Nicks' 2011 album In Your Dreams. However, it was too late to add it at the time. But Nicks released the song at the perfect time. Following 2020, many people needed a song like "Show Them the Way."
There are two versions of "Show Them the Way." Nicks recorded the first with Dave Grohl on drums and her friend Dave Stewart on guitar. Later, Nicks released a piano version and a video that showed figures like Martin Luther King Jr. and John F. Kennedy that Cameron Crowe directed.
Then, Nicks dedicated the video to President Biden and Vice President Harris. "I dedicate this lyric video for 'Show Them the 'Way' to our new President and Vice President  — Joe Biden and Kamala Harris — and to all of the brilliant people they have already gathered to go on this adventure with them," Nicks tweeted (per Rolling Stone). "Good luck to you both. I know you will do great things. I feel it in my bones."
Whatever fans' political opinions are, "Show Them the Way" is a pretty inspirational song. It's Nicks' "I Had A Dream" speech. Martin Luther King Jr. even inspired her to write it.