Storm Star Breanna Stewart Is the 1st WNBA Player in a Decade With a Signature Shoe: It's 'About Time'
The WNBA is experiencing growth like never before. After becoming a leading voice of the 2020 political discourse, fans flocked to the women's basketball league to support its athletes. Stars like Breanna Stewart went from niche players in a minor but growing league to household names. Now, the reigning WNBA champion is set to release her shoe, too. 
Who is Breanna Stewart?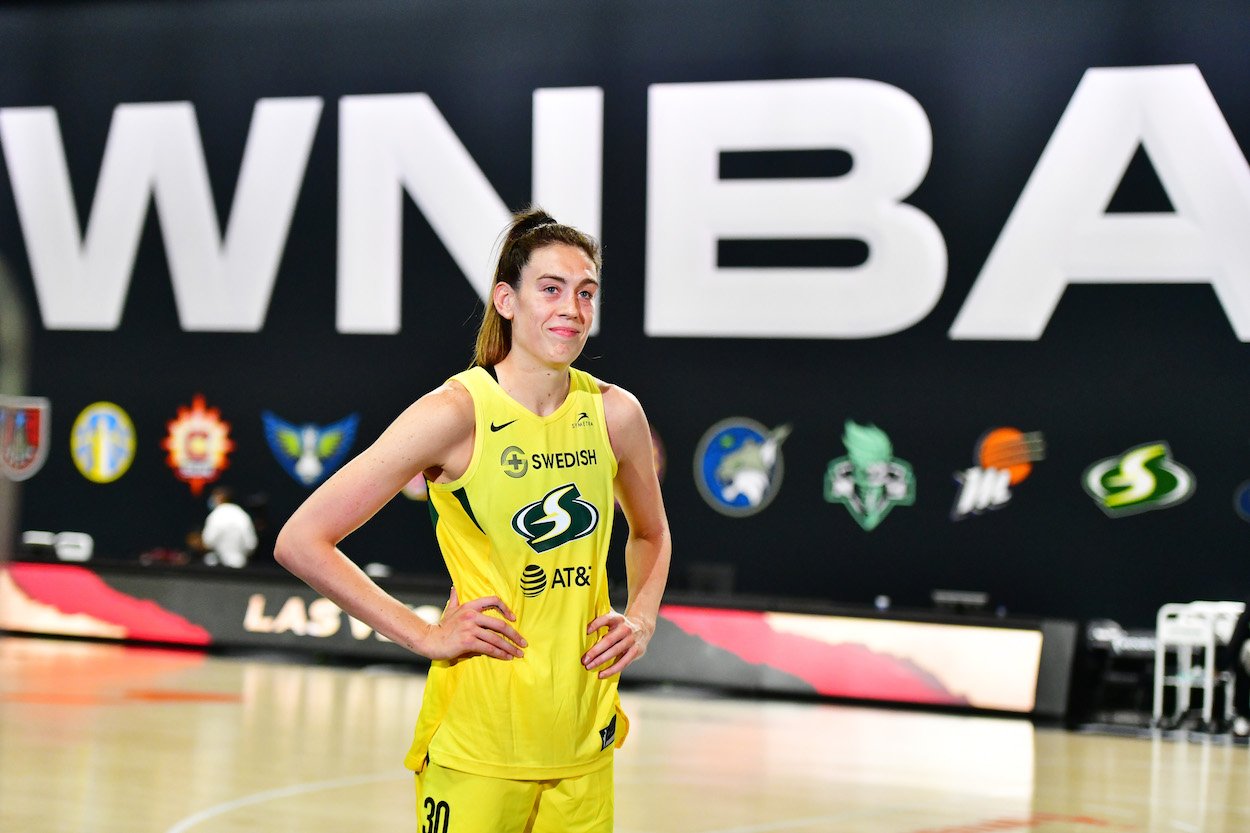 RELATED: WNBA Star Renee Montgomery Makes a Life-Changing Career Decision That Is Way Bigger Than Basketball
Stewart has been turning heads on the basketball court since she was one of the most sought-after prospects in college basketball. However, her career at UConn, where she headlined one of the greatest college teams in history, showed her true worth. To say she was dominant is an understatement. Stewart's Huskies won all four Championships during her time at the school.
One look at Yahoo Sports shows how she did it, too. Stewart can score, pass, rebound with the best of them, and shoot from pretty much anywhere on the court. As such, when the Seattle Storm had the first pick in the 2016 WNBA Draft, Stewart was a no-brainer. Once there, she hardly disappointed.
According to Basketball-Reference, Stewart entered the league averaging 18 points and nine rebounds a game. She's only gotten better since. In 2018, she was the league MVP, and in the 2020 Bubble, she teamed up with veteran Sue Bird to win the Championship. Add that to her vocal support for racial justice, LGBTQ issues, and other political hot topics, and she's the perfect face for a new shoe deal. 
That finally came in 2020.
If Stewart's shoe fits…
RELATED: What Is Soccer Star Megan Rapinoe's Net Worth?
Stewart was predictably excited about her signature shoe. Upon breaking the news, she spoke about the nine women who came before her and how they helped her get to where she is today.
"Anytime you hear signature, I think that's jaw-dropping. Eye-opening," Stewart told The Boardroom. "There haven't been many — especially on the women's side. The Air Swoopes, a while back. So for Puma to be able to kind of put the signature element out there, respect me enough where they think that I deserve a signature shoe is super exciting."
However, CBS notes how the impact of the shoe can go further than Stewart or the WNBA, but women's sports in general. For too long, save for outliers like Serena Williams and behemoths like Ronda Rousey, male athletes dominated sports advertising. As the WNBA goes into hyperdrive and tries to grow its brand even further, Stewart's signature shoe could help pave the way for normalizing female athletes to get deals like this. 
Los Angeles Sparks star Chiney Ogwumike was happy to see the step in the right direction. After all, the WNBA is in the middle of its most significant growth to date. Stars such as Stewart, Liz Cambage, and Sabrina Ionescu have been forcing the camera in their direction with dominant play and outspoken messages on and off the court. Ogwumike saw Stewart's signing as a good, albeit late, accomplishment.
"About time — that's my reaction," Ogwumike told Insider. "And it's amazing. I know there's so many reasons that people think that this should not happen, but let's talk about the reasons why it should."
However, with so many people excited about the groundbreaking shoe, there's still one crucial detail that remains: the shoe itself. 
Breanna Stewart designs the shoe
As of right now, the LA Times notes that the shoe is still in its planning stage, although more details are sure to come out. PUMA and Stewart will work hand-in-hand to make sure that it doesn't disappoint.
The last WNBA star to get a signature shoe was Chicago Sky star, Candace Parker. Parker worked with ADIDAS at the height of her career to design several signature shoes. Since then, they've mostly gotten colorways on more established brands. 
The WNBA has made big headlines on and off the court these last two years. From the social justice work the players put in during the 2020 season to the exciting brand of basketball on the court, the ball is in the league's court. Now, we wait and see where Stewart, the WNBA, and women's sports go from here. Whatever it is, it's sure to be something special.