'Stranger Thing 4': Demobats 'Act as Spies' According to the Duffer Brothers
The Duffer Brothers recently gave fans more about the new creatures from the Upside Down in 'Stranger Things 4' - Demobats.
We're weeks away from the premiere of Stranger Things 4, and to say we're excited is an understatement. The day before Netflix released a full-length trailer for the upcoming season, some photos made the rounds on social media that hinted at a potential new creature to terrify the masses – Demobats. Granted, it's not the Demospiders we hoped for, but we'll take it.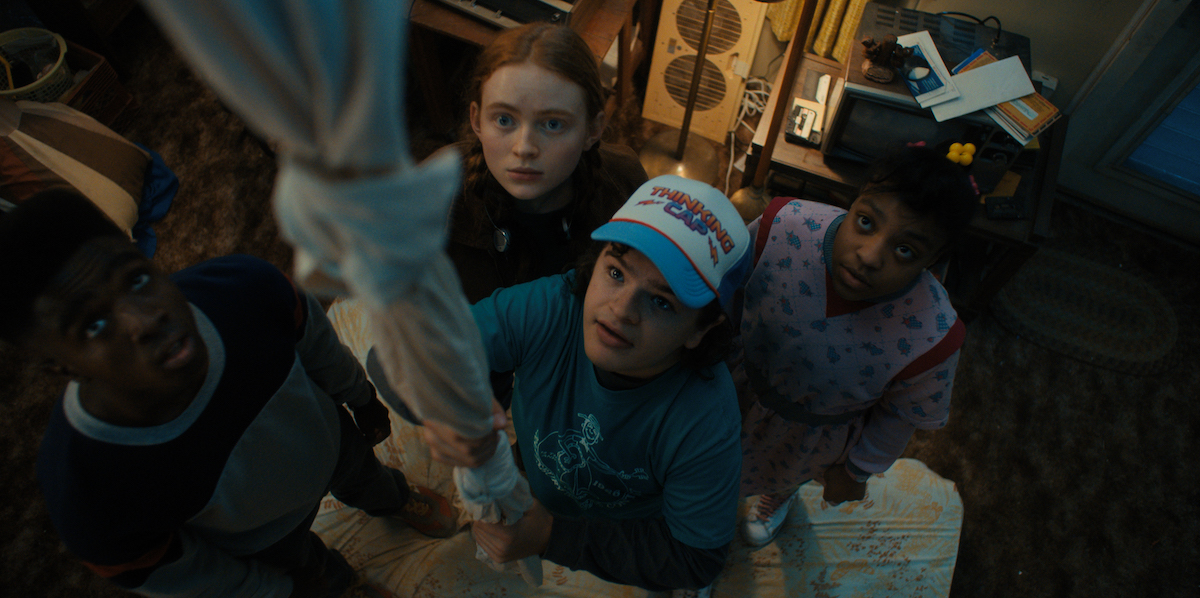 Hints of the 'Stranger Things 4' Demobats made the rounds on social media
Earlier in April, a Twitter user, @Joycelhopper, posted an image of a poster with Hopper and Russian words splashed across the sign. There's an image of what looks like a bat with a long tail in the bottom right-hand corner. Underneath it is the word "Demobat."
Fans claim another image circulating to be an upcoming puzzle from Target. It shows each member of The Party, plus Eleven. Viewers can see bats swarming behind their heads with the Creel House in the background. Yet another possible hint to Stranger Things 4's Demobats.
Another Twitter user, @MightyFluff, pointed out the connection to bats and Dungeons and Dragons. They wrote, "I should also mention that bats aren't anything new D&D wise, either." They followed it up with a description from the Forgotten Realms Wiki, "Beyond the Prime Material plane, Night Hunters and other so-called 'Deep Bats' can also be found in the Domains of Dread, a distant corner of the Plane of Shadows."
When Netflix released a full-length trailer for Stranger Things 4, our Demobat suspicions were confirmed. One clip showed several bats swarming around the Creel House. Another scene featured new character Eddie Munson playing an electric guitar as bats flew around him.
The Duffer Brothers said the 'Stranger Things 4′ Demobats' act as spies'
In a recent interview with Collider, the Duffers talked about some of the new creatures' features in Stranger Things 4. While they might seem harmless alone, they're very dangerous in a group.
"We always like to introduce a new Demo-Creature as you will, and so we were excited about introducing Demo-Bats. Maybe one of them alone is not very dangerous, but when there's hundreds and hundreds of them coming to you at the same time, they're very, very deadly. … They also have the ability to act as spies, so you may not even see one in the tree, and it spies you, and then suddenly, because everything is a hive mind in the Upside Down, every monster in there knows that you're there."

– Matt Duffer via Collider
Will Vecna control the Demobats?
A monster from the Upside Down that has the ability to spy isn't a new concept in the series. In Stranger Things 3, the Mind Flayer used Billy Hargrove (Dacre Montgomery) to gain intel on Eleven and her friends. Eventually, the monster began to pull other residents of Hawkins under its spell, leading to an entire army of "spies."
We know Vecna is the big bad of Stranger Things 4. We assume that the Demobats will serve as spies for him, but the Duffers haven't confirmed that theory. Thankfully, fans only have a few weeks to wait before they can see it all play out on their television screens. 
Stranger Things 4 Part 1 premieres on Netflix on May 27, 2022.