'Stranger Things 4': Could Chrissy Cunningham Return in Volume II?
Stranger Things 4 had a striking start, and an important part of that was the show's new characters. Chrissy Cunningham (Grace Van Dien) was one of them, but will she return in the second part of the season?
[Spoiler alert: This article contains Stranger Things Season 4 finale spoilers.]
Chrissy Cunningham was introduced in 'Stranger Things 4'
RELATED: 'Stranger Things' Producer Wants Ryan Reynolds to Cameo in Season 5
The Netflix show introduced new students in season 4. One of them was Chrissy Cunningham, the head cheerleader at Hawkins High School.
The season started with her being hunted by a monster. The monster used her mother's voice against her to taunt her. She turned to Eddie Munson (Joseph Quinn) to get drugs in hopes of helping her situation.
But she died in front of him in Eddie's trailer. This made him a suspect in her murder for the rest of the season.
Chrissy Cunningham won't be in 'Stranger Things 4' Volume II but might work with the Duffer Brothers again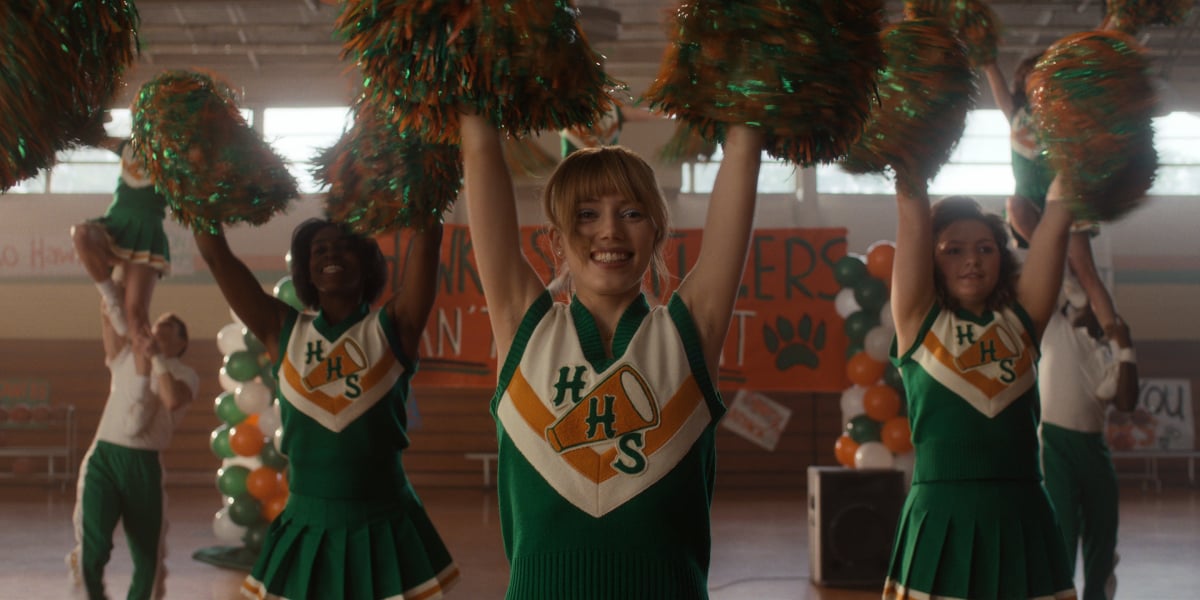 RELATED: 'Stranger Things 4': Did Gaten Matarazzo and Caleb McLaughlin Just Leak Lucas Is Vecna's Victim in Volume II?
The new character came and died quickly in the new season. But Ross and Matt Duffer admit part of them wished Chrissy survived.
"We always have those moments [of 'What have we done?']," Matt told TV Line. "We shot the quote-unquote drug-deal scene in the woods pretty late, actually, into shooting." They had already shot the scene of Chrissy's death by then.
They could see the chemistry between Quinn and Van Dien in that woods scene. "Joe was doing a lot of stuff kinda spontaneously, and we were getting these amazing reactions from Grace," Matt explained.
He later talked about being sad to see Sean Astin's Bob Newby go in season 2. "But we'll find something else to do with Grace, something else to do with Sean," the co-producer said.
It sounds like Chrissy is gone for good like the other dead characters. But the actor might pop up again in a future Duffer Brothers project.
Some 'Stranger Things' fans think Eddie Munson won't survive either
Newer characters tend not to survive the monsters of Stranger Things. Meanwhile, our main characters survive, and the deaths give them more information on how to continue to evade death. This trend lends to a popular theory that Eddie Munson won't survive the second part of the season.
"Hope Eddie is going to be sticking around. Hope he isn't a character we get to fall in love with – only to lose later on. Bit like Bob and Alexei. Great addition this season," one fan wrote on Reddit.
"I have a very bad feeling he's the new Bob. That scene from the trailer of him doing the hard rock performance in the Upside Down that will be in Volume 2 seems like a last stand thing. He did say it was 'his year,'" someone else replied.
"Not to mention his talk with Steve where he says he realized he was a guy who runs away when faced with danger and is ashamed of it. That guitar scene is definitely his 'I'm not running away this time' death scene," another person added.
Fans will have to wait to see if Eddie will follow the same fate as Chrissy. New episodes of Strangers Things will be released on Friday, July 1.
RELATED: 'Stranger Things 4': Why There's a Chance Vecna's Obsession with Time Comes into Play