'Stranger Things 4': David Harbour Explains the 'Pressure' He Felt While Shooting Joyce and Hopper's Reunion
Stranger Things season 4 capitalized on many emotional moments, including the reunion between Hopper Joyce (Winona Ryder) and Hopper finally reunited after Joyce believed Hopper to be dead. It's a moment that's very cathartic for both the characters and the audience. David Harbour knew this moment had a lot of emotional weight and felt pressure to make sure Hopper and Joyce's reunion was perfect. 
'Stranger Things' season 4 answers what happened to Hopper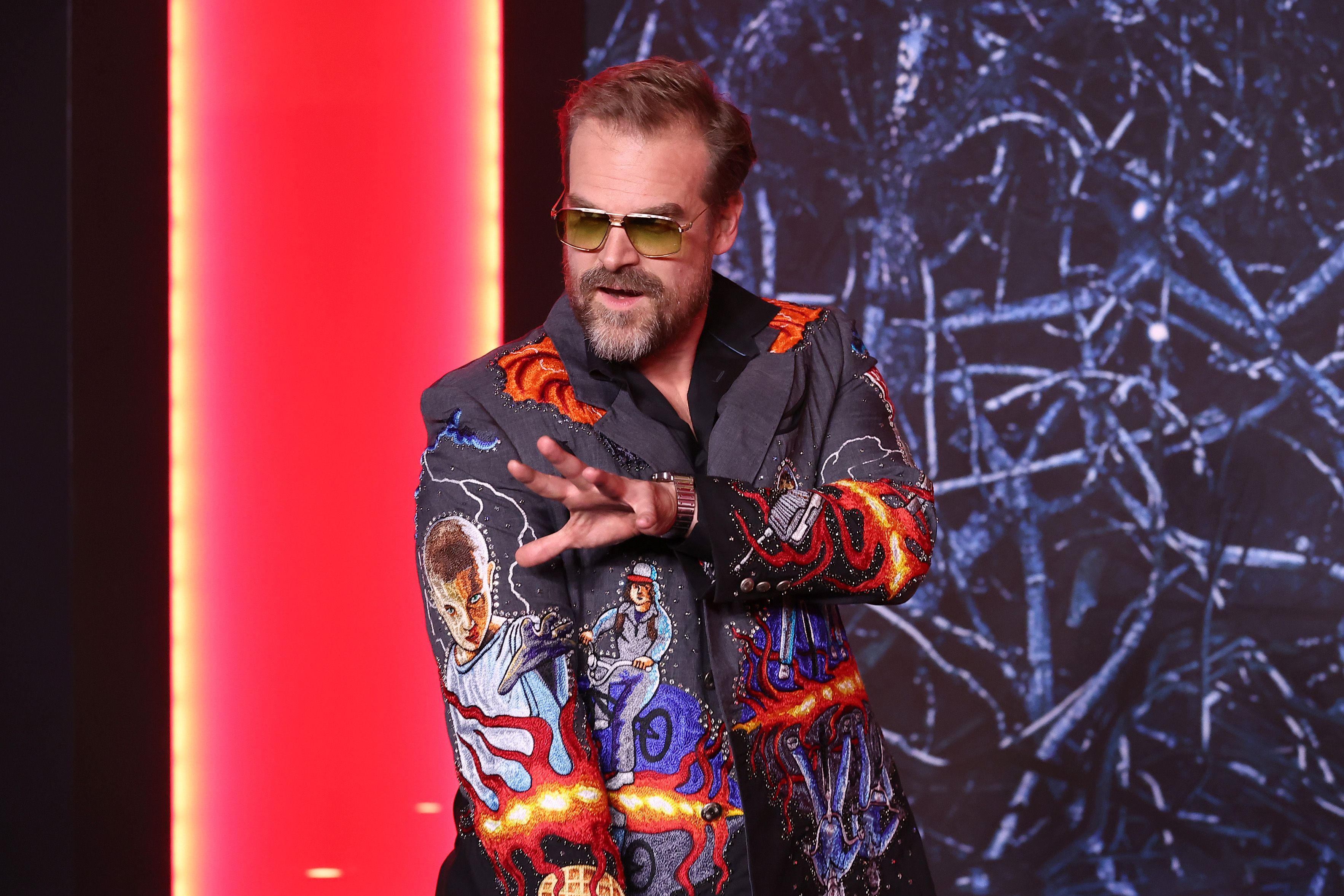 At the end of Stranger Things season 3, Hopper sacrificed himself in an explosion that closed off one of the portals to the upside-down. Fortunately, in Stranger Things 4, David Harbour returns as it's revealed that Hopper survived the explosion but ended up in a Russian prison. Hopper goes through a lot in this prison, including a fight with another Demogorgon.
However, he is saved in episode 7 as Joyce and Murray (Brett Gelman) find and rescue him. This marks the first time that Joyce and Hopper have seen each other since the explosion. The two embrace but know that there is still more danger lurking on the horizon. 
David Harbour explains why he felt 'pressure' during this moment of 'Stranger Things'
Harbour knew how important this reunion would be and wanted it to be perfect for Stranger Things viewers. In an interview with Indiewire, the actor calls the moment "amazing," but explains why he felt so much pressure while filming it. 
"It's an amazing moment," Harbour said. "And the problem with amazing moments is that you read them in the script and you're just like 'F**K.' You just feel the pressure. Here it is: He's been away, he feels like he's killed her. He's in such despair, and then lo and behold, his miracle, his knight in shining armor who saves him is this woman that he cares so much for."
Harbour added that they shot this scene multiple times with different levels of emotion. He said that a couple of versions featured Joyce running to him in an embrace, but Harbour wanted to keep it more simple as Hopper was coming out of an intense battle.
"I was really appreciative of the Duffers allowing me to find the reality of this moment," Harbour stated. "I had a lot of takes that were big and emotional and all that stuff and then I was like, 'No, it's got to be simple, it's gotta be weirder than that.' And I was very happy we all came to that and that they let us use that take because I think it is the most sophisticated."
Will there be a Hopper and Eleven reunion in Volume 2?
During the interview, the Black Widow actor is asked about a possible reunion between Hopper and Eleven (Millie Bobby Brown) in Stranger Things 4: Volume 2. While Harbour can't confirm if a reunion happens, he does hint at it, saying the Duffer Brothers typically deliver on what the fans want. 
"As we know, the Duffers are writing their own show that will surprise you, be all sorts of things to you," Harbour told Indiewire. "They are responsive to what I call fan service. They want to give you what you want. It's very possible that that reunion would come. As you've seen even with Enzo, whatever they bring up pays off. Some things were brought up last season in the letter that was very profound for people. Maybe you would see something like that perhaps play in the reunion."
Stranger Things 4: Volume 2 arrives on Netflix on July 1.
RELATED: Kate Bush Explains the Meaning Behind 'Stranger Things' Song 'Running Up that Hill'