'Stranger Things 4': The Duffer Brothers Think That the 'Bad Things' Are Finally 'Too Big' For the People of Hawkins to 'Ignore'
'Stranger Things 4' creators Ross and Matt Duffer think people are finally beginning to think the town of Hawkins might be cursed.
It's been a wild ride for fans waiting on Stranger Things 4. Now that showrunners Ross and Matt Duffer have finally given us a full-length trailer, there's light at the end of the tunnel. In the trailer, we see that things are not going well for anyone in Hawkins, Indiana, the fictional town where most of the show is set. But other than our heroes, how is the rest of the city doing? In the words of Pete Campbell from Mad Men, not great, Bob.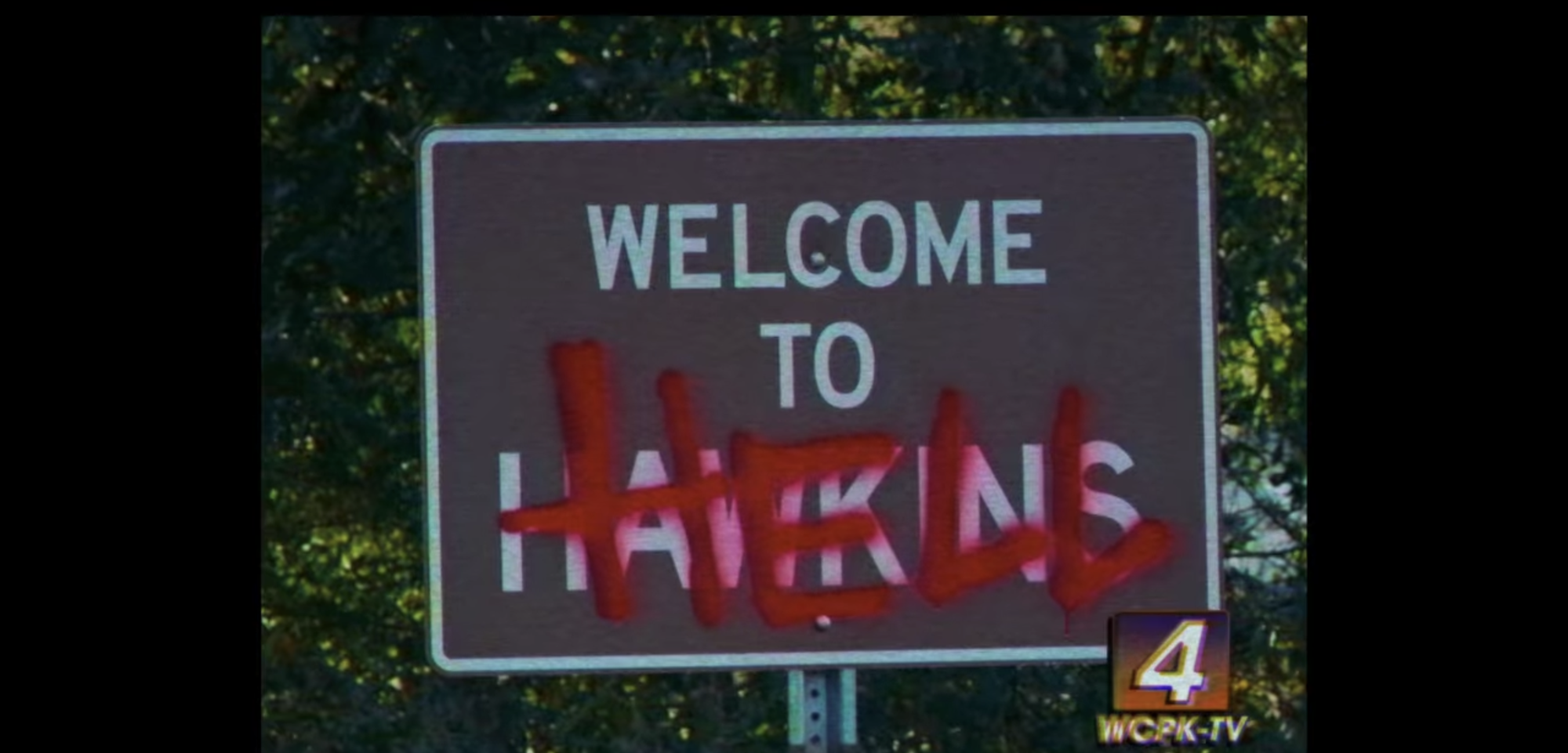 Half the town dissolved into jiggly bits of pink goo in 'Stranger Things' Season 3
The finale of Stranger Things Season 3 saw many of the residents in Hawkins collapse into a jiggling pile of goo before coming together to form the Mind Flayer. Now that Stranger Things 4 is right around the corner, some of us wonder how the upcoming season will handle what happened in Hawkins. Obviously, the truth of what happened is doubtful to be made public knowledge. 
We know from the Stranger Things Season 3 finale that the story going around is just that Starcourt Mall burned to the ground. At least, that's what Robin tells Keith at the video store when she and Steve Harrington are trying to get a job. How will showrunners handle the missing Hawkins residents, though? 
In the Stranger Things 4 trailer, we hear Dustin's voice as he says, "People say Hawkins is cursed. They're not way off."
Now, it looks like the residents of Hawkins are finally waking up to some of the things happening around town.
The Duffer Brothers think the residents can no longer ignore what's happening in 'Stranger Things 4'
After the Stranger Things 4 trailer dropped, the Duffers sat down with IGN for a trailer breakdown. It's clear from the newly released scenes Hawkins hasn't improved since Starcourt supposedly burned down. In the trailer, Steve, Dustin, and Robin watch officials load a body bag into a car. It looks as though the mysterious deaths of people around town have continued since season 3 ended.
Ross Duffer explained, "So many bad things that have happened in this town that people are starting to question what's going on here. The government has attempted to sort of push things under the rug, but that mall fire and all of that, was too big, really, for anyone to ignore. So there's this growing sense of, there is something wrong with this town and some people even saying that it's cursed."
Dr. Owens said Hawkins is 'very much in the eye of the storm' in the 'Stranger Things 4' trailer
With Eleven now living in California and no longer with her powers, the plot of Stranger Things 4 looks pretty hopeless for the people of Hawkins. In one scene, Dr. Owens and Eleven sit at a diner while two very official-looking men stand watch outside.
Owens says to her, "A war is coming. I'm afraid your friends in Hawkins are very much in the eye of the storm."
Eleven replies, "I don't have my powers."
Owens continues, "I don't know how to say this other than to just say it. Without you, we can't win this war."
It looks like the world's fate lies in Eleven's hands. However, we'll have to wait until May to see how it all plays out. Stranger Things streams exclusively on Netflix.