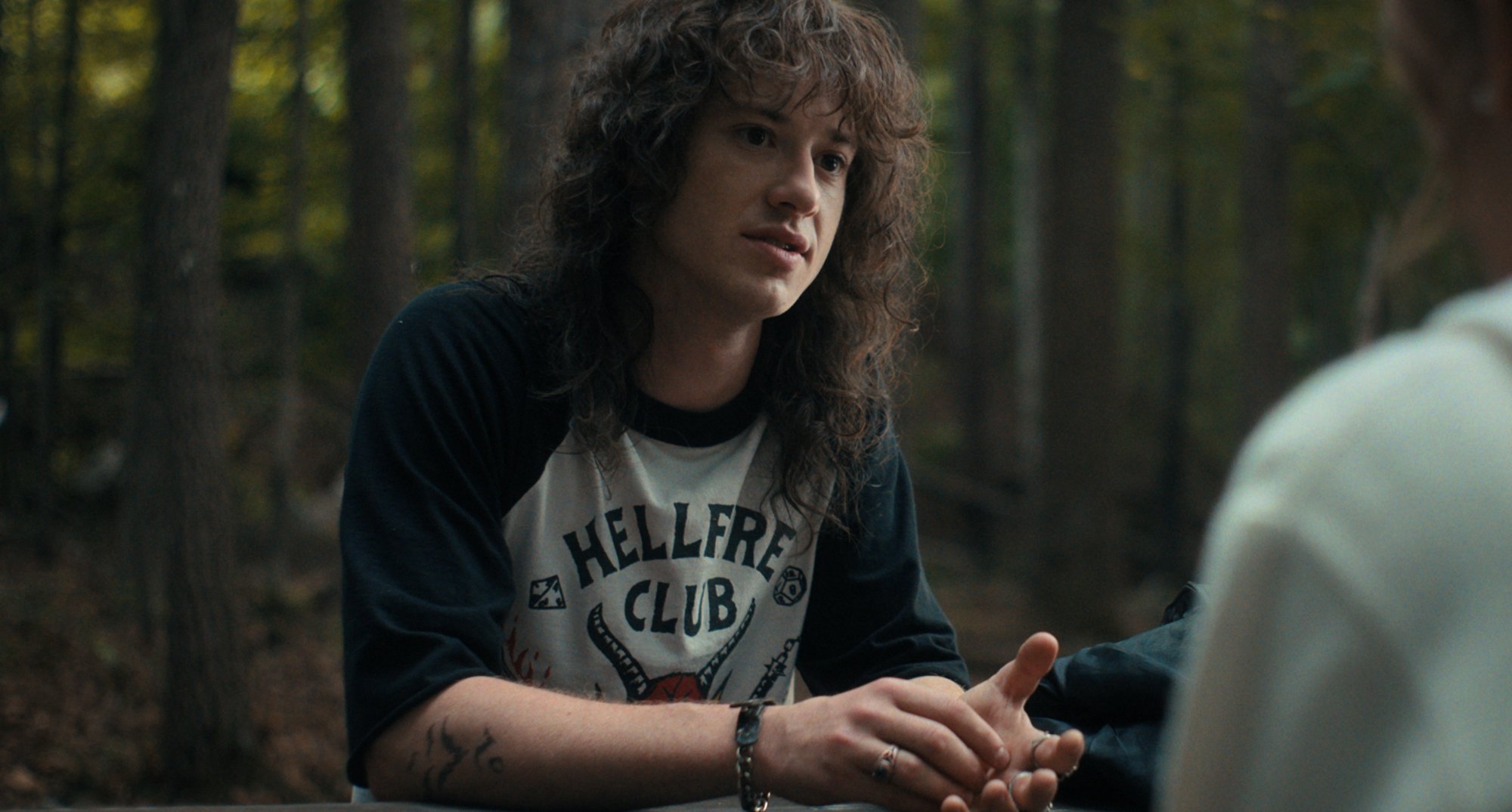 'Stranger Things' 4: Are Eddie Munson's Bat Tattoos a Foreshadowing of His Death?
Fans worry Eddie will be the sacrificial lamb in the second half of 'Stranger Things' 4 during his guitar solo. Clues indicate his death could be the work of Demobats, as portrayed by his forearm tattoo.
Stranger Things fans fear the fate of their new beloved character, Eddie Munson (Joseph Quinn). The adorable metalhead and D&D Dungeon master was introduced with a strong storyline after being accused of Chrissy Cunningham's (Grace Van Dien) murder. As the series has a habit of killing off new characters, Eddie might be in danger of dying in Stranger Things 4 Volume 2, and his tattoo might be a warning.
[WARNING: This article contains spoilers for Stranger Things 4 ]
The trailer for 'Stranger Things' 4 Volume 2 has Eddie in the battle of his life
Eddie was introduced as the resident "freak" of Hawkins High as the U.S. is amid the Satanic Panic of the 80s. The character became well-loved by fans for his smile, bad boy aura, and hidden kind demeanor. But Eddie's life quickly goes downhill when he witnesses Chrissy's death at the hands of Vecna. As the town weirdo and delinquent, he is immediately accused of murder.
The main characters soon realize Eddie has nothing to do with her death. Eddie soon becomes a new team member as they look for a way to save Hawkins from Vecna. In the teasers for the fourth season, fans have yet to see Eddie's grand guitar solo.
But teaser photos and the newly released trailer for Stranger Things 4 Volume 2 have fans speculating even further that Eddie might die during his solo. The Duffer brothers have previously revealed that no character is safe in the second half of the season.
There is a possible sequence of events for Eddie's probable death in Stranger Things 4 Volume 2, but a new theory suggests his tattoos were a warning.
Eddie's bat tattoos foreshadow how he will die in 'Stranger Things' 4 Volume 2
While Quinn hopes his character stays alive until the fifth season, fans think otherwise due to various clues. In the trailers and official photos, fans know Eddie and the characters return to Hawkins to hatch a plan before returning to the Upside Down. The official trailer shows Eddie and the gang armed and ready.
Another scene shows Eddie and Dustin fighting off monsters with makeshift weapons. The real kicker is when Eddie finds what is likely his guitar. The trailer soon shows the scene many fans dread. Eddie is on top of the trailer, surrounded by amps doing his guitar solo. On Reddit, fans theorize the moment is when Eddie might die.
Theories suggest Eddie sacrifices himself to distract the Demobats as the others go to Creel house. But a new theory suggests Eddie's death in Stranger Things 4 Volume 2 was foreshadowed by his tattoos. A sequence of black bats on his forearm is among the many metal tattoos adorning Eddie's body.
If fan theories are true about how Eddie could die, its means the answer was there all along. Eddie's sequence of bat tattoos was a marker of his demise in the Upside Down. That is not all. A closer look at Eddie's arm also reveals a puppet tattoo. Could it also have foreshadowed how Vecna can manipulate his victims? Or a teaser of Eddie's solo song, "Master of Puppets."
Fans honor Eddie by getting the same bat tattoos
The Netflix series has done an impeccable job of introducing lovable characters. Eddie has become a favorite overall, thanks to his rocker aesthetic and handsome looks. The character's possible death has fans gutted but also has fans honoring Eddie.
Fans on Twitter show off their new Eddie tattoos of the same bats on his forearm. A fan on Twitter comments, "if eddie munson dies in vol 2 i am going to honor him and get the bat tattoos. if he survives vol 2, i am still going to get the bat tattoos."
Some fans on Twitter have already done the deed and gotten inked. Another fan on Twitter comments, "people really watch the ONE season that eddie munson is in and get his bats tattooed even tho he probably won't make it to season 5…. it's me… i'm people.."
Fans will soon know Eddie's fate as Stranger Things 4 Volume 2 premieres on July 1.