'Stranger Things 4' Episode 1 Recap: 'The Hellfire Club' Features Straight Nightmare Fuel
'The Hellfire Club' transports us back to Hawkins, and proves the Duffer Brothers still have the magic touch when telling a supernatural tale involving kids in the '80s.
After what seemed like an actual eternity, Stranger Things 4 has finally returned to Netflix. We last left off with the character three months after the incident at Starcourt Mall. The Byers, plus Eleven, packed up and headed to California. Now, it's spring of 1986, and everyone is dealing with various issues – whether it be the loss of their supernatural powers or the horror of high school, the gang isn't doing great. Because each episode is essentially a movie, and you don't have all day, let's hit the three big plot points in "The Hellfire Club."
[SPOILER WARNING: This article contains detailed spoilers for Stranger Things 4 Part 1 Episode 1 "The Hellfire Club.]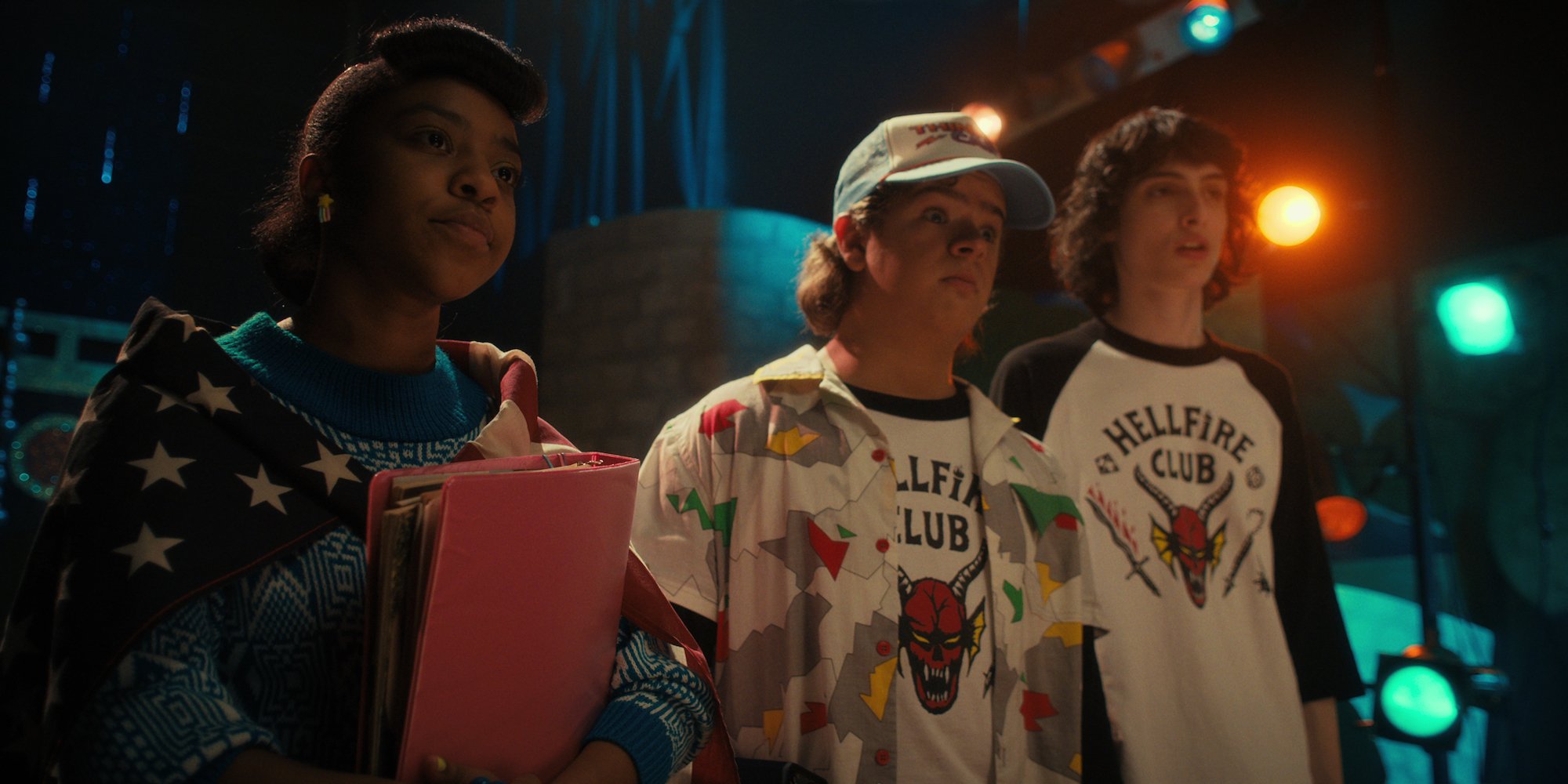 'Stranger Things 4' starts with a bang in 'The Hellfire Club'
Stranger Things often immediately grabs the audience's attention with its opening scenes. In season 1, we watched Will Byers get snatched by the Demogorgon. Season 3 gave us the Russian scientists vaporizing into piles of goo. "The Hellfire Club" takes a more subtle approach with the first 20 seconds or so but quickly pushes the gas pedal to the floor.
We first see Dr. Brenner (Matthew Modine) in a flashback from 1979 as he goes through his morning routine, a scene that parallels Chief Jim Hopper's (David Harbour) in Stranger Things Season 1. Once you get over the shock of Brenner's return (even in a flashback), we travel to Hawkins National Laboratory. We see an array of children in hospital gowns with shaved heads as they practice their different supernatural powers.
As Brenner practices with 010, the little boy becomes alarmed as crashes echo outside the room. He tells Brenner that another doctor is dead, and before Brenner opens the door to investigate, it's blown off its hinges, knocking him out cold. 
When Brenner walks out into the lab, the bodies of children litter the floor, their limbs bent in unnatural directions and splattered with blood. A young Eleven stands before a shattered mirror as blood leaks from her eyes and nose. Brenner shouts, "What have you done? What have you DONE?!" Suddenly, we're back in 1986.
'The Hellfire Club' introduces us to Eddie Munson
Stranger Things 4's setting occurs right around the time the Satanic Panic was worrying mothers everywhere. No one with a Dungeons and Dragons board was safe from the rumors that you might also be worshipping the devil while playing the game. Eddie Munson (Joseph Quinn) runs the Hawkins High School Dungeons and Dragons group, aptly named The Hellfire Club. He's as serious about his DnD campaigns as the jocks are about their basketball tournament.
Lucas belongs to both groups and puts his friends in an awkward spot when he asks them to ask Eddie to reschedule that night's campaign in lieu of his big game. Eddie wants none of that, and instead, Dustin and Mike sucker Erica in as a replacement. 
New character Chrissy gives us our first look at what the Duffers meant by saying this season 'leans hard into the horror genre'
The most popular word used to describe the season so far by any cast and crew has been "scary." Finn Wolfhard declared this season would "definitely freak people out," and Sadie Sink called it "intense."
We're here to confirm every possible rumor that Stranger Things 4 is officially horror series now. Not only is Vecna, the new Big Bad, terrifying to look at, but the way he chooses to off his victims is akin to The Ring. Remember the girl's face in The Ring? Imagine that, but way worse.
Vecna creates an alternate reality for his victims, placing them in their worst nightmares. For Chrissy (Grace Van Dien,) her mother's constant comments on her weight caused her to turn to drugs for weight loss. When she visits Eddie to buy some Special K, Vecna takes over her body. From Chrissy's point of view, she sees her father with his eyes and mouth sewed shut, while her mom resembles something similar to a monstrous zombie. On the other hand, Eddie watches as Chrissy's limbs snap in unnatural directions, and her eyeballs get sucked back inside her head. 
Stranger Things 4 is officially no longer for kids. Watch "The Hellfire Club" and the following six episodes in part 1, streaming exclusively on Netflix.