Stranger Things 4′ Episode 2 Recap: 'Vecna's Curse' Gives Fans the First Peek Into Victor Creel's Backstory
'Vecna's Curse' gives us more about Victor Creel's backstory, we witness another grisly death, and we learn just how Hopper survived that explosion in season 3.
Now that all is well in the world and Stranger Things 4 has returned to fill our lives with joy, we can pause to revel in all its glory. It's been three years since we last hung out with Mike, Will, Eleven, and the gang. However, the wait was worth it. It's understandable if you binged every second of season 4 as soon as it dropped, but it also means you might have missed a few things. Let's take a look at the three main plot points in Stranger Things 4 Part 1 Episode 2, "Vecna's Curse."
[Warning: This article contains major spoilers regarding Stranger Things 4 Part 1 Episode 2, "Vecna's Curse.]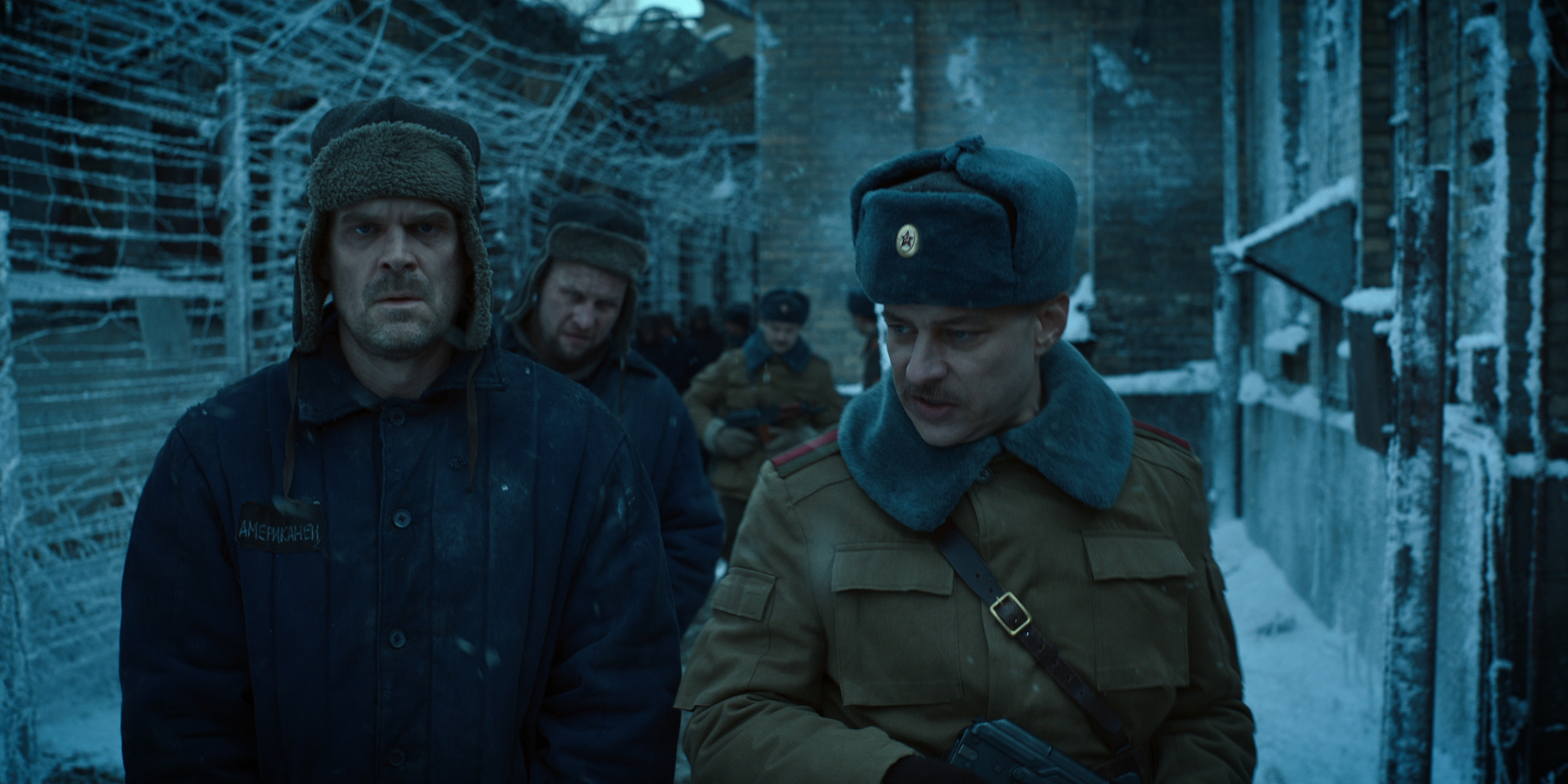 'Stranger Things 4' Episode 2 'Vecna's Curse' shows us how Hopper survived the explosion
In the final episode of Stranger Things Season 3, it looked like Hopper (David Harbour) vaporized into nothing when the machine the Russians built under Starcourt Mall exploded. However, an end credits scene hinted that Hawkins' favorite police chief survived. Then a Stranger Things 4 teaser trailer confirmed that. 
Stranger Things 4's "Vecna's Curse" gives us a flashback to the moment the machine exploded. Hopper quickly jumped from one platform to a lower deck just as the explosion took out almost everything within its vicinity. When Hopper hit the ground, he was knocked unconscious. When he awoke, he climbed to the upper platform only to meet angry Russians who swiftly clocked him in the face with one of their guns. From there, he's whisked off for some standard torturing and sentenced to work for "Mother Russia" at Kamatchka. We saw Joyce (Winona Ryder) get a package from Russia in episode 1, "The Hellfire Club," so we know Hop at least has an escape plan.
Fred Benson meets a painful end, and Nancy Wheeler learns about Victor Creel
Nancy (Natalia Dyer) and Fred (Logan Riley Bruner) hear about Chrissy's (Grace Van Dien) death and investigate at the trailer park. A cop stops them and warns them away when they're pulling up. While everything seems normal to Nancy, Fred gets a frightening vision. The cop calls Fred a murderer as his face begins to distort. 
In Stranger Things 4's "Vecna's Curse," we learn Fred accidentally killed someone in a car accident in the past. That's what caused the scar on his face. As Nancy tries to understand more about Chrissy's death, Eddie's uncle tells her the story about Victor Creel. Victor killed his victims by removing their eyeballs, which happened to Chrissy. 
Fred hears the ominous sounds of a grandfather clock chiming in the woods, and he wanders off to see what's happening. In the woods, he sees the grandfather clock positioned like a casket. Fred's suddenly transported to the funeral of the person he killed as the mourners surrounding him turn into zombie-like creatures. They all chant, "Murderer!" as he struggles to get away.
Fred meets his end a few scenes later when Vecna shows up in his "mindscape." Fred's body levitates before his limbs snap, and his jaw breaks. His eyeballs get pulled back into his skull, and he falls to the pavement, dead. 
Dustin and the gang finally locate Eddie toward the end of 'Stranger Things 4' Episode 2 'Vecna's Curse'
Max (Sadie Sink) is the first of the group to learn about Chrissy's death in Stranger Things 4's "Vecna's Curse." She lives in a trailer close to Eddie's (Joseph Quinn), and when the cops arrive the day after Chrissy's murder, she catches a glimpse of Chrissy's twisted corpse. When she tells Dustin (Gaten Matarazzo) what happened, he convinces her Eddie's not responsible for Chrissy's death, as everyone else seems to believe.
With the help of Robin (Maya Hawke) and Steve (Joe Keery,) Dustin and Max locate Eddie's hideout. When they finally coax him into telling them what he saw, the group knows the gate to the Upside Down somehow opened again. With the cops under the impression that Eddie murdered Chrissy, the group tells him to lay low until they figure out their next move.
Stranger Things 4 Volume I is currently streaming on Netflix.