'Stranger Things 4' Episode 4 Recap: 'Dear Billy' Sees Max Suffering at the Hands of Vecna
'Stranger Things 4' Episode 4 'Dear Billy' features one of the most emotional scenes yet this season. Take a look at our recap.
If you're reading this, you're likely over halfway through Stranger Things 4 Volume I, and what a ride so far. Nobody's having a particularly great time at this point, but we're at least getting closer to some answers. Let's talk about three of the big plot points in "Dear Billy."
[WARNING: This article contains MAJOR spoilers for Stranger Things 4 Volume I Episode 4, "Dear Billy."]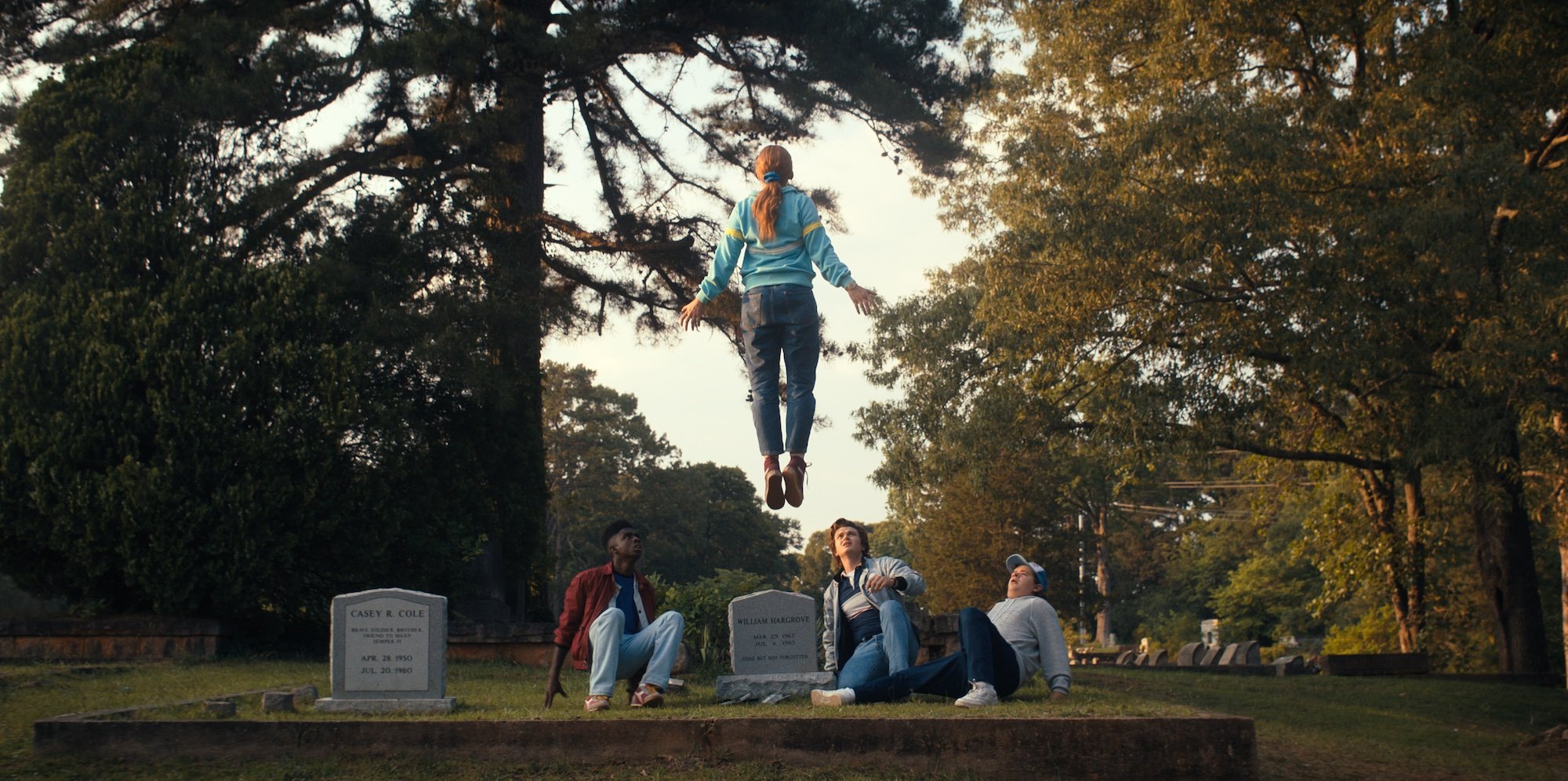 'Dear Billy' primarily focuses on Max and Vecna targeting her
The Duffer Brothers promised fans a "Max-heavy season," and they've delivered in spades. While this spells trouble for Max, it gives fans a chance to watch Sadie Sink flex her acting muscles. Nightmares, headaches, and visions plague Max in the first four episodes of Stranger Things Season 4. She eventually realizes that Fred and Chrissy, both now murdered by Vecna, experienced the same symptoms. Max figures she has roughly less than 24 hours before Vecna claims her life too.
As Max prepares for the possibility of dying, she writes letters to all her friends, her mom, and her stepbrother, Billy (Dacre Montgomery,) who died in Stranger Things Season 3. Max forces Steve (Joe Keery,) Dustin (Gaten Matarazzo,) and Lucas (Caleb McLaughlin) to drive her to the cemetery so she can read her note to Billy. As Max reads the letter in "Dear Billy," Vecna conjures a vision of Billy blaming Max for his death. (This is the one episode Montgomery returned to film.)
Max escapes Billy, but she somehow makes her way into what looks like Vecna's lair. She sees the bodies of Chrissy and Fred wrapped up in vines as red storm clouds thunder overhead. Vecna attempts to kill Max, but just as he raises his hand, Steve, Dustin, and Lucas start blasting her favorite song – Kate Bush's "Running Up That Hill" – into her headphones. This gives her the chance to escape Vecna, and she does. 
Hopper escapes the Russians, but Joyce and Murray don't escape Yuri
Joyce (Winona Ryder) and Murray (Brett Gelman) finally make it to Alaska, while Hopper sees his chance to escape Russia. After removing his shackles in a shack outside with the grossest sound effects ever, he faces off with a guard who caught him trying to sneak out of the gulag. However, this is Chief Jim Hopper we're talking about, and he doesn't let one measly guard stand in the way. Other guards notice the commotion in the shack and come to their coworker's rescue, only to be met with a giant explosion. Hop escapes unscathed on a snowmobile. However, his victory is short-lived, thanks to double-crosser extraordinaire Yuri.
When Joyce and Murray arrive in Alaska to hitch a ride with Yuri in "Dear Billy," he tells them he needs to count the money first. He offers them coffee to warm up, which he secretly drugged to knock them out. Yuri realized he could make more money by turning Joyce and Hopper over to the Russians.
Nancy and Robin finally meet Victor Creel in 'Dear Billy'
The much anticipated Robert Englund appears as an eyeless Victor Creel in "Dear Billy," and Robin and Nancy get some backstory on the Creel murders. They pretend to be college students writing a thesis on paranoid schizophrenia and convince the director of Pennhurst to let them speak to Victor alone. Victor tells them about the strange occurrences soon after his family moved into the house. Dead animals began showing up on the property, and the lights would flicker constantly. Then he started to see visions of a cradle in flames while a baby screamed.
Victor fought in World War II and mistakenly ordered a shelling of a house he thought was filled with Nazis. Instead, civilians hid inside, including a baby. At dinner one night, the radio cuts on by itself just before Vecna murders Victor's wife, Virginia. Victor tries to get out of the house but gets lost in the Mindscape. He hears "Dream a Little Dream of Me" playing and manages to escape. However, his daughter is dead, and his son slipped into a coma and died a week later.
Just as the director of Pennhurst tries to apprehend Nancy and Robin, Robin realizes music is the key to escaping the Mindscape. The director previously told them they discovered music reached a part of the brain that little else could reach. When they get in the car, they hear the radio call from Dustin asking how to save Max, and that's how Kate Bush's song, "Running Up That Hill," allows Max to escape.
Check in with Showbiz Cheat Sheet for all your Stranger Things 4 updates!