'Stranger Things 4': Is The Upside Down Completely CGI?
One of the scariest aspects of Stranger Things is its alternate universe. The Upside Down is the source of all the dangerous creatures in Hawkins, but how was it made?
[Spoiler alert: This article contains Stranger Things Season 4 finale spoilers.]
'Stranger Things 4' reveals the origin of the scariest monster in The Upside Down
​​RELATED: 'Stranger Things' Producer Wants Ryan Reynolds to Cameo in Season 5
The main characters of Stranger Things discovered an alternate universe in the first season called The Upside Down. It shows a much darker version of Hawkins, with different kinds of monsters ready to kill. 
Season 4 introduced a new monster called Vecna that leads everyone else. Vecna used to be Number One (Jamie Campbell Bower), and when he was young, he worked on his powers to grow stronger. He suspected his parents were scared of him and planned to send him away, so he killed everyone in his family except for his dad.
Number One was still sent to Papa (Matthew Modine). That's where he met Eleven (Millie Bobby Brown) and tricked her into freeing him. They battled once she found out, and he was left scarred and in The Upside Down.
The Upside Down in 'Stranger Things' is a mix of CGI and practical effects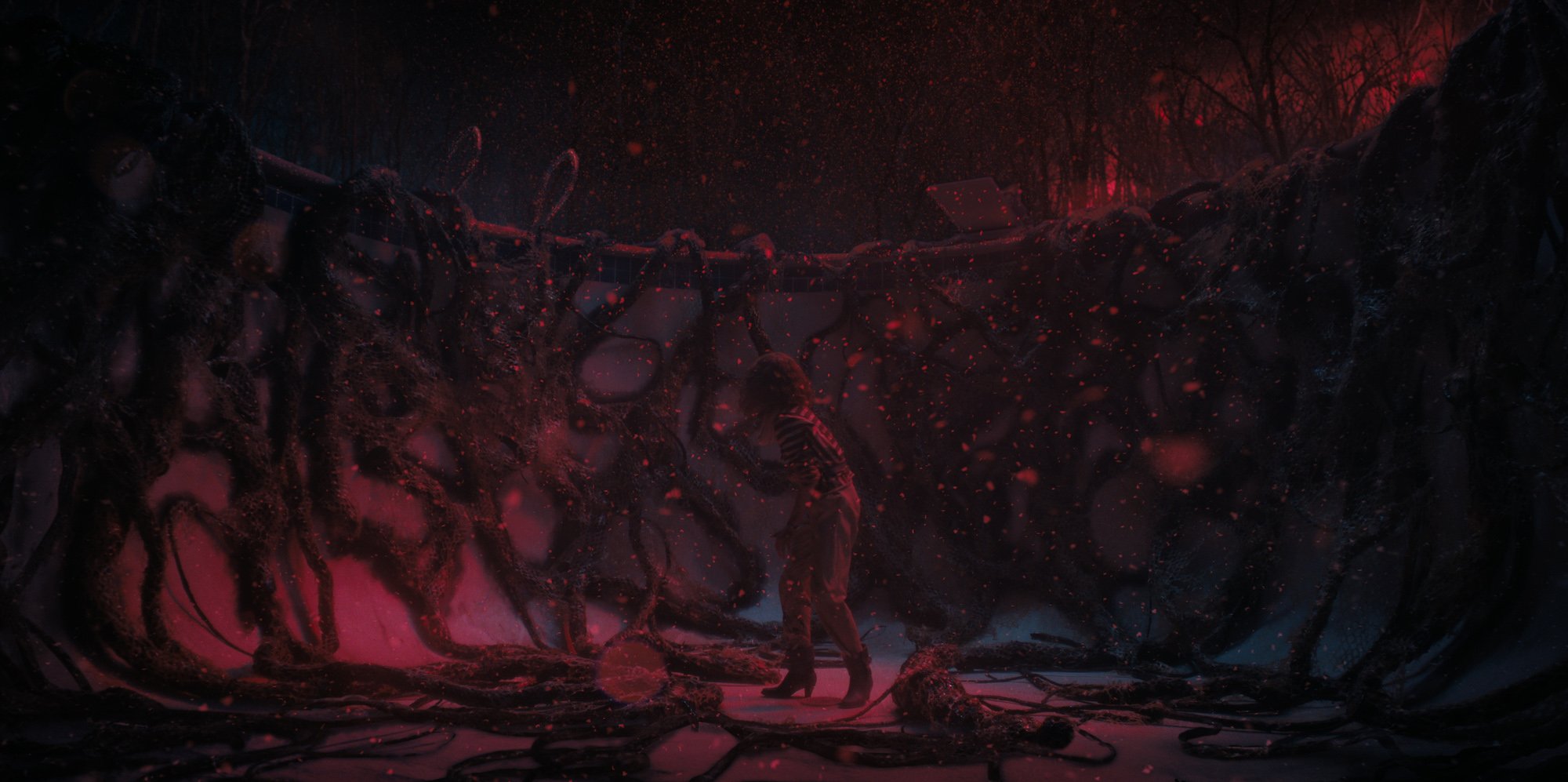 RELATED: 'Stranger Things 4': Did Gaten Matarazzo and Caleb McLaughlin Just Leak Lucas Is Vecna's Victim in Volume II?
Getting the look of The Upside Down is essential. Stranger Things wouldn't have become a phenomenon if it weren't scary enough or believable. But how was it made?
"It's a combination," Quinn answered Men's Health. "There were a lot of practical tentacles everywhere, and there was a lot of blue screen as well. But then there's stuff in the woods, real trees, they did their part." 
"I remember that being pretty mad," he continued "we'd turn up to these woods and there were lights everywhere. It looked amazing, and you really felt the scale of it there. On other productions, they might have just lit up five or six trees and you'd have to walk in circles. But they just set up, I don't know how many lights—it was mad." 
Jamie Campbell Bower wore makeup to play Vecna
Makeup was used to create Vecna's burned look. Makeup artist Barrie Gower showed a picture of the test makeup for the character on Instagram.
"We were super lucky to work with @bowerjamie , an incredible actor who's great humour and stamina made this makeup possible," the artist wrote in the caption. "We had an amazing team working on this."
He also shared a video of the actor waving his clawed hand as he sits getting his makeup done. "I think this was our first day of filming on @strangerthingstv 4 with Vecna. Huge thanks to @dunxjar @mikemekash @ericgarciafx @nix_artistry , the incredibly talented folk back at BGFX and the amazing @bowerjamie," reads part of the caption.​​
RELATED: 'Stranger Things 4': Why There's a Chance Vecna's Obsession with Time Comes into Play