'Stranger Things 4': Who is Joseph Quinn and His Character, Eddie Munson?
'Stranger Things 4' star Joseph Quinn has fans falling for Eddie Munson. Here's where you may have seen the actor before and what's in store for his character this season.
Stranger Things 4 Volume I debuted on May 27, 2022, and since the premiere, fans have raced to finish the first seven episodes. During those episodes, the creators of the show, Ross and Matt Duffer, introduced audiences to a handful of new characters. This season differs from previous seasons in that the show takes place in several different locations. Up until now, every season took place in Hawkins, Indiana. Now that we have new locations, that means we have new characters. However, one of the standouts this season is Eddie Munson, played by Joseph Quinn.
[Warning: This article contains detailed plot spoilers regarding Eddie Munson's character, played by Joseph Quinn, in Stranger Things 4 Volume I.]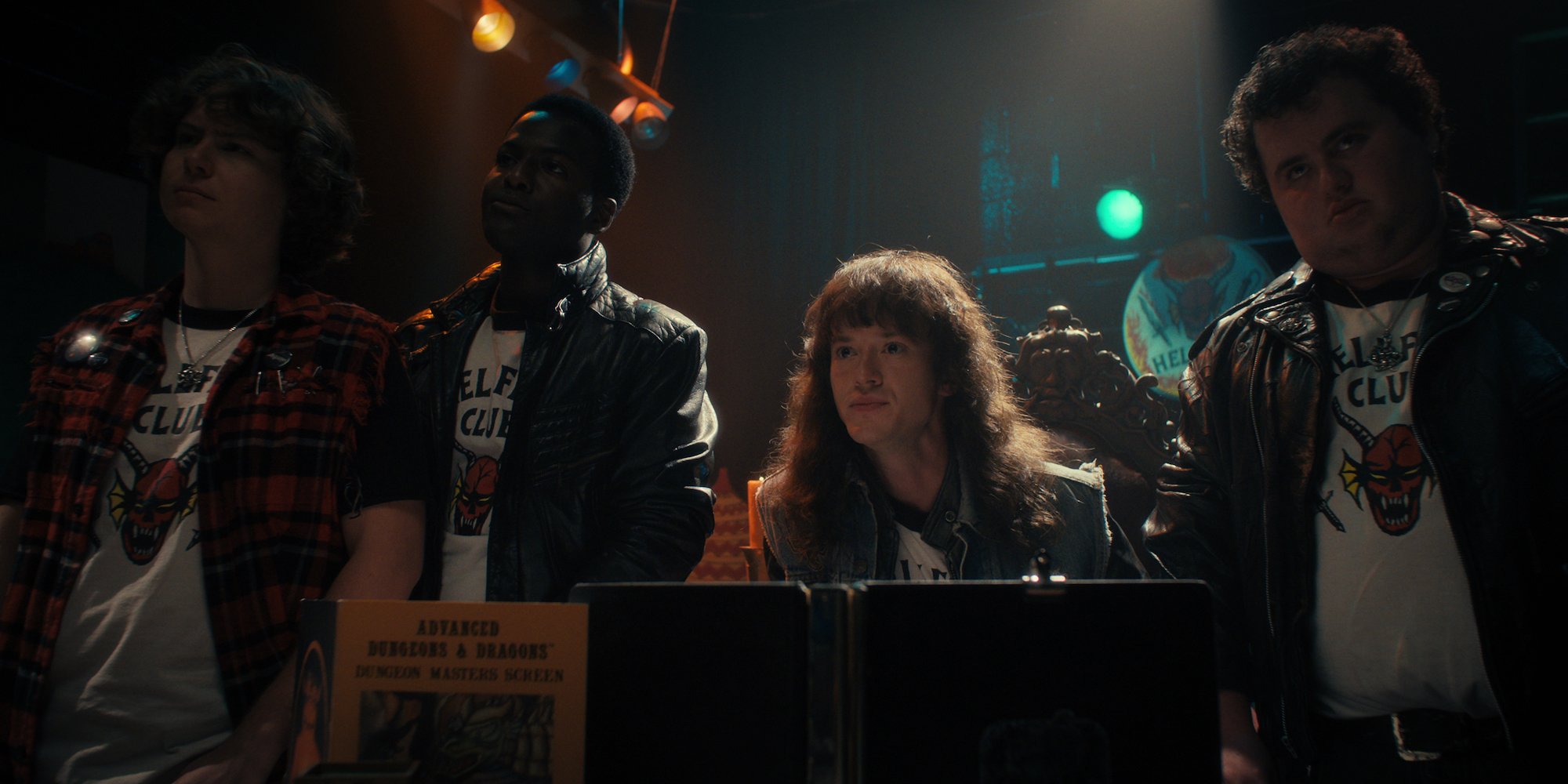 Who is Eddie Munson?
Eddie Munson lives in Hawkins, Indiana, and attends Hawkins High School. He leads the school's Dungeons and Dragons club, known as the Hellfire Club. Mike, Dustin, and Lucas all participate in the club. However, Lucas splits his time between playing the popular '80s role-playing game and playing on the school's basketball team.
In "The Hellfire Club," popular cheerleader, Chrissy Cunningham, approaches Eddie to buy drugs to help her lose weight to meet her mom's unhealthy expectations. However, the Stranger Things 4 villain, Vecna, targets Chrissy and kills her in Eddie's trailer. Eddie panics and leaves the trailer, leaving Chrissy's body there for the cops to find later.
When Chrissy's boyfriend, Jason, learns some of the details surrounding Chrissy's death, he and his friends believe Eddie murdered her. Eddie goes on the run while Jason and his friends get the entire town to go on a witch hunt for Eddie. When we last see Eddie in Stranger Things 4 Volume I, he's helping Steve, Nancy, and Robin uncover the mysteries of the Upside Down.
Where have you seen 'Stranger Things 4' Volume I star Joseph Quinn before?
Stranger Things 4 isn't Quinn's first time on the big or small-screen. In fact, when the Duffers referred to this season as their Game of Thrones season, it wasn't simply referring to the scope of locations. Quinn had a brief role in the HBO series as a soldier named Koner, who laughed at Arya's return to Winterfell.
Stranger Things 4 also isn't Quinn's first foray into horror. The actor played the character, Grunauer in the Nazi horror movie Overlord in 2018.
What can fans expect for 'Stranger Things 4' Volume I character Eddie Munson?
So far, Eddie's quickly risen in popularity as a new fan favorite. (Seriously, have you seen the TikTok edits featuring Eddie?) However, if there's anything Stranger Things fans have learned over the years, it's not to get too attached to new characters. In the full-length trailer for Stranger Things 4, we see Eddie shredding on his beloved electric guitar from atop his trailer in the Upside Down. We aren't sure what leads to this moment, but the way the cameras frame the shot, the scene seems significant. Is Eddie using his guitar as a distraction for the others in the Upside Down? We know the new creatures known as Demobats serve as a threat this season, but could Eddie's music serve as a way to throw off their echolocation? 
As of now, we have to wait until Stranger Things 4 Volume II to see it all play out. Thankfully, it's not that far away. Volume II drops on July 1, 2022.