'Stranger Things 4' Massive Spoilers Revealed in Monopoly Board Game
Stranger Things 4 is only weeks away, and the marketing for the upcoming season has finally started to ramp up. From the official posters released on Feb. 17, 2022, to the full-length trailer released on Apr. 14, there's a lot for fans to search through for hints and clues about the newest seasons. However, some images of the official Stranger Things Monopoly game are making the rounds on social media that actually spoil some pretty big plot points.
[Warning: This article contains MASSIVE spoilers for Stranger Things 4. Read at your own risk.]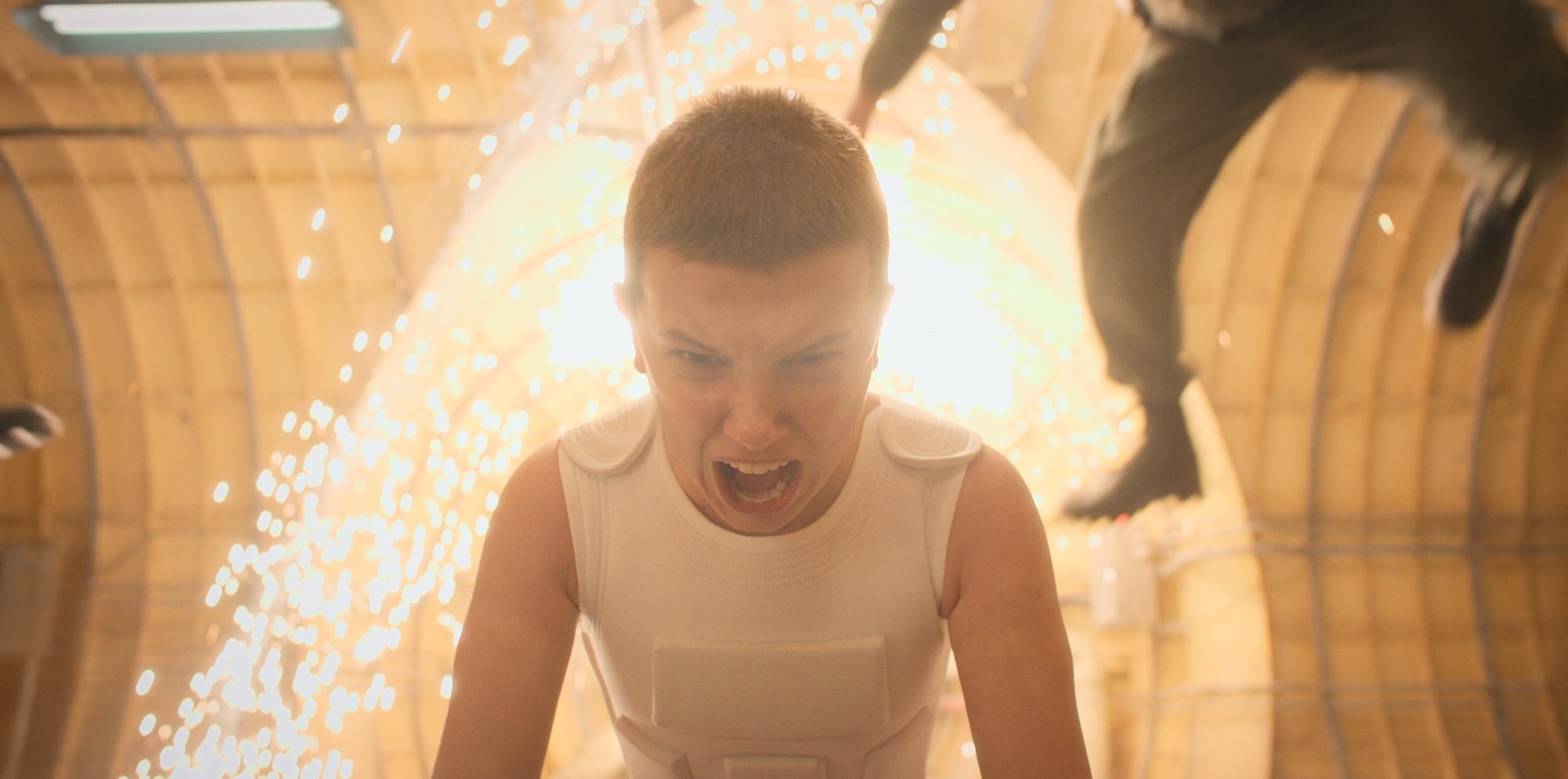 Eleven willingly goes back to Hawkins National Laboratory in 'Stranger Things 4'
In the Stranger Things 4 trailer, we see Eleven with a shaved head in some of the scenes. She's also wearing the same suit she wore when entering the sensory deprivation tank in season one. Fans immediately assumed Eleven returned to a government lab at some point, but most believed Brenner or some other evil government agent captured her. However, thanks to the Stranger Things 4 Monopoly cards, we now know that isn't the case.
One of the cards posted on Twitter reads, "Eleven agrees to travel to a secret laboratory in the desert to get her superhuman powers back. Advance to the silo lab."
Fans have theorized for a while that the random door in the desert, which we saw in the "Welcome to California" teaser, led to an underground silo. This is where they believed Brenner housed the NINA tank. With this tank, Brenner can use it to force Eleven to return to the Void and make contact with the Upside Down. 
The Stranger Things 4 teasers previously implied Eleven was captured and forced back to the lab. As it turns out, she goes willingly, which comes as a shock to many.
Hopper escapes the Russian prison on a snowmobile
Everyone assumed Chief Jim Hopper eventually escapes from the Russian prison in Stranger Things 4, but we doubt anyone predicted him doing it on a snowmobile. According to another card posted on Twitter, that's exactly what happens.
The card reads, "You overpower a guard, set off an explosion, and escape into the woods on a snowmobile." Obviously, the card doesn't mention Hopper, but who else needs to escape in the snow?
Eddie might not make it out alive in 'Stranger Things 4'
Fans continue to predict several people to die in Stranger Things 4, but the new Monopoly board hints at Eddie being the one to shuffle off this mortal coil. Eddie's a new character introduced this season and played by Joseph Quinn. He's the head of The Hellfire Club, Hawkins High School's Dungeon and Dragons club, and from one of the most intense scenes in the player, has a penchant for playing the electric guitar. We've seen shots of Eddie with the Hawkins gang and at the Creel House, but it looks like he plays a pivotal role in saving some of the rest of the kids.
Another card from the Stranger Things 4 Monopoly game reads, "Your brave pal Eddie lets rip on his guitar to draw a swarm of Demobats away from Vecna's lair."
Of course, this doesn't confirm Eddie loses against the Demobats, but it hints that maybe Eddie sacrifices himself to save the others. 
Thankfully, we only have a few more weeks to wait until all of our questions are answered. Stranger Things 4 premieres on May 27, 2022.