'Stranger Things 4' Promises More Kate Bush in the Finale
If you're one of the millions of people who binged Stranger Things 4 the moment it premiered on Netflix, it's safe to say you also know the lyrics to Kate Bush's 1985 banger, "Running Up That Hill." The song plays a crucial role in Netflix's juggernaut of an original series this season. It looks like that won't be the only song we hear from Bush in Stranger Things 4, though. Here's what we know.
[Warning: This article contains detailed plot spoilers regarding Stranger Things 4 Volume I.]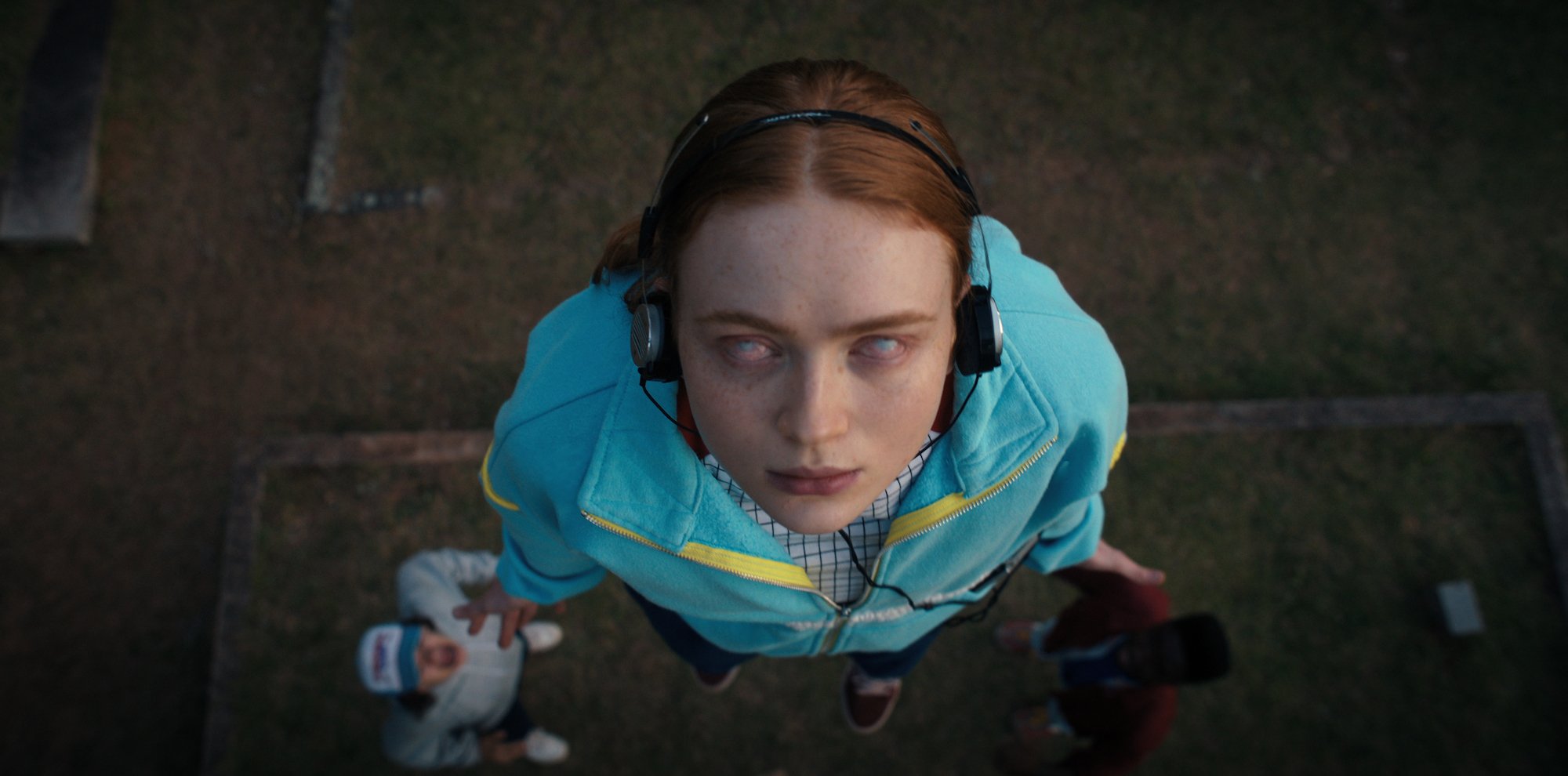 A Kate Bush song saves Max Mayfield's life in 'Stranger Things 4'
In Stranger Things 4, this season's Big Bad, Vecna, targets those in Hawkins, Indiana, who "are hurting," according to Max (Sadie Sink). Max's older stepbrother, Billy (Dacre Montgomery,) died in the Stranger Things Season 3 finale, and season 4 shows Max dealing with the aftermath. When Vecna forces Max into the Mind Scape, he manipulates her mind into believing she sees Billy. Billy blames her for his death, but as she runs away, she ends up in what looks like Vecna's lair.
While Vecna traps Max, Robin (Maya Hawke), and Nancy (Natalia Dyer) learn that music holds the key to escaping the villain's Mind Scape. The director at Pennhurst explains that music reaches a part of the brain that words alone can't reach. When Dustin (Gaten Matarazzo) calls Nancy and Robin to figure out how to help Max, they tell him to play her favorite song.
Max wears headphones throughout Stranger Things 4 and plays Kate Bush's album, "Hounds of Love," on her Walkman. When Dustin plays "Running Up That Hill" by Kate Bush, Max sees a portal open up in the Mind Scape, and she remembers her happiest times with her friends. This gives her the chance to escape, and she takes it.
RELATED: 'Stranger Things 4' Star Elodie Orkin on Playing Eleven's Bully, Angela, Shipping Mileven, and More [EXCLUSIVE]
'Stranger Things 4' features more Kate Bush in volume II
Bush shot to fame in the '80s, but her tune in Stranger Things 4 introduced her to an entirely new generation of fans. Her song "Running Up That Hill" jumped to the top of Spotify after people binged volume I. However, fans who want more of Bush's music won't be disappointed. The show's creators, Ross and Matt Duffer promise more of her songs in volume II.
Speaking to Tudum, Matt Duffer said, "There's an epic Kate Bush moment in the finale [Episode 9] that we weren't expecting, that we kind of discovered as we were editing. The sequence was really cool and we were happy with it, but it was missing a little something. And I was like, 'Well, let's try Kate. Because when has Kate let us down?' And it just took it to this new height." He continued, "It's arguably the most epic Kate Bush moment. It comes back in a major way."
When to expect 'Stranger Things 4' Volume II
Netflix tried something new this year with the way they dropped the episodes for Stranger Things 4. Instead of releasing the entire season at once, the streaming platform debuted the episodes in two installments, with the first seven episodes premiering on May 27, 2022. Fans can expect the final two episodes of Stranger Things 4 on July 1, 2022.
RELATED: 'Stranger Things 4' Star David Harbour on His Character, Hopper, This Season – 'There's No Harrison Ford Anymore'