'Stranger Things' 4: Sadie Sink Breaks Down Her Escape From Vecna, What's to Come for Max in Vol. 2
Sadie Sink talks about filming Max's escape from Vecna's Curse and what's to come for the character in 'Stranger Things' 4 Vol. 2.
Max Mayfield makes an epic escape from Vecna's Curse in The Upside Down in the "Dear Billy" episode of Stranger Things 4 Vol. 1. Sadie Sink, who plays Max in the Netflix series, breaks down how the Duffers filmed that slow-motion running scene, plus what's to come for Max in the upcoming episodes of Stranger Things 4 Vol. 2. 
[SPOILER ALERT: This post contains spoilers about Stranger Things 4 Vol. 1.]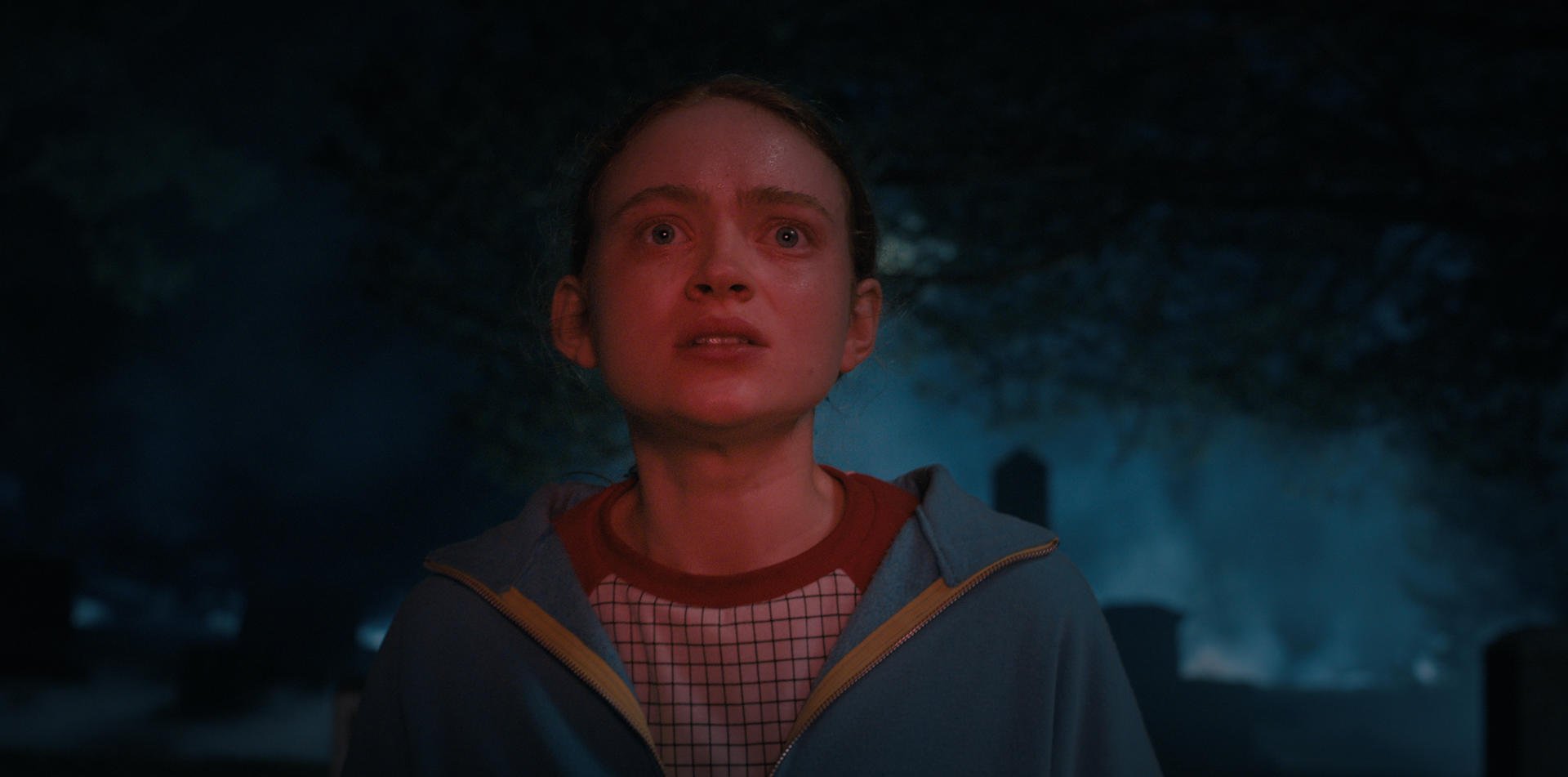 Max Mayfield faces Vecna's Curse in 'Stranger Things' 4 Vol. 1 
When we first see Max in Stranger Things 4, she's not doing well. She's still grieving her half-brother Billy (Dacre Montgomery) and suffering from nightmares, headaches, and strange visions on top of it. 
Eventually, Max realizes her symptoms are similar to the experiences of the Hawkins High teens who are mysteriously killed by this season's big bad Vecna. Max prepares letters for her friends and family as a "fail-safe," then visits the graveyard where Billy is buried when she realizes she's next. There, she confronts Vecna. 
After being pulled into The Upside Down and harangued by a twisted version of Billy's corpse, Max stumbles upon Vecna's home base (which we later learn is the Creel's former residence). Meanwhile, back in the real world, Steve (Joe Keery), Dustin (Gaten Matarazzo), and Lucas (Caleb McLaughlin), scramble to figure out Max's favorite song to pull her back from The Upside Down. As Kate Bush's "Running Up That Hill (A Deal With God)" begins to play, Max knows it's time to run for her life. 
Max's escape from Vecna was Sadie Sink 'running 25 yards' over and over 
In an interview with Netflix's Tudum, Sink broke down how they filmed the now-iconic scene from the Stranger Things 4 Vol. 1 episode "Dear Billy." According to the actor, that scene "must have been five takes of [her] running … 25 yards." 
Sink elaborated: "They just cut [those scenes] together to make it look like I was running a lot further. But really it was just like one little square of murky, bloody water." 
In the scene, Max must run for her life while dodging falling rocks and weaving through The Upside Down's pulpy, hive-mind veins. As she does, Bush's "Running Up That Hill" — the 1985 single that has become a hit among Stranger Things fans — blasts in the background.
Max's escape from Vecna will come up again in 'Stranger Things' 4 Vol. 2
As revealed in Sink's Tudum interview, fans can expect to see more of "Max's maverick side" when Vol. 2 of Stranger Things 4 comes out on July 1, 2022. Sink says the final two episodes of the series will shed more light on the power it took to escape Vecna in Vol. 1. 
"You go deeper into where she actually was mentally [before the events of season 4]," Stink teases. "It's even more impactful looking back at her choosing to fight once you hear her open up in the finale." 
Sink continued: "Max is going to have to step up. She has some pretty brave moments in Vol. 1. But Vol. 2 — it's the ultimate for her. She really has to put herself on the line." 
There will be plenty of time for Max's story to unfold in the Vol. 2 episodes. As Matt and Ross Duffer explained in another interview with Tudum, the last two episodes of Stranger Things will be at least an hour long. More specifically: "Episode 408 is around 1 hour, 25 minutes; and Episode 409 is almost two and a half hours." 
Until then, watch Stranger Things 4 Vol. 1 on Netflix.