'Stranger Things 4' Star David Harbour on His Character, Hopper, This Season – 'There's No Harrison Ford Anymore'
Stranger Things 4 returned on May 27, 2022, to hordes of fans anxiously awaiting to discover what's next for the characters from Hawkins, Indiana, including Chief Jim Hopper, played by David Harbour. Hopper almost died at the end of season 3. Fans learned early on that Hopper survived the blast underneath the Starcourt Mall. Now, he's stuck in a Russian prison. In Stranger Things 4, fans see a very different Hopper than the one we've grown to love over the past seven years.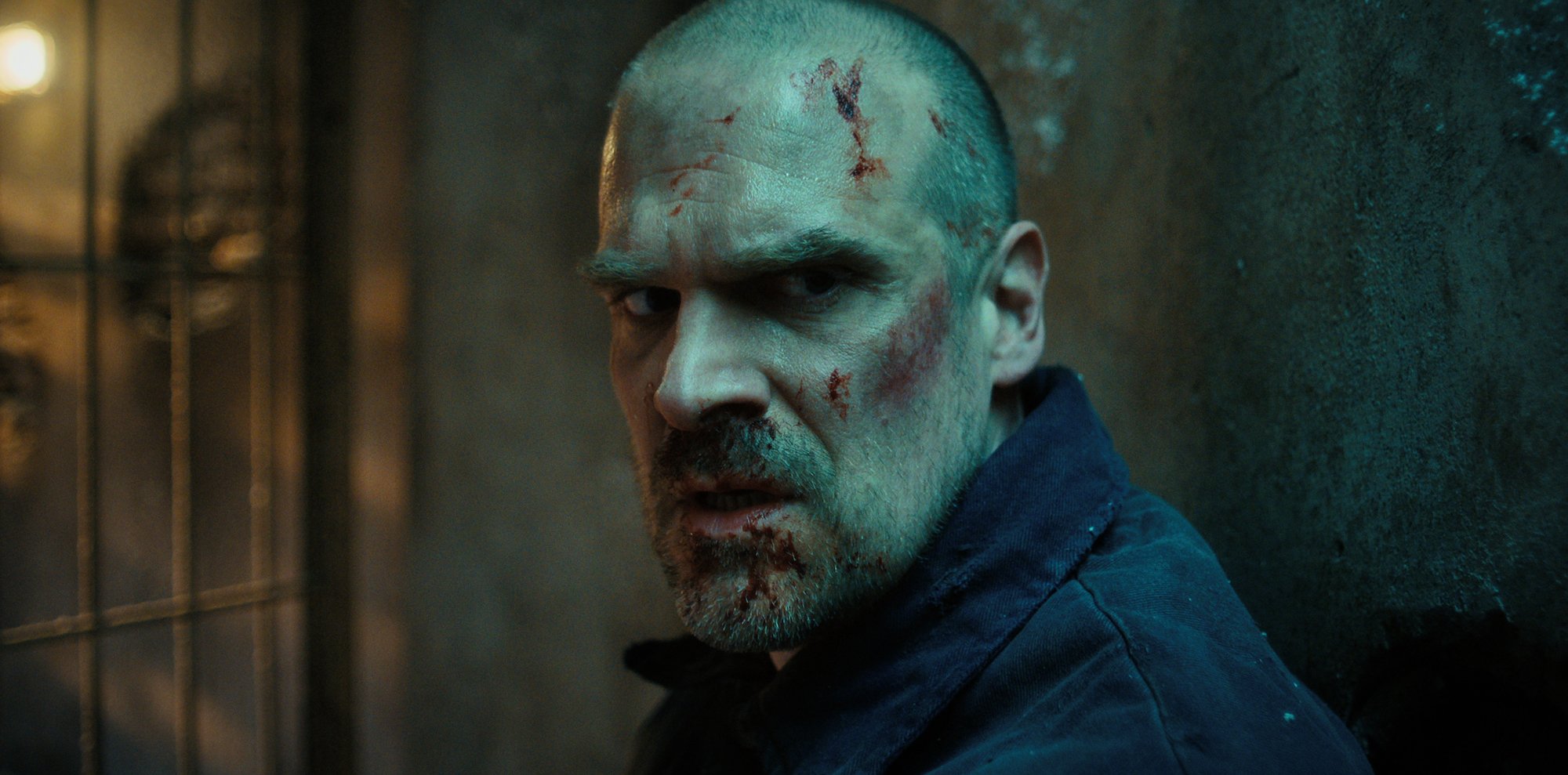 'Stranger Things 4' star David Harbour doesn't want fans to feel like they 'wasted their tears' on him
Many of us sobbed our way through the Stranger Things Season 3 finale, as Harbour narrated a letter to his on-screen daughter, Eleven (Millie Bobby Brown). That same group breathed a sigh of relief to learn he survived after all during the "From Russia, With Love" teaser. However, not everyone felt that way, and Harbour mentioned the type of messages he gets on Instagram regarding his almost-death.
Speaking to the Los Angeles Times, Harbour said, "I mean, yes, I was very happy with how moved people were. I mean, that was the intention. It still is the intention because, you know, some people, I think the younger viewers, write me on Instagram little notes saying like, 'Oh. I was weeping for you and you're still alive; I wasted these tears,' and it's like you didn't actually waste the tears. His sacrifice, whether it was, you know, fully consummated or not, was still a beautiful sacrifice. And the fact that he loves his daughter and the fact that he couldn't express those emotions in real time that come with the letter afterwards, that's all. Still very beautiful stuff. Your tears were worth it."
RELATED: 'Stranger Things 4': Who is Joseph Quinn and His Character, Eddie Munson?
Harbour says 'there's no ironic joy' in Hopper's character anymore
Despite all of Hopper's suffering throughout Stranger Things, Harbour managed to incorporate a wry sense of humor into the role. However, Stranger Things 4 shows audiences an entirely new side of Hopper. He's stuck in a Russian prison. Plus, he doesn't know if his daughter is safe or if the woman he loves is ok. 
"This season, and especially the first seven episodes, is his dark night of the Soul, where he is abandoned, alone in a, you know, violent, scary place. And he's not going to make it at one point. And we've seen Hopper amidst all the seasons, amidst all the tragedy that he's dealt with or all the craziness he's dealt with. He's had a certain joie de vivre or a certain, you know, Harrison Ford sort of like carefree-ness to all of it. And I think here is a season where we don't see as much of that. I mean, I really wanted you to see a different layer of him. The layer without skin, you know, who really is the beaten man. And there's no sort of ironic joy in it. There's no Harrison Ford anymore. It's just been stripped away from this brutal environment," Harbour explained.
When asked about 'playing it cool with Winona Ryder,' Harbour says 'you don't'
Winona Ryder, who plays harried single mother Joyce Byers, in Stranger Things earned a new generation of fans with her role in the series. A huge star in the '80s with hits like Edward Scissorhands and Heathers, Harbour himself admitted to being a fan. 
When asked about working with Ryder and how he played it cool, the actor replied, "You don't in the beginning. I mean it was difficult in the beginning. I think the first night we got together with the Duffers, it was me and her, the Duffers. We had dinner and I just like sat sort of talking with her for like six hours. It's just a really special moment for me. But the great thing and also the unnerving thing about meeting famous people that you have crushes on — that people occasionally have with me, myself, I've experienced it — is you realize they're human beings. And that's both a beautiful thing and an awful thing because you want them to be this thing. Then you're like, 'Oh no, that's a person who just does a job very well.'"
Stranger Things 4 Volume I is currently streaming on Netflix.
RELATED: 'Stranger Things 4': Does Dr. Owens Have a Connection to Peter Ballard?