'Stranger Things 4': Steve Is Safe from His Bat Bite, but He's Not in the Clear Yet
Stranger Things fans can rule out one theory about Steve Harrington's possible death in season 4 volume 2. In a recent interview, Stranger Things co-creator Ross Duffer confirmed that Steve's bite from his encounter with Upside Down bats in vol. 1 will not kill him. However, that doesn't necessarily mean the beloved "mom bro" is out of harm's way. Here's what Ross said.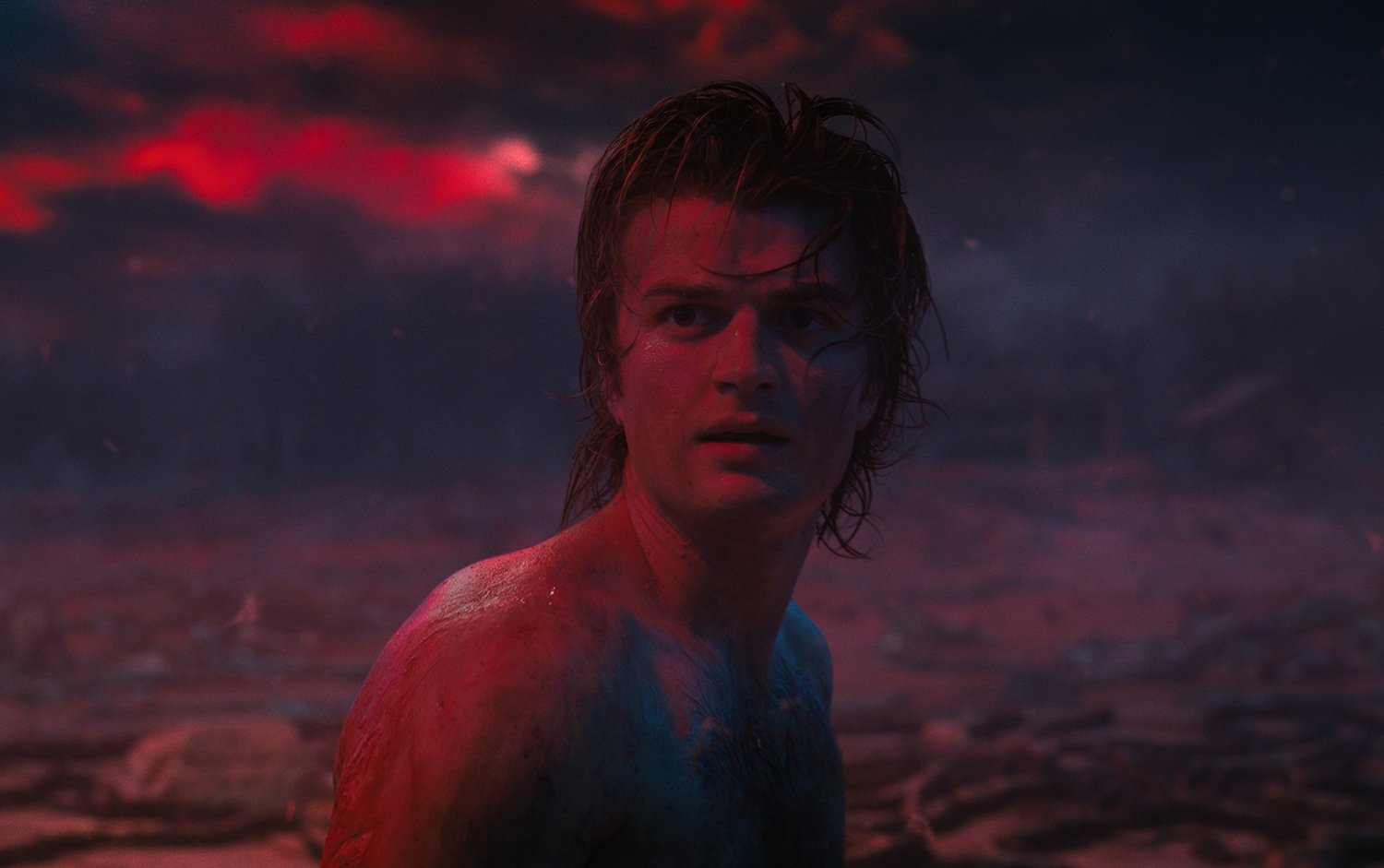 Steve Harrington had a near-death experience in 'Stranger Things 4' Volume 1
Many viewers started fearing for Steve's (Joe Keery) life after Stranger Things 4 Episode 6, "The Dive." The Hawkins High School graduate put his swim experience to work when he dove into Lovers' Lake to find a snack-sized gate to the Upside Down. He controlled his breath long enough to locate the portal and swim to the surface. However, a vine from the Upside Down swam after him and pulled Steve back underwater.
The vine dragged Steve all the way through the gate and into the Upside Down, where he managed to break free. Then, Demogorgon-like bats swarmed Steve and bit him. Thankfully, Nancy Wheeler (Natalia Dyer), Robin Buckley (Maya Hawke), and Eddie Munson (Joseph Quinn) came to Steve's rescue.
The four teens fought and killed some of the bats before heading off to find a way out. They noticed Steve had some pretty brutal injuries, and Robin worried about Steve getting rabies. He may have escaped the bats, but that bite could have long-term effects on Steve in Stranger Things 4 Vol 2.
Ross Duffer confirmed the bat bite will not kill Steve in 'Stranger Things 4' Volume 2
Ross Duffer put fan concerns about Steve slightly at ease in a recent sit-down with Variety. He confirmed that a Demobat version of rabies will not be an issue for the fan-favorite character in vol. 2.
"I wouldn't worry about the bat thing. That's more my thing. I have this thing, I'm worried about bats. That was just me, I was just fixating on bats at the moment I wrote that," Ross said. "If he's gonna die, it's not gonna be from the bat bite."
Fans should take note of that last sentence: "If he's gonna die …" Ross was very careful not to give away any spoilers about Steve's fate in vol. 2. It seems he's still very much at risk of death in those last two episodes, but at least we know it won't be death by creepy bat monster bite.
Fans are worried about their favorite characters after the Duffer brothers teased a body count
Steve isn't the only character fans have to worry about in the two-part finale. In the same interview with Variety, Ross's brother, Matt, said there would "for sure" be some deaths in vol. 2. Whether those deaths include major characters remains to be seen. Fans now have heartbreaking theories about Eddie, Steve, Nancy, and more.
"[Fans] should be concerned going into the final two episodes [of season 4] — for everybody," Ross recently warned TVLine.
Stranger Things 4 Vol. 1 is now available on Netflix. Vol. 2 premieres on July 1.
RELATED: 'Stranger Things' 4 Volume 2: The Timeline of Eddie's Possible Death – Based on New Teaser Trailer