'Stranger Things 4' Suzie Actor Gabriella Pizzolo Describes Vol. 2 – 'Memory. This Really Is the Beginning of the End' [Exclusive]
Stranger Things 4 Volume 2 premieres in just four days on July 1, 2022, and fans are chomping at the bit to learn the fates of some of our favorite people in Hawkins, Indiana. One fan favorite who doesn't call Hawkins home is Suzie, Dustybun's girlfriend. Gabrielle Pizzolo snagged the role of Suzie in Stranger Things Season 3. She quickly made a place for herself in the fandom thanks to her iconic scene belting out The Never Ending Story theme song in the finale. Pizzolo stopped by Showbiz Cheat Sheet to talk about Stranger Things 4.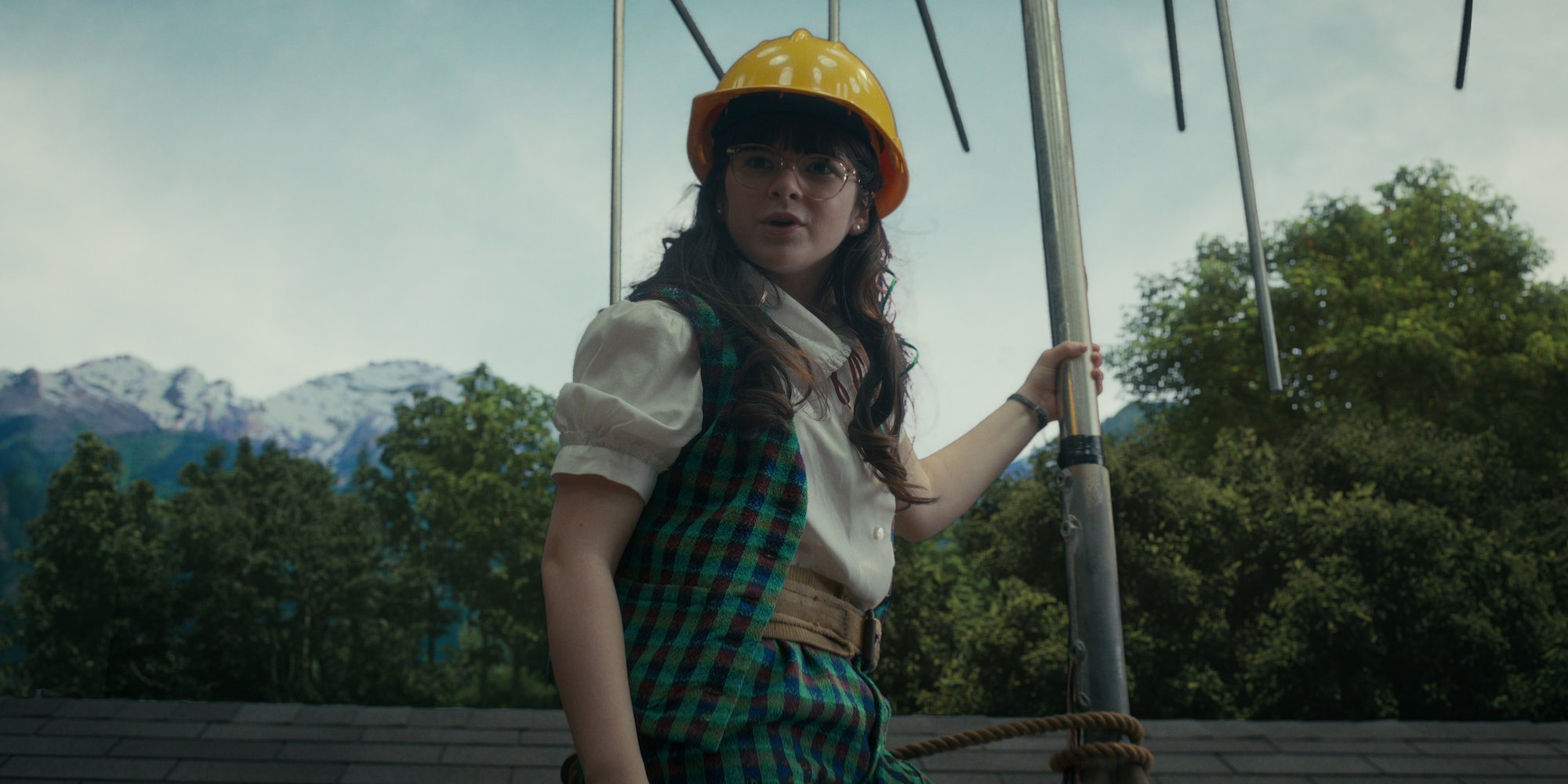 Gabriella Pizzolo's Broadway background meant she knew some of her castmates before 'Stranger Things'
Starting in a show with a large cast that's been close for several years can be intimidating. Thanks to Pizzolo's Broadway background, though, she knew several of her co-stars before joining Stranger Things Season 3. We asked Pizzolo what it was like joining the cast and who she knew beforehand.
She replied, "I had met Caleb a few times. We would all meet up at this Broadway playground, that's what we liked to call it. It was on Eighth Avenue, and we would all play there in between our shows on Broadway. I had met Caleb and Gaten there, and I'd seen Gaten in his first Broadway show ever. That was one of the first shows that I ever saw. And Sadie, I had known really, really well because her brother Mitchell was in Matilda with me. Matilda was my first show. So we were family friends."
Pizzolo also talked about how knowing her co-stars made the entire experience more comfortable.
"It definitely helped, and it made me feel a lot more comfortable. And I think that being comfortable while you're on set is one of the most important things that can happen. You know, talking through scenes, which even though Gaetan and I knew each other, we still went through everything that we were going to have to do. We worked on the song together, and he came to my trailer before and was like, 'Are you sure this is okay? Do you want to try this?' It was just a super comfortable experience because we'd all already known each other," Pizzolo explained.
RELATED: Joseph Quinn's Guitar Skills Helped Make the Scene with Eddie Munson in the Upside Down a Breeze
Pizzolo uses the word 'memory' to describe volume 2
While we know the Stranger Things 4 cast can't give anything juicy away in interviews before the show premieres. However, we always love to get their thoughts on the final two episodes. Showbiz Cheat Sheet asked Pizzolo to describe Stranger Things 4 Volume 2 in one word, and the word she used undoubtedly piqued our interest.
"I would say memory. I think that it really is the beginning of the end and the end of the beginning." Pizzolo said, "I have to be careful with my words. I think that everything that has left people questioning will be answered and or at least elaborated on in ways that will be satisfying to anybody watching."
Whether or not Pizzolo makes an appearance in 'Stranger Things 4' Volume 2 remains up in the air
With the show's creators Ross and Matt Duffer, holding everything so close to their chest, fans can only go by the scenes they saw in the Stranger Things 4 Volume 2 trailer. Unfortunately, the trailer didn't include any sneak peeks at Suzie. However, that doesn't mean Pizzolo's character won't pop up again in the final two episodes or even in season 5. For now, though, we have to wait.
Stranger Things 4 Volume 2 premieres on July 1, 2022. Volume 1 is currently streaming on Netflix.
RELATED: 'Stranger Things 4' Star Sherman Augustus Reveals if Col. Sullivan Knows Dr. Brenner's Alive [Exclusive]