'Stranger Things 4': Why Doesn't Nancy Go to California to Visit Jonathan?
In 'Stranger Things 4' the Byers and Eleven live in California. We know Mike visits El, but why doesn't Nancy visit Jonathan? Here's what we think.
Stranger Things 4 recently started ramping up its marketing for the upcoming season. Netflix gave us the full-length trailer and some production stills earlier in April. They released an interview with Millie Bobby Brown and Noah Schnapp but quickly deleted the video. Fans have plenty of theories about what goes down in Stranger Things 4, but one question remains unanswered. Why doesn't Nancy Wheeler (Natalia Dyer) go to California with Mike (Finn Wolfhard) to visit Jonathan (Charlie Heaton)?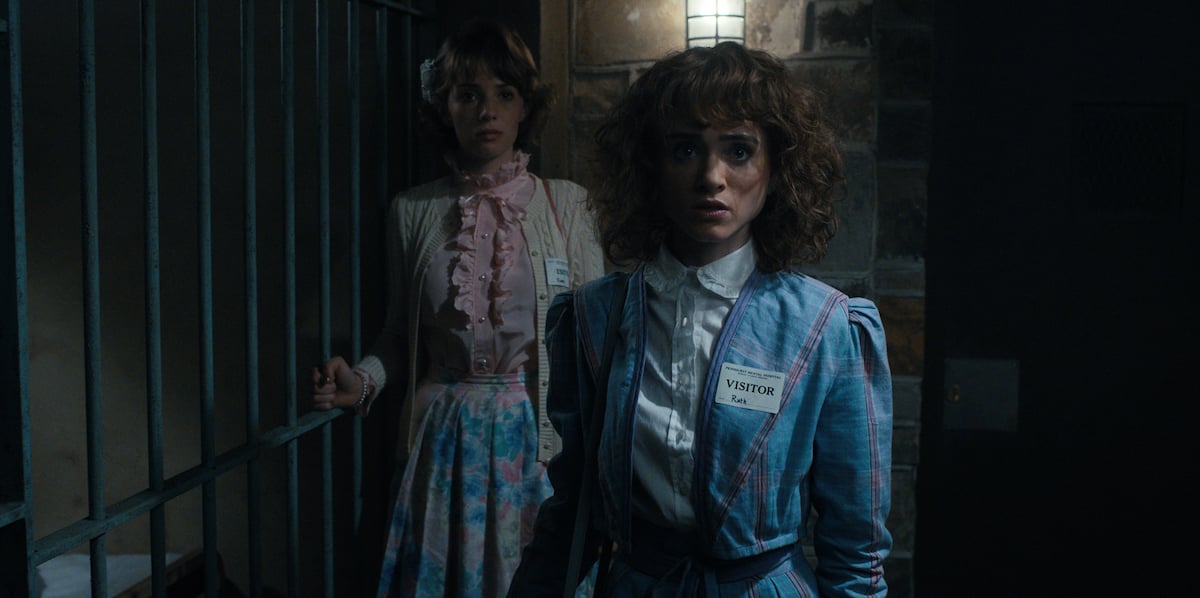 'Stranger Things 4' footage showed Mike, Eleven, Will, and Argyle in the Lenora Hills airport
In the now-deleted interview with Schnapp and Brown, fans saw quick glimpses of scenes from Stranger Things 4. One of those scenes saw Mike and Eleven happily holding hands as they walked through the airport. Third Wheel Will (Third Will, if you will) held something in his hands that looked like a painting. Nancy, however, was suspiciously missing.
The "Welcome to California" teaser gave us our first look at Eleven and the Byers in California. In the teaser, we watched Eleven narrate a letter she wrote to Mike, telling him how excited she was for him to spend his spring break with her. None of the other clips in the teaser showed Nancy hinting that she didn't make the trip out to see Jonathan.
The full-length trailer for 'Stranger Things 4' only showed Nancy in Hawkins, Indiana
The teaser could have been chalked up to editing, but the big reveal came when the full-length trailer for Stranger Things 4 premiered on Apr. 12, 2022. Nancy sticks with Robin and Steve in the trailer, who we know are located in Hawkins.
Images from Stranger Things 4 show Nancy and Robin wearing nametags, and they look as though they're visiting a prison of some sort. (We think it's Pennhurst Mental Hospital.) Plus, none of the teasers show us any interactions between Nancy and Jonathan. So, why doesn't Nancy visit her boyfriend in California when Mike visits Eleven?
We think Nancy stays in Hawkins to investigate the weird events that occur
Long-distance relationships are challenging even when people have the convenience of the internet and free long-distance calls. In 1986, those things didn't exist, making a romantic relationship spread out over hundreds of miles even more difficult. However, when we last saw Jonathan and Nancy in Stranger Things Season 3, they parted on good terms. Both of them appeared willing to try to stay together.
Now we know it's been six months since the Battle of Starcourt, and there's no way to know what happened during that time with their relationship. Maybe living in two different states finally forced them to call it quits. Although, every scene with Nancy we've seen so far implies she's involved with the creepy things happening in Hawkins. 
However, there's one detail Jancy shippers might have some concern about, and that's Nancy's time with Steve. Nancy and Steve dated most of Stranger Things Season 1 but broke up in Stranger Things Season 2. It looked like Steve got over Nancy when season 3 rolled around, but maybe his feelings shifted once again. One scene in the Stranger Things 4 trailer show Nancy and Steve investigating something together, and the two looked awfully friendly.
We don't think the Duffer Brothers plan on reviving Steve and Nancy's relationships. However, we've learned to never say never.
Stranger Things 4 Part 1 premieres on Netflix on May 27, 2022.