'Stranger Things' Actor David Harbour Added a Crucial Detail to Chief Hopper's Look
The 80's-inspired horror series Stranger Things returns to Netflix in 2022. The popular show brought in massive viewership for the streaming service. But not everyone knows the whole story behind David Harbour's Chief Hopper — including one element the actor himself added to the character. 'Stranger Things' has seen massive success Who would have thought a show …
The 80's-inspired horror series Stranger Things returns to Netflix in 2022. The popular show brought in massive viewership for the streaming service. But not everyone knows the whole story behind David Harbour's Chief Hopper — including one element the actor himself added to the character.
'Stranger Things' has seen massive success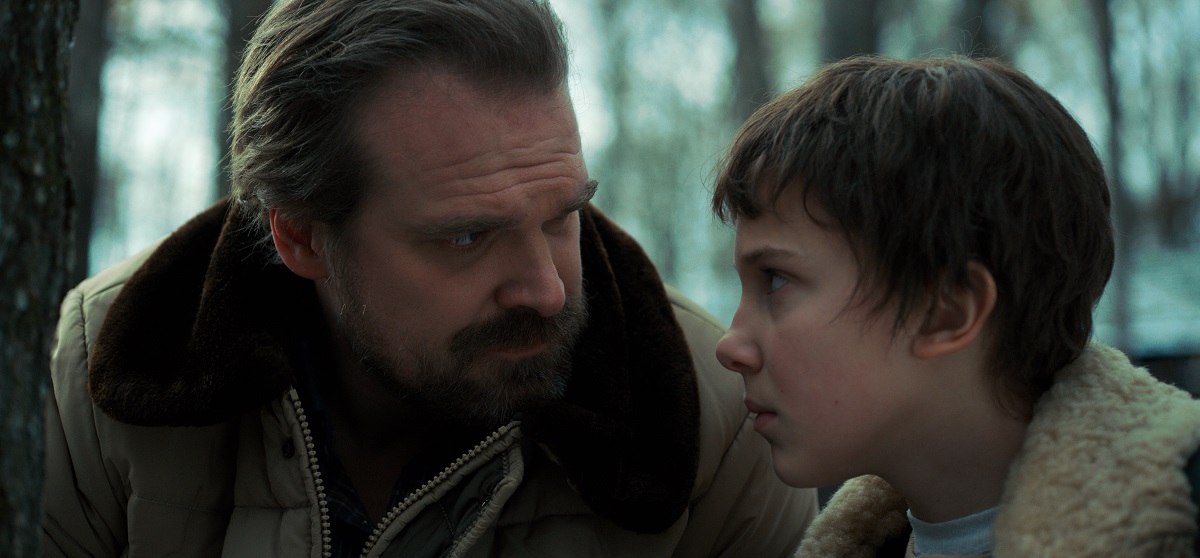 Who would have thought a show about four kids playing Dungeons and Dragons in a basement discovering that monsters are real could be such a megahit? Stranger Things appeals to a broad audience with its 80's nostalgia, unique storytelling, and talented actors. 
The ensemble cast includes Winona Ryder as Joyce Byers, with Noah Schnapp and Charlie Heaton as her sons Will and Jonathan. Millie Bobby Brown rose to stardom while playing Eleven. Other actors include Caleb McLaughlin as Lucas Sinclair, Gaten Matarazzo as Dustin Henderson, and Finn Wolfhard as Mike Wheeler, who rounded out the main four characters who started it all. 
Harbour stars as Chief Jim Hopper, who is roped into the story by Joyce when she doesn't believe her son Will is dead. He remains a part of the core group after discovering the Upside Down, even taking Eleven in as his own.
David Harbour reveals Jim Hopper's hat wasn't planned
Aside from his attitude and determination, one of the core elements of Hopper is an accessory. While there's no major story behind the characters' police hat, it's a notable part of his early look.
Yet when the script for Stranger Things was first written, Chief Hopper didn't wear a hat. It wasn't until Harbour tried out for the role that the hat became a part of the character.
According to The Wrap (via The Talko), Harbour was invited by the Duffer brothers to review the script of Stranger Things and try out for the part of Jim Hopper. Harbour was reportedly close to retiring, as his career had reached a plateau, and he didn't even think he would have a chance at landing the role.
Even so, he showed up for his audition wearing a hat because he felt that this was part of Hopper's personality. Not only was Harbour offered the role, but the hat became a part of Jim Hopper's wardrobe.
'Stranger Things' Season 4 is coming
Season 3 of Stranger Things premiered on July 4, 2019. Since then, fans have been eagerly awaiting the fourth season's release. It's been nearly three years, but Stranger Things season four has a release date. Well, two, actually.
The Duffer brothers have acknowledged the long wait and addressed it in a letter to fans. To sum it up, season 4 will have a run time twice as long as previous seasons. For those who felt like the show is great but lament that it only has eight episodes, that's about to change.
There will be two volumes of Stranger Things season four. Volume 1 will be released on May 27, 2022, according to IMDb. Volume 2 will be released five weeks later on July 1.
While this is fantastic news, the Duffer brothers did have some bad news. There will be a fifth season, but it will also be the last one.