'Stranger Things': Are Steve and Dustin the Best Duo on the Show? All Signs Point to Yes
There's a lot to love about the characters in Stranger Things. There are friendships galore, and in Stranger Things Season 3, there's plenty of romance to go around. Fans create 'ship names for their favorite duos so we're sure you've heard of Mileven and ElMax. Mileven is Mike (Finn Wolfhard) and Eleven's (Millie Bobby Brown) 'ship name, while ElMax refers to Eleven and Max (Sadie Sink). 
In Stranger Things Season 2, fans loved the unlikely friendship between Dustin Henderson (Gaten Matarazzo) and Steve Harrington (Joe Keery). The fact that both had their own seats in Hawkins' Lonely Hearts Club helped them bond, along with Dustin's ill-fated pet, Dart. Now they're one of the viewers' favorite teams. But are they the best duo on the show?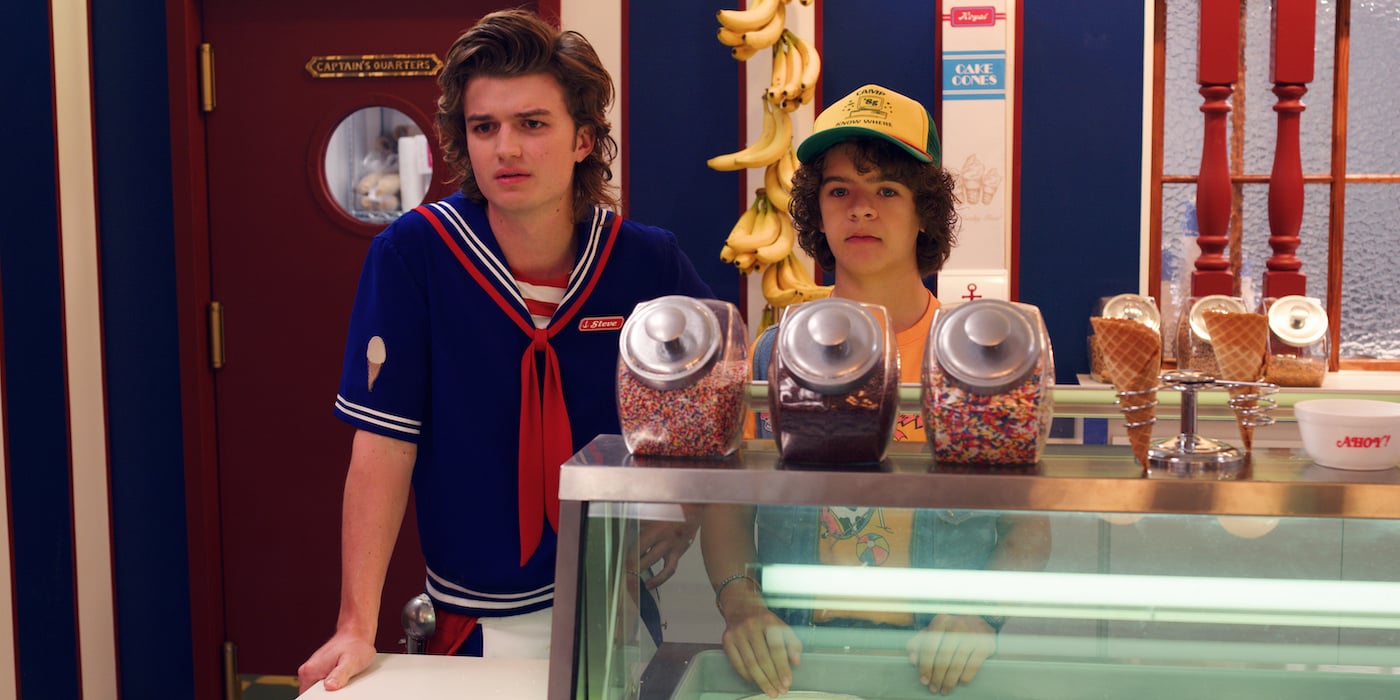 How did Steve and Dustin become friends in the first place?
As we mentioned, this duo was not expected from anyone. In Stranger Things Season 1, Steve was Mr. Popularity and essentially ruled Hawkins High. Dustin, on the other hand, was an outcast along with Mike, Lucas, and Will. Plus, the fact that Dustin is several years younger than Steve didn't help with the two having anything in common.
When Dustin stumbles upon a little creature thrashing around in his trash can, he thinks he's found a new species. And he has… sort of. The only problem is that the creature is a species from the Upside Down. We eventually learn the animal is a baby Demogorgon. Not something anyone wants sleeping at the end of their bed at night.
When the creature eats Mews, Dustin's cat, he knows he must get rid of it. After Dustin can't reach any of his friends, he runs into Steve at the Wheeler's house. He gets Steve to help him with his baby Demogorgon problem, and the rest is history.
Why we think Steve and Dustin are the best duo in 'Stranger Things'
Alright, sure, we love Lucas and Max together, we cheered when we learned that Mike and Eleven were dating, and we even felt that flutter in our stomachs when we saw Joyce and Hopper's relationship blooming. But it's Steve and Dustin for us, and here's why.
First, their relationship was entirely unexpected. When we first met Steve 'The Hair' Harrington, there's no way he'd give the time of day to little dorky Dustin. He was too cool, and all the kids knew it. We can't even count how many times someone referred to him as a "douchebag" in Stranger Things Season 1. But Steve's breakup with Nancy knocks him down a few notches while Dustin's help in saving Will takes him up a few. Their witty banter back and forth in Stranger Things Season 2 is when we knew we had something special, and it hasn't disappointed since.
Secondly, it's through Dustin we really get to see Steve's soft spot. He's not this one-dimensional popular guy. He cares about his friends, and in the season 2 finale, he does all he can to give Dustin's confidence a boost. 
Finally, it's during Stranger Things Season 3 that their friendship really takes off. When we join the gang in the summer of 1985, Dustin has been at camp for a few weeks. He's excited to see his friends, but as it turns out, they're busy. Lucas, Max, Eleven, and Mike are all dealing with their respective relationships and don't seem to have time for their friend. Will is bummed that nobody wants to play Dungeons and Dragons anymore, and nobody cares about Dustin's awesome ham radio he constructed at camp. 
Then he remembers his good pal Steve Harrington. A quick trip to Scoops Ahoy, the ice cream parlor where Steve works, and all is right in the world. The two share their signature handshake while Robin (Maya Hawke) looks on in disdain. They're goofy, they're honestly excited to see one another, and they are one of the brightest parts in all of Stranger Things Season 3. 
Will we see more of Steve and Dustin in 'Stranger Things' Season 4?
The answer to that question is yes! In the latest trailer released at Netflix's global fan event, TUDUM, we see Steve and Dustin together once again. This time they're snooping around the creepy Creel house, looking for clues. 
Stranger Things Season 4 is set to premiere in 2022, and we don't know about you, but we can't wait to see more shenanigans from these two. Right now, we'll be happy with rewatching the first three seasons on Netflix.