'Stranger Things': David Harbour Finds It Hard Not To Fall in Love With Winona Ryder
While fans of Stranger Things love the relationship between Joyce Byers and Jim Hopper, some ultra-fans think David Harbour and Winona Ryder are just as adorable together. The actors seem to be best friends in real life, and the reason their on-screen chemistry works so well is due in part because their off-screen dynamic is just as special. Harbour even admits that it's hard not to fall in love with his co-star.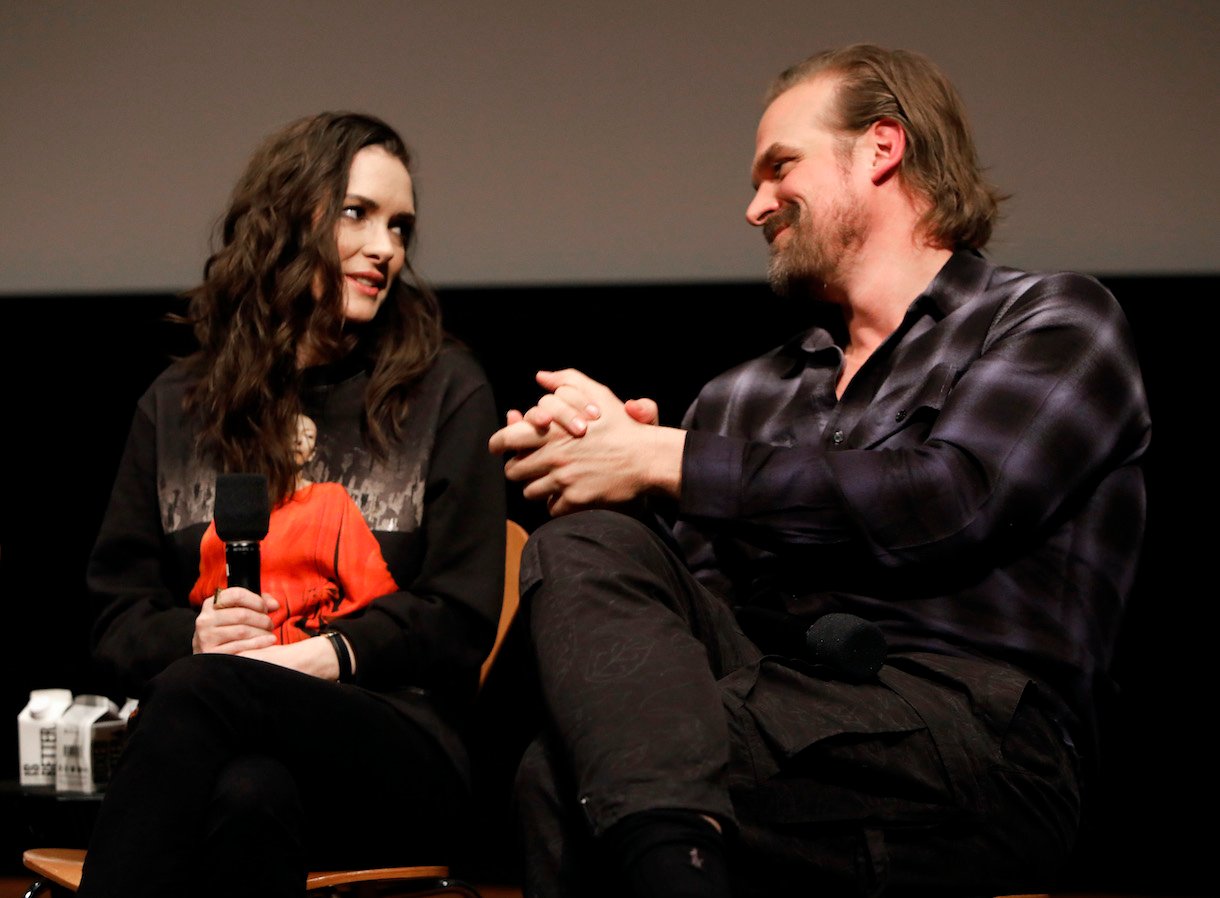 David Harbour had a crush on Winona Ryder while growing up
According to an interview with The LA Times, Harbour had the biggest crush on Ryder during his teenage years.
After watching her in '80s classics such as Beetlejuice and Heathers, he fell head over heels for the woman who would one day play his on-screen love interest.
Harbour said, "She was my high school crush with Heathers and Beetlejuice, and she's such a great person to work with."
And according to the actor, he has been playing up the idea of Hopper having a crush on Joyce since the very first episode. "Look, ever since I read the pilot, I loved the relationship with Hopper and Joyce," He told Variety (via HelloGiggles.) "I consider it a little bit like Chinatown, with Faye Dunaway and Jack Nicholson. These are two lost, broken people who need each other but are so prideful and messed up that they'll never admit it. It's great to allow that to play out over several seasons."
David Harbour thinks it's hard not to fall in love with his 'Stranger Things' co-star
"She's the greatest," Harbour says of Ryder during his interview with her for The LA Times. "She's so willing to explore personal, intimate things that most actors get to a certain point and go, 'That's enough.' And it's exploring things about yourself that you don't necessarily like, the complexities of the human psyche, which is messed up and strange and wonderful and mysterious and horrible."
"I do feel like there are moments where you fall in love with Winona," Harbour continues. "It feels like a marriage, where we're willing to go the distance in that way that gets really uncomfortable. I want to do a scene with Winona where I get so messed up that I have to go back to my trailer and cry."
In response to Harbour's compliment, Ryder gushes about her co-star right back. "I just feel like I'm so incredibly lucky to have him. I don't know what I'd do without him," says Ryder. [Her voice breaks.] "And I really mean it."
"Quit it! Oh, my God! See!?" says Harbour. "How can you not fall in love with that human being?
David Harbour says he and Winona Ryder are like an 'old married couple'
In a panel with Harbour at Phoenix Comicon, the actor said that he and Ryder were just like an old married couple.
"Winona gets very personal very quickly," Harbour said. "So we were almost like an old married couple right after I'd met her."
"I agree," Millie Bobby Brown chimed in.
"And so we would bicker like an old married couple," Harbour continues, "but we'd also share these really lovely moments. I certainly know for myself that my performance doesn't work without her. Without her and her performance, my performance doesn't make sense if that was another actress. I'm so grateful for what she brings and all the heart and passion that she brings to her work."