'Stranger Things': David Harbour Promises 'Bigger' Season 4
David Harbour teases a 'bigger' show with 'Stranger Things' season 4.
After the cliffhanger season 3 finale of Stranger Things, fans are ready to dive into another exciting season. Luckily, according to David Harbour, who plays Sheriff Jim Hopper, the fourth season will be much bigger than the last three.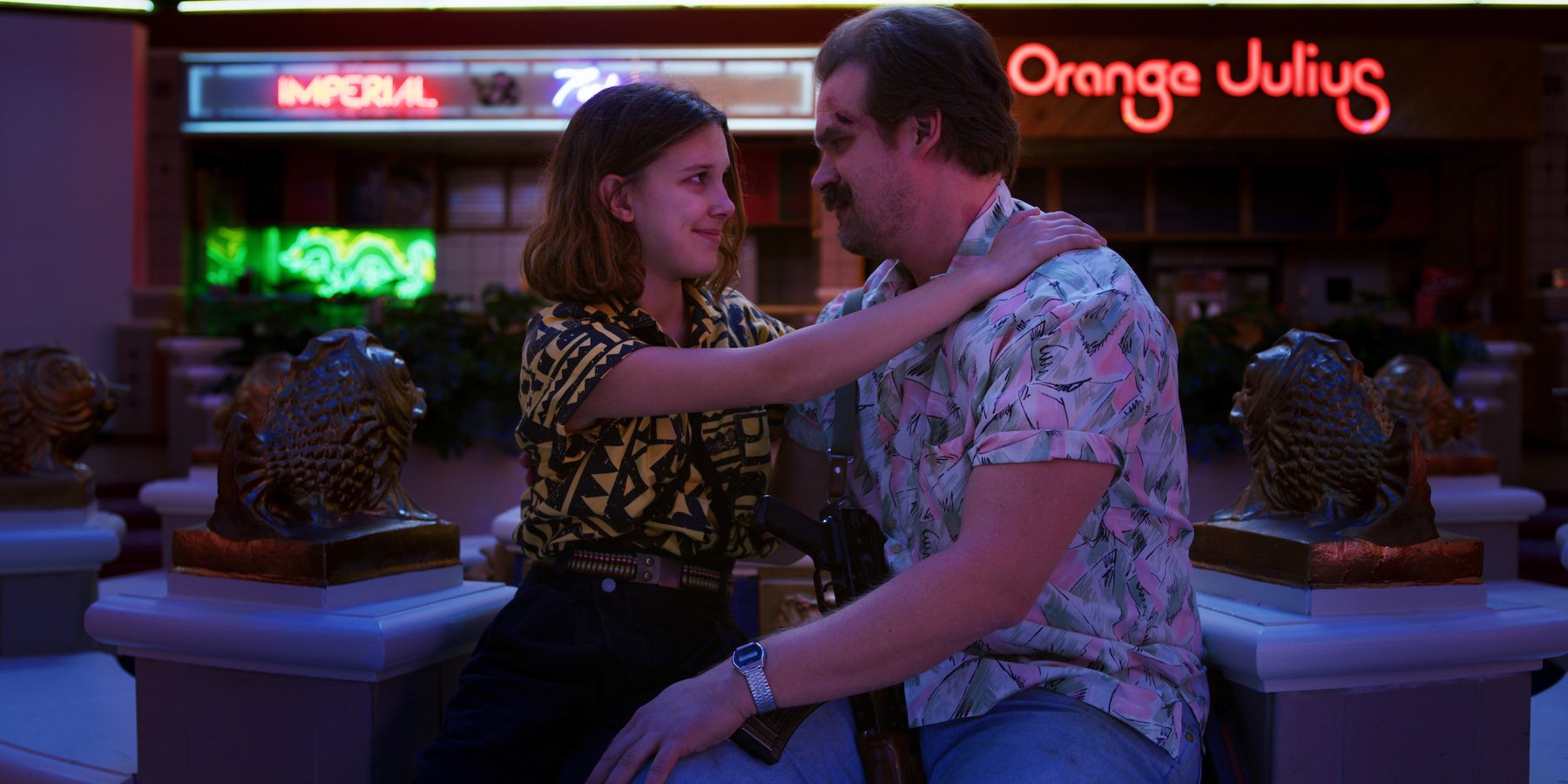 Hopper isn't dead Stranger Things season 4
Hopper's fate looks bleak in the Stranger Things season 3 finale as he is caught in a major explosion while trying to close the Upside Down portal. But luckily, as teased by showrunners Matt and Ross Duffer, the Sheriff is still very much alive. And to add to the mystery, he's going to wake up in a Russian prison. 
"We're excited to officially confirm that production on Stranger Things 4 is now underway — and even more excited to announce the return of Hopper," they said in a February 2020 statement via Netflix. "Although it's not all good news for our 'American'; he is imprisoned far from home in the snowy wasteland of Kamchatka, where he will face dangers both human … and other."
"Meanwhile, back in the states, a new horror is beginning to surface, something long-buried, something that connects everything," they added. "Season 4 is shaping up to be the biggest and most frightening season yet, and we cannot wait for everyone to see more. In the meantime — pray for the American."
David Harbour says 'Stranger Things' season 4 is bigger 
The first three seasons of the retro Netflix series were thrilling on their own. But according to Harbour, Stranger Things season 4 is going to offer a whole lot more. 
"I mean, it's bigger, that's the first thing," he recently told Collider.  "In scope, in scale, even in the idea that we're not in Hawkins anymore. We, locale-wise, we're bigger. We're introducing new stuff, but we're also tightening and wrapping up in a certain direction to make it have a clear, clean, specific, and definite ending at some point, which I can't really talk about."
Season 4 of 'Stranger Things' is David Harbour's favorite
Harbour's character has grown quite a bit since season 1 of Stranger Things. Hopper has gone from tough guy to friend to father figure. But in season 4, fans will see him evolve even more as he navigates his way through the Russian prison and the continuing mystery of the Upside Down. 
When talking to Collider, Harbour described Hopper's upcoming story arc as a rebirth. And he suggested that he's enjoyed working on this season more than any other. 
"[Season 4] is really my favorite season," the actor said in his interview with Collider. "I just love it. The scripts always get better — season 1 is so tight and good and intimate in a certain way, it's so good."
"And these guys go in different directions, of which the fans have multiple takes on, but I will say, the writing continues to be of its particular, specific genre, whatever they're doing each season is just extraordinary," Harbour continued. "And this, again, we top it. Like I feel it's a big, beautiful season. I can't wait for people to see it."
Netflix has not yet released a premiere date for season 4 of Stranger Things. But it likely won't hit the streamer until early 2022.