'Stranger Things': David Harbour Recalls Filming This One Scene, 'That Was a Really Messed Up Day'
Stranger Things Season 2 has a cloud hanging over it throughout all nine episodes. Yes, the third season really amps up the fear and gore, but when we join our friends in Hawkins, Indiana, in season 2, everyone is in a slump.
The actors in the series are talented because they know how to channel their emotions into excellent performances. However, there's one scene in Stranger Things Season 2 that took a toll on both David Harbour, who plays Chief Jim Hopper, and Millie Bobby Brown, who plays the role of Eleven.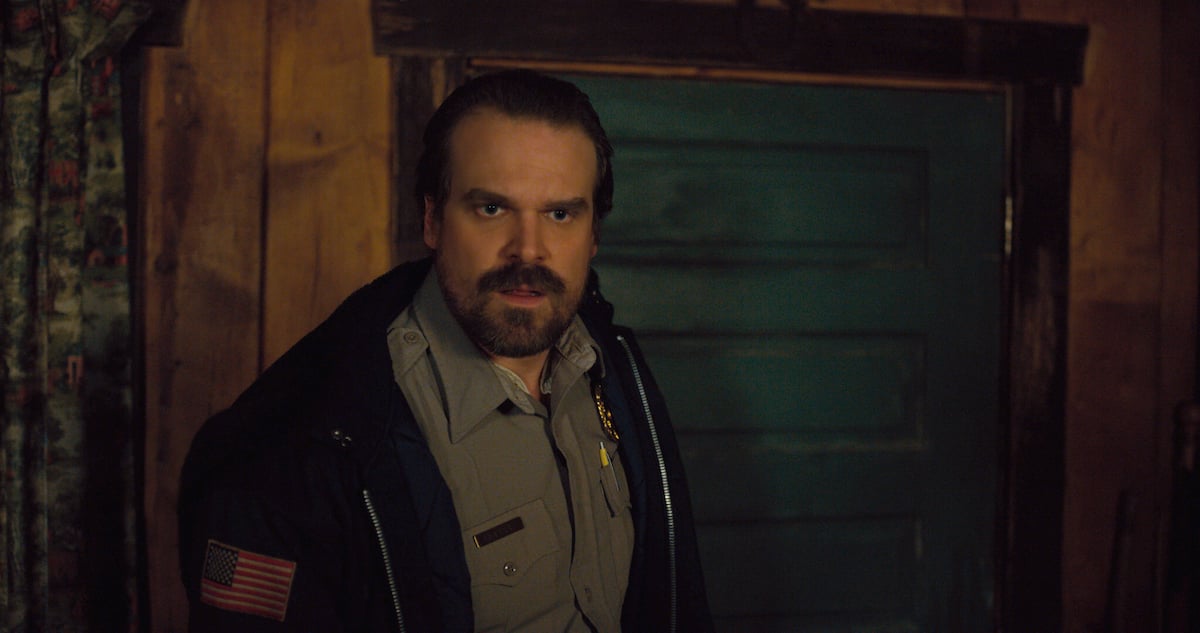 David Harbour had a hard time processing his emotions for this scene in 'Stranger Things' Season 2
In the second season of the Netflix hit series, we find Hopper keeping Eleven safe from anyone who might want to take her back to Hawkins Lab, or someplace even worse. She's been hiding out in Hopper's grandfather's cabin in the woods and hasn't had any contact with a single person besides Hopper.
He's given her three rules to follow, and those rules keep her isolated from the rest of the world. We understand that Hopper is only trying to keep her safe, but the isolation takes a toll on the young girl.
After realizing Hopper might not ever let her rejoin civilization, she sneaks out on her own. The police chief learns about her jaunt into town through a call from another worried Hawkins parent. After he gets home, she arrives, and he's furious with her disobedience. Locked in a battle of wills, Hopper tries to ground her, and Eleven proceeds to have a "psychic tantrum" and eventually blows the windows out of the cabin.
There is a lot of yelling and tears, which anyone would expect after such an emotional showdown, but the actors themselves had a hard time dealing with the scene as well. Harbour sat down with Insider to talk about the show and this scene in particular.
"I mean I was feeling all messed up about it," Harbour said. "But I did want to treat the scene with the respect it deserves and I wanted to treat Millie [Bobby Brown] with the respect she deserves as my female costar, and really give her my all and my power, and she's able to give it right back. So that was a very complicated day."
RELATED: 'Stranger Things': 3 Reasons We Love Steve Harrington
Harbour also mentioned another scene involving an argument with Finn Wolfhard
As we said, Stranger Things Season 2 has all of the characters on edge, and it's evident in the scenes when an argument has to play out. This scene, however, has Mike Wheeler (Finn Wolfhard) instigating the fight. Mike lashes out at Hopper because he feels like he's been lied to, and really, he has.
As much as the audience understands it was for his own good, we know why a kid would take a less forgiving approach. Harbour, however, felt this was an easier scene to film.
"In terms of the scene with Mike, I gotta say, that was really easy," Harbour said. "I mean, look, I love all the kids equally. But as my parents would say, 'Some months one kid is your favorite and other months a different kid is your favorite,' and I have to say during that sequence, Finn [Wolfhard] really is one of my favorites."
We're just glad it all worked out in the end. When we catch up with our friends in Stranger Things Season 3, Hopper has moved on to being annoyed by much more typical parenting issues – like how much time his daughter is making out in her bedroom with her boyfriend.
RELATED: Could 'Stranger Things' Season 4 Continue the B-Name Curse?
Where will we find our favorite Hawkins residents in 'Stranger Things' Season 4?
Stranger Things Season 3 ended on a devastating cliffhanger. However, we didn't have to worry for long, thanks to the showrunners. While we had a few months of wondering if our favorite small-town police chief was alive, our minds were put to ease with the first teaser trailer released back in Feb. 2020.
Right now, we can expect to see Stranger Things Season 4 return in 2022, but nothing more specific. Fans hope we'll get an actual release date at the upcoming Netflix global fan event TUDUM on Sept. 25. In the meantime, we'll just have to satisfy ourselves with multiple rewatches of the first three seasons.