'Stranger Things': Duffer Brothers Reveal the Reason for Eleven's Broken Speech
There is a lot to still dissect about Eleven in Stranger Things. The young girl's backstory and her connection to the Upside Down were further revealed in Stranger Things Season 4 Volume I. But there is one aspect of Eleven throughout Stranger Things that has befuddled fans – her speech pattern. The Duffer brothers explain exactly why and how it ties into the rest of the series.
[WARNING: This article contains spoilers for Stranger Things 4 Volume I]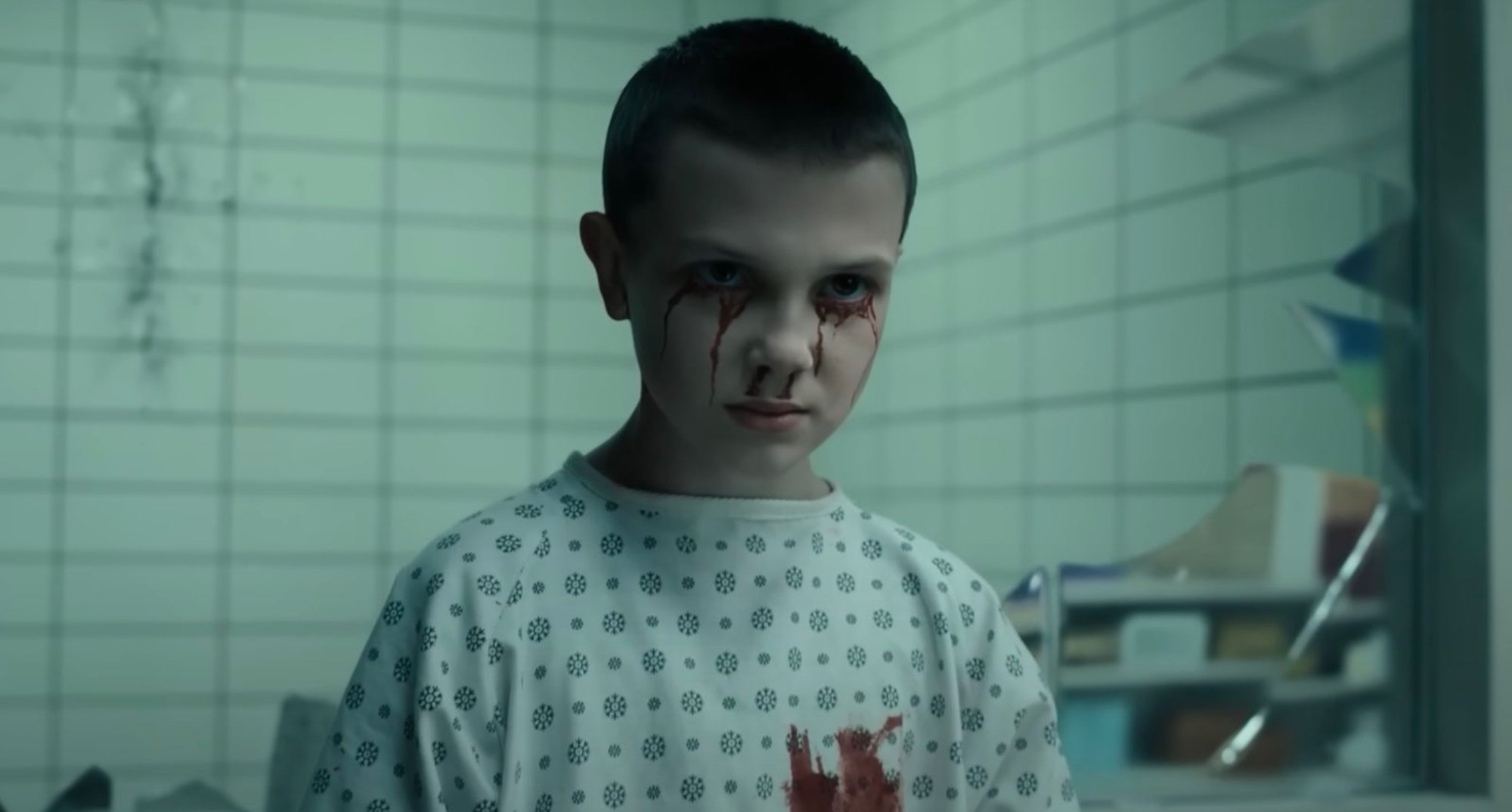 Eleven has a regressed speech pattern compared to other characters in 'Stranger Things'
Fans of the series have seemingly discovered a supposed plot hole with Eleven in the newest season. In the flashbacks to her time in the lab, she can form coherent and smooth sentences and has a well-rounded speech pattern. But as fans remember, when Eleven meets the gang in the first season, she could barely speak.
According to Cosmopolitan, the plot hole has fans confused, with one fan commenting, "The only plot hole in Eleven's memories is that she speaks too well girl could barely say 'no' when we first met her." As a result, Mike and the rest of the gang become her teachers. They teach her words, how to speak, and everything else.
As fans likely remember, Eleven has been with Dr. Brenner since she was a child, along with most of the other subjects. How could it be that Eleven regressed in her speech after escaping the lab when her flashbacks reveal she and the others poke incredibly well? The Duffer brothers have the answer to Eleven's speech conundrum ahead of Stranger Things Season 4 Volume 2.
The Duffer brothers reveal a shocking truth to Eleven's timeline that explains her lack of speech
RELATED: 'Stranger Things 4' Star Caleb McLaughlin Responds to Wild Fan Theories – 'People Think About It Too Much!'
In an interview with Variety, the Duffer brothers spill the beans about the many questions fans have about the Upside Down, the timeline, and Eleven. Matt Duffer was asked about the inconsistency of Eleven's speech in the first season compared to what fans see in Stranger Things Season 4.
He gives a small teaser and how it connects to the shocking reveal at the end of the first half and why Dr. Brenner focused heavily on Eleven. "Well, she is being socialized the same way with the other children," explained Mike Duffer. But the creator reveals something happened after Eleven's traumatizing events during the Hawkins lab massacre.
"I guess I'm revealing a little bit, but she goes into a coma, reawakens, has no memory of these events and then is raised in total isolation by Brenner, who doesn't dare bring in another number, for fear of this happening again," he revealed.
Eleven going into a coma stunted her speech development, combined with her isolation. It makes sense the flashbacks fans see before the massacre show her speaking well, compared to what fans know in the first and rest of the seasons.
What happened during the massacre at Hawkins Lab with Eleven?
RELATED: 'Stranger Things' Season 4: Before Jamie Campbell Bower's Key Role, He Was a Vampire and Shadowhunter
The "events" Matt Duffer is referring to that caused Eleven to go into a coma is the infamous massacre. In Stranger Things Season 4 Volume 1, Eleven ventures into her memories to regain her powers. Fans soon meet a kind orderly who helped her named Peter Ballard, played by Jamie Campbell Bower.
But as Eleven dives into her darkness, she learns the truth about her friend. Peter is in reality Henry Creel, who becomes the season's antagonist, Vecna. Henry was Dr. Brenner's first, tagged as One, who led to the creation of the program and Eleven. Having gotten rid of the chip hindering his powers, Henry goes on a rampant massacre.
He explains he has grown disgusted with society and humanity's idea of time and space. Fearing Henry, Eleven uses her powers to stop him. She inadvertently uses his body to open the gate, and possibly create the Upside Down. She is later found by Dr. Brenner and as Matt Duffer explains, goes into a coma.
RELATED: 'Stranger Things' Season 4: How Jamie Campbell Bower Prepared for His Dark Character: 'I Wouldn't Speak to People'