'Stranger Things': Dustin's Best Moment From Each Season
There's no shortage of loveable characters in Netflix's hit series Stranger Things. We appreciate it, though. It helps create a balance between all the terrible monsters we endure to watch all the characters we love. 
Easily one of the most loveable characters in the series is Dustin Henderson, played by Gaten Matarazzo. An outcast just like his friends Mike Wheeler (Finn Wolfhard), Will Byers (Noah Schnapp), and Lucas Sinclair (Caleb McLaughlin), Dustin is often the comic relief of the show. Here's what we think are three of Dustin's best moments from each season.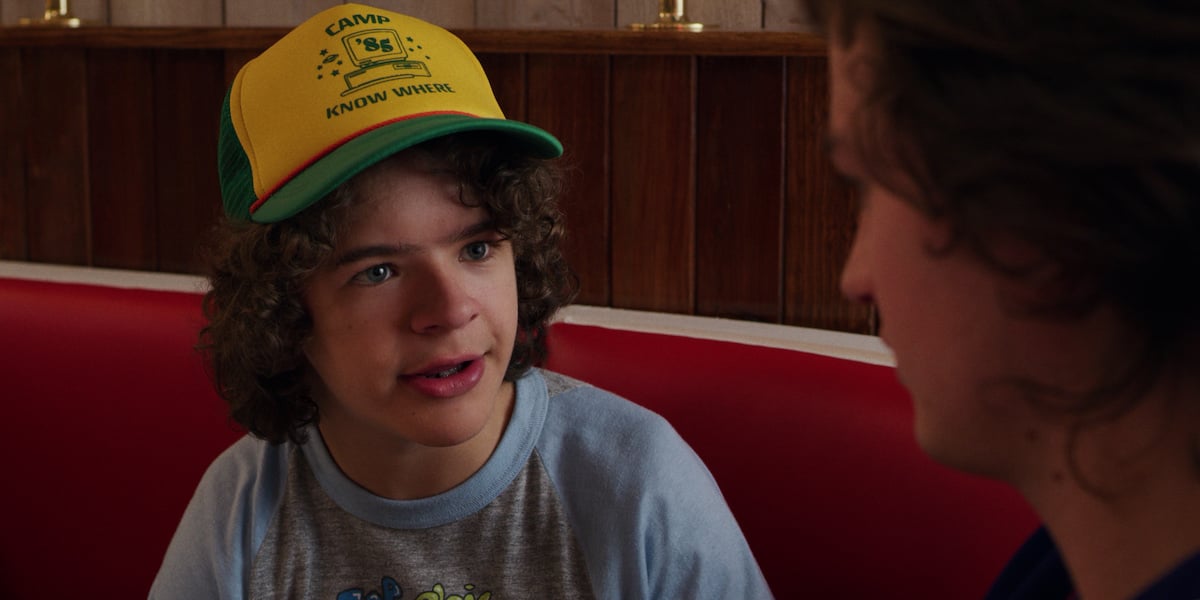 When Dustin gets the deprivation tank instructions from Mr. Clarke in 'Stranger Things' Season 1
Dustin comes off as the peacemaker for most of Stranger Things Season 1. Lucas and Mike are constantly at each other's throats because Lucas doesn't believe Eleven (Millie Bobby Brown) has Will's best interest in mind. After Dustin successfully gets his two best friends to make a truce, the party comes together with El to help find their friend Will.
At one point near the end of the season, Eleven needs a makeshift deprivation tank on the fly, and the boys get to work. Thanks to the most understanding teacher in the world, Mr. Clarke (Randy Havens) walks Dustin through the process at 10 o'clock on a Saturday night. 
The exchange between the two is adorable as Dustin repeats what Mr. Clarke told him, "You always says we should never stop being curious, to open any curiosity door we find!" Resigned to Dustin's insistence, the Hawkins Middle School science teacher gives him step-by-step instructions explaining just how he could craft his very own sensory deprivation tank.
Dustin's plan of attack for catching Dart in season 2
In Stranger Things Season 2, Dustin finds himself the surprise owner of a new pet he names Dart. At first, he thinks he's some sort of undiscovered species, but when he comes home to find Dart munching away on his pet cat, Mews, Dustin realizes it's not safe to keep him around any longer.
To set a trap, Dustin dons all of the hockey gear he can find, lays out a path of bologna slices, and opens the door to his room where the creature is trapped. Barely able to walk, he awkwardly shuffles down the hall and outside to a garden shed where he hides and waits. Dart eventually makes his way out. Just before he attacks, Dustin takes a swing with his hockey stick, launches the little monster into the cellar, and locks him in.
It's a tense and funny scene that not many people could have pulled off, but Matarazzo's breathless apology while laying on the locked cellar doors gets a chuckle from us every time. 
'The Neverending Story' duet in 'Stranger Things Season 3
When we meet up with Dustin in the summer of 1985, he's back from Camp Knowhere and itching to hang out with all the friends he's missed. Unfortunately, Mike and Eleven, along with Lucas and Max (Sadie Sink), are too busy with their new relationships to notice Dustin was gone.
Dustin tries to explain to everyone that he also met a girl at camp, but nobody believes she exists. It isn't until the kids, along with Hopper (David Harbour) and Joyce (Winona Ryder), are on the brink of saving the world that Suzie, Dustin's girlfriend, finally answers him back on his ham radio. 
Played by Gabriella Pizzollo, Suzie is adamant that her "Dusty-Bun" sing along to The Neverending Story theme song before she gives him Planck's Constant. It's the absolute worst timing, but Dustin agrees, and the two break out into song in one of the season's most memorable scenes.
It's been over two years since we last saw the kids in Hawkins, Indiana, but the wait for Stranger Things Season 4 is getting smaller by the day. The following season will appear in 2022, but hopefully, we'll get a more specific release date at Netflix's global fan event, TUDUM. In the meantime, we can always rewatch the first three seasons streaming on Netflix.