'Stranger Things' Fans Speculate on Hopper's 'Secret'
One of the big questions ahead of 'Stranger Things' Season 4 is about what happened to Jim Hopper. A teaser trailer has offered some answers, but there's still more to find out. David Harbour has said that viewers will particularly learn a big secret about Hopper. But what is it? Some fans think they know.
Stranger Things fans have spent the last few years getting to know Jim Hopper, but it turns out that there are still some things left to uncover. In an interview, actor David Harbour revealed that Hopper has actually has been hiding something about his past for the last five years, which will be revealed in the upcoming fourth season. The comments left fans speculating on what it might be, taking to websites such as Reddit to share their theories.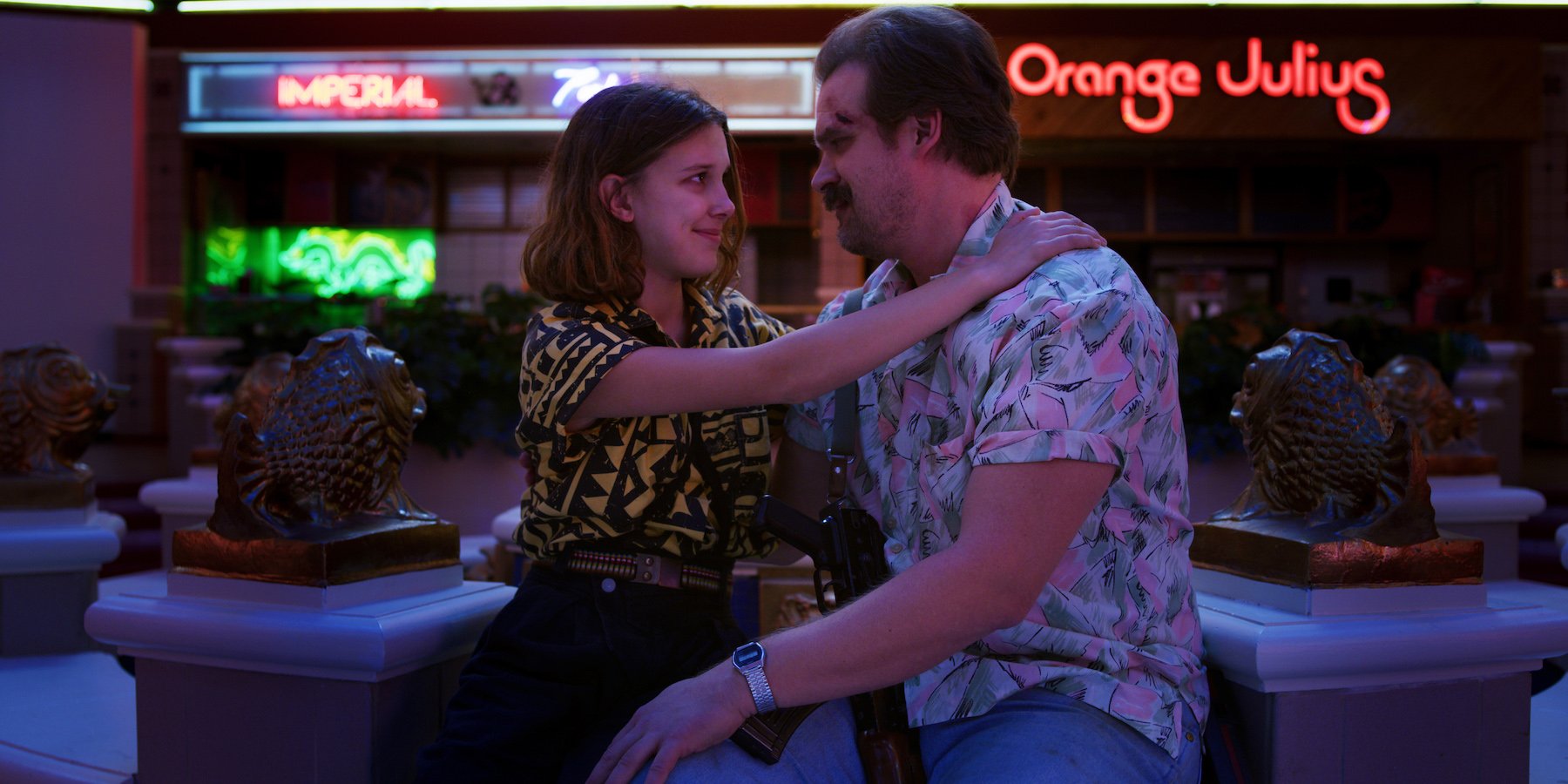 David Harbour says 'Stranger Things' has dropped hints about Hopper's secret
Harbour, who plays the former police chief, was in an interview with Entertainment Tonight when he was asked about Stranger Things Season 4. He mentioned that there's some of the "heaviest dramatic stuff" in it, presumably hinting at Hopper's capture in the season 3 finale.
"We get to see a lot of Hopper at his most vulnerable, we're gonna reveal a lot of backstory points that we've only hinted at in boxes in his attic," he explained. "We're gonna see a lot of these different threads, and also, we get to see a rebirth of him."
"And there's one thing in it that plays very big in this season that I've known since the first frame of the first season," Harbour continued. "Me and [show creators Matt and Ross Duffer] would sit around and speculate, 'Oh, wouldn't this be cool?' the minute we started shooting. We never thought we'd even get a second season, and then we get to do it in this season."
"And it's so satisfying to have had an idea five years prior, and to go like, 'Oh, this is a season when we're gonna let out this secret that we were using just as a subtle thing to inform something.' We're gonna lay it out finally, and it's really cool," he added.
What's Hopper's secret? Fans weigh in
Reacting to Harbour's comments, one Redditor said they think the secret involves Hopper's daughter, who got sick and died years earlier.
"My initial thought was that maybe it would be revealed Sarah's death was covered up by HNL like Eleven's was with Terry," they wrote, earning over a dozen upvotes.
"That's actually interesting. Like how barbs death was covered up by Hawkins lab," read a reply.
Another person said they think it's "either about vietnam or HNL I guess."
"My guess. In season 2 we saw a box marked 'Vietnam'. Jim Hopper actually died back in Vietnam. The guy we see now isnt the real Jim Hopper," read another comment.
"It's either absolutely nothing, or something ridiculously outlandish like Hopper's daughter is in the Upside-down," said a fifth reader.
Whether you agree with these theories, Harbour assured fans that it's definitely going to be interesting. His co-star Finn Wolfhard has also said Stranger Things Season 4 is the "darkest" one yet.
When does 'Stranger Things' Season 4 come out?
As of writing, there's no official release date for the fourth season of Stranger Things. The show is still in production, but it's expected to hit Netflix in 2022. We'll let you know for sure as soon as we get word.