'Stranger Things': Hopper's Best Moments on the Show
When Netflix's Stranger Things premiered in 2016, audiences weren't really sure what to expect. There's '80s nostalgia, alternate dimensions, monsters, and evil scientists. Was it a show for kids? For millennials? It didn't take us long to realize this show has something for almost everyone.
One of the best parts of the show is the ensemble cast of characters. It makes it easy for everyone to find someone they love. Chief Jim Hopper, played by David Harbour, came off as the grumpy policeman in the first episode of Stranger Things Season 1, but now he's made it to fan-favorite status. Let's take a look at some of his best moments over the last three seasons.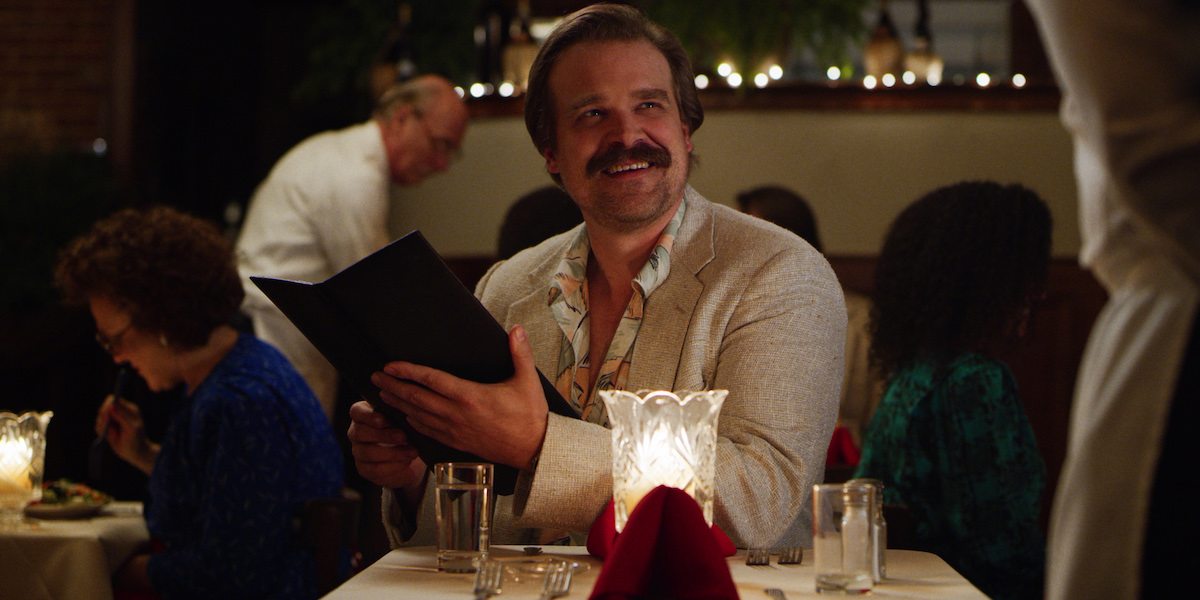 Mornings are for coffee and contemplation in 'Stranger Things' Season 1
We know this isn't a huge moment in the grand scheme of things. It happens in the first episode, we still think Hopper is a grouch, and we haven't even seen him hear Joyce (Winona Ryder) out about her missing kid. We know.
It's just that right here, at this moment, we get a glimpse of Hopper's true character. He's dry and sarcastic, but he's not mean. Well, at least not to the people he cares about. We can't speak to the several people he punches in the face throughout all three seasons.
This is the second before his life gets turned upside down for a second time. Viewers haven't seen anything about his back story yet, so we aren't privy to the fact that he's still mourning his daughter. But when he walks into a very frantic Joyce, he does his best to calm her down about Will. His coffee and contemplation routine is never going to be the same.
RELATED: 'Stranger Things': 3 Reasons We Love Steve Harrington
When Hopper apologizes to Eleven in season 2
Stranger Things Season 2 is pretty rough for everyone involved. Eleven (Millie Bobby Brown) has been locked up in a cabin alone for almost a year. Hopper is taking care of her, and he doesn't want her to get hurt or captured by the people at Hawkins Lab. She is exasperated with not being able to leave, and we don't blame her. A middle school girl who misses her friends, and she's probably very bored.
Things blow up between the two of them, and El has a "psychic tantrum." The next day Hopper has to leave to deal with Will and the Upside Down. Events get wildly out of control, and it takes him a few days to return to the cabin and El. When he finally gets back to his truck and his CB radio, he tries to reach her. He thinks she's just ignoring him, but in reality, she's run away. He ultimately spills his guts in one of the most heartfelt apologies we've seen onscreen. 
Harbour himself is a phenomenal actor and this scene is absolutely heartbreaking. He tells her he's sorry for how his actions, and then we learn before he does that she's not even there. Poor Hop. The guy just wants to make things right.
RELATED: 'Stranger Things': Dustin's Best Moment From Each Season
'For the sake of your poor old dad, keep the door open three inches'
While Stranger Things Season 3 starts out with a more fun tone, it ends with one of the saddest moments in the series. Hopper is having a hard time adjusting to Eleven growing up. She's dating Mike and hanging out with her friends more. He's excited for her to grow and experience things like a typical teenager, but he misses the time the two of them spent together.
As Hopper and Joyce try to close the gate, they realize there's no way to do it without presumably killing him because he can't get back to the safety of the control room. He smiles at Joyce and nods his head, signaling her to pull the switches. She does, and he's gone.
If that scene didn't completely rip our hearts out, we then see Eleven get the letter he wrote her about growing up. At the end of the letter, he asks her to remember to "keep the door open three inches." This refers to an earlier scene where he asked her to do that because she was alone in her room with Mike. It's sweet, touching, and the flashbacks of Hopper as he's reading the letter out loud to make sure it sounds just right are just perfect.
Honestly, we can't get enough of Chief Hopper. Thankfully we only have a little bit longer to wait. Stranger Things Season 4 is arriving in 2022.