'Stranger Things': How will Season 4 Handle the Kids' Ages?
With COVID-19 delaying filming on many projects, one tv show that many people are wondering about is season 4 of Stranger Things. Typically, a delay in filming means the fans have to wait a bit longer to see their favorite characters reunite on screen, but Stranger Things has another complication thrown into the mix. The child stars of the show mature faster in reality than their roles in the Stranger Things universe.
Created by brothers Ross and Matt Duffer, Stranger Things debuted on Netflix in July 2016 and became an instant hit. Blending together elements of horror, coming-of-age, and science fiction, the 8-episode series, Stranger Things, immediately gained a large following. With something for kids and adults alike, Netflix signed off on a second season quickly.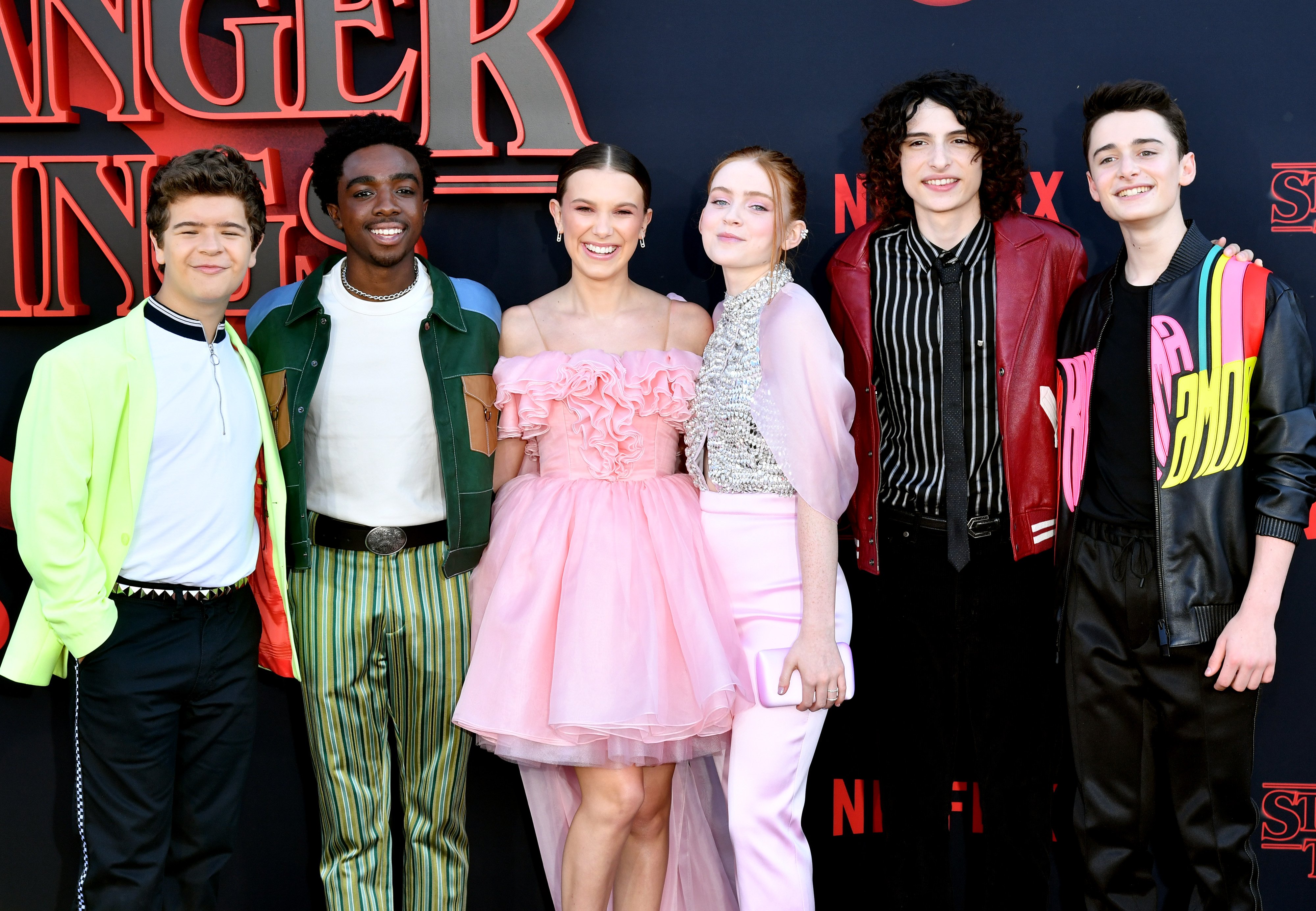 How old is the 'Stranger Things' cast?
The series features the 80s and 90s superstar Winona Ryder and David Harbour. Still, the standout stars of the show are the five younger characters – Mike Wheeler (Finn Wolfhard), Dustin Henderson (Gaten Matazarro), Lucas Sinclair (Caleb McLaughlin), Eleven (Millie Bobby Brown), and Max Mayfield (Sadie Sink), who joined the cast for season 2. When the show premiered, the actors portrayed 11 and 12-year-old middle school students. Despite being older in reality, the Stranger Things cast were all still young enough to make the characters believable.
When the show premiered, Caleb McLaughlin was already 15-years-old. According to IMDb Caleb was born on October 13, 2001, making him the oldest child actor in the group. Gaten Matarazzo is a little over a year younger than McLaughlin, with his birthday being September 8, 2002. Finn Wolfhard follows a few months behind Matarazzo with a birthday on December 23, 2002. The two youngest stars, Millie Bobby Brown and Noah Schnapp, were both born in 2004.
RELATED: 'Stranger Things': David Harbour Promises 'Bigger' Season 4
Will the Duffer Brothers opt for CGI de-aging techniques?
Season one of Stranger Things takes place in November of 1983. Meanwhile, season 2 occurs in October and November of 1984, and season three happens in July of 1985.
According to Netflix Life, "The main problem pointed out by fans, the young cast is getting older and much more quickly than the characters are aging in the show. So far, the show has covered about two full years. We meet these characters in the fall of 1983, and the third season ends sometime in the fall of 1985. Nearly five years have passed since the start of filming, so the younger characters clearly look so much older than when the series started."
According to the Stranger Things Wiki, Mike, Eleven, Dustin, Lucas, Will, and Max were all born in 1971. This makes them all 12, 13, and 14-years-old as the show progresses. But what happens when a global pandemic occurs, and there are almost three years between seasons? Many fans wonder how the creators of the show will handle the challenge of their rapidly aging stars.
One option is to stay the course for season 4 and continue on the same timetable as previous seasons and make it occur in 1986. This would most likely require CGI and de-aging techniques that audiences have seen before in films like It: Chapter Two and The Irishman.
Using CGI to aid in making the cast look younger hasn't necessarily worked in the past. For one, the time and technology it takes to achieve baby-faced actors can add up quickly. CGI de-aging is a costly process and one that not everyone loves. According to Vulture, one of the biggest complaints regarding IT: Chapter Two was the technique's noticeable effect on the child actors' faces.
Is a time jump in 'Stranger Things' future?
Another potential avenue for the Duffer Brothers is to write a time jump into the Stranger Things universe. This would allow season 4 to pick up a few years in the future. Plus, the actors' ages would be closer to their characters.
One of the main reasons so many people fell in love with Stranger Things is the child actors and the great job they do with their roles. One Redditor credits this as one of the reasons the show comes across as so authentic. A time jump would allow for more authenticity and the possibility for some more mature themes in the show.
While Stranger Things hasn't held back too much when it comes to horror elements, it might be time to take things a step further in other areas. The story so far has delved into everything from MKUltra and Russian spies, but as the plot progresses, even Sadie Sink says the stakes get higher.
RELATED: 'Stranger Things' Season 4 Is Setting Up Series Finale, Says David Harbour
When can we expect season 4 of 'Stranger Things'?
Coronavirus has put a damper on release dates of several upcoming series and movies, and Stranger Things is no exception. Fans received one teaser trailer in February 2020 and another trailer in May of 2021. In August, the show released one more that hints at what our favorite folks in Hawkins have been doing during the gap. The show also recently confirmed season 4 will drop in 2022.