'Stranger Things': Is Mike Wheeler the Worst Character on the Show?
Mike Wheeler, played by Finn Wolfhard, is one of the characters in Stranger Things who fans love one season but despise the next. Wolfhard is such a great actor that he can actually make you forget he's only acting like a tween and then teen in an era before social media and electronics. His character in Stranger Things acts like most of us would say a typical teenager does in all three seasons of the show so far. 
While there are moments we worried for his life (Would you ever laugh in Chief Hopper's face when he's trying to have a serious conversation with you about his daughter?), there are plenty of moments that make us think, "Aw, Mike's the sweetest." But honestly, we're mainly confused. Is he the best character on the show? Or is he the worst?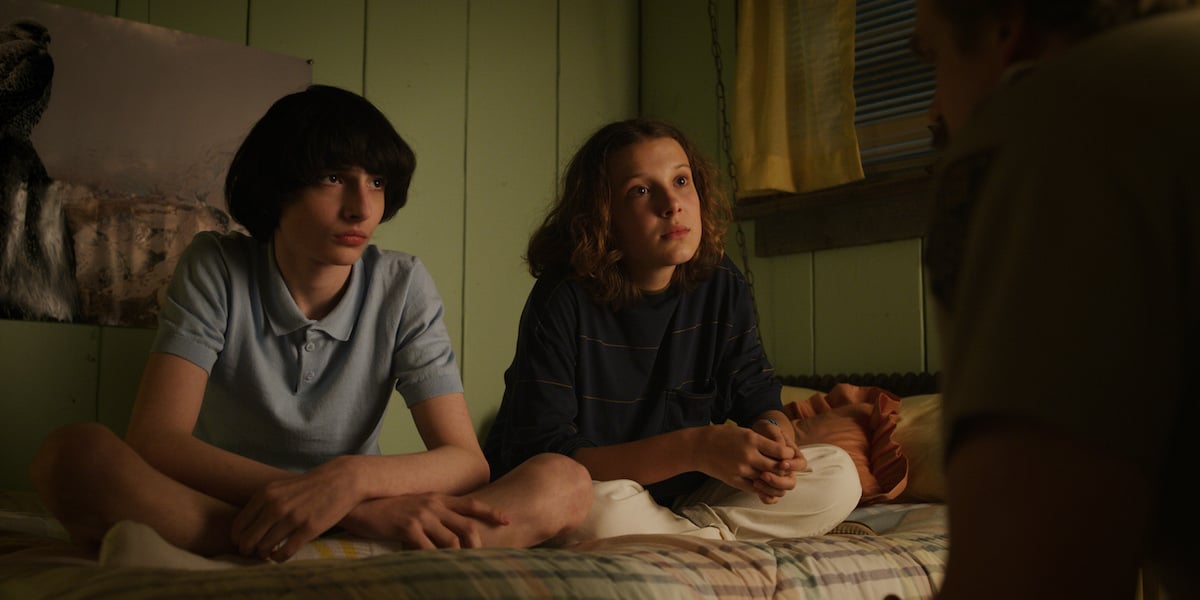 We love when he takes up for Eleven even though his friends are ready to ditch her in season 1
It's not every day you stumble on a little girl in a giant t-shirt and a shaved head in the woods near your house. Lucas (Caleb McLaughlin) immediately thinks she's a psychiatric patient and believes it's in their best interest to leave her where they found her. Dustin (Gaten Matarazzo) pretty much stands there in wide-eyed wonder, but not Mike. Mike immediately believes Eleven (Millie Bobby Brown) is the key to finding their friend Will (Noah Schnapp). And he's not wrong!
Stranger Things Season 1 shows Lucas and Mike butting heads constantly over the presence of Eleven. Lucas thinks she might be behind Will's disappearance, and to be honest, she occasionally does things that would make anyone suspicious of her. (Remember when she kept messing with the compasses so they couldn't find the lab?) She thought she was helping, but it led to a massive fight between the two boys. Mike held his ground, though, and continues to believe Eleven can save their friend.
We hate how he acts toward Max in 'Stranger Things' Season 2
Look, in Stranger Things Season 2, everyone is in a slump, but no one is in a worse mood than Mike Wheeler. We understand that he's upset about losing El. It makes sense that he's missing his friend, but does he have to take it out on everyone he comes in contact with?
When Max (Sadie Sink) arrives as a new student at the boys' school, both Dustin and Lucas immediately develop a crush on her. They invite her to go trick or treating with them, and she soon starts hanging around regularly. Mike does not take well to the newcomer and constantly ignores her or leaves her out discussing things with Dustin and Lucas. 
This wouldn't be as annoying if this wasn't exactly what Mike did when he brought Eleven into their friend group. One year prior, Lucas was expressing similar feelings about Eleven and what did Mike do? He ignored everyone else and did what he wanted to anyway. We're sensing a double standard, and we don't like it, Mr. Wheeler.
'Stranger Things' Season 3 didn't help us make a decision on Mike
The kids are now officially teenagers by the time we arrive at a Stranger Things Season 3, which is evident in every way possible. The biggest thing we notice is Mike's attitude, and boy, does he have one. When Hopper (David Harbour) tries to have a heart-to-heart conversation with him and Eleven about their relationship, he smirks in his face. 
He lies to Eleven (at the behest of Hopper) and has absolutely no idea how to handle her anger. This is completely typical of most teenage boys, bumbling around for words when they're talking to girls. But when he finally admits he does love her, our hearts melt a little for them. Plus, he's comforting after the loss of Hopper and her powers, which brings him back up a couple of notches.
After the first three seasons, we still aren't sure where we land on Mike's likeability scale, but we're on there. Stranger Things Season 4 premieres in 2022, but we don't have a specific date. For now, we'll be watching seasons 1-3 to try and figure out if Mike Wheeler really is the worst character on the show.