'Stranger Things': Millie Bobbie Brown Calls Working With Finn Wolfhard 'Almost Like a Relationship' That 'We Always Come Back To'
Stranger Things Season 4 premieres in just a few weeks, and marketing for the season has started to ramp up recently. This means Netflix is doling out posters and full-length trailers, but what's even more exciting are all the interviews popping up from cast members. Stranger Things stars Finn Wolfhard and Millie Bobby Brown discussed the upcoming season and their characters' relationship in the show.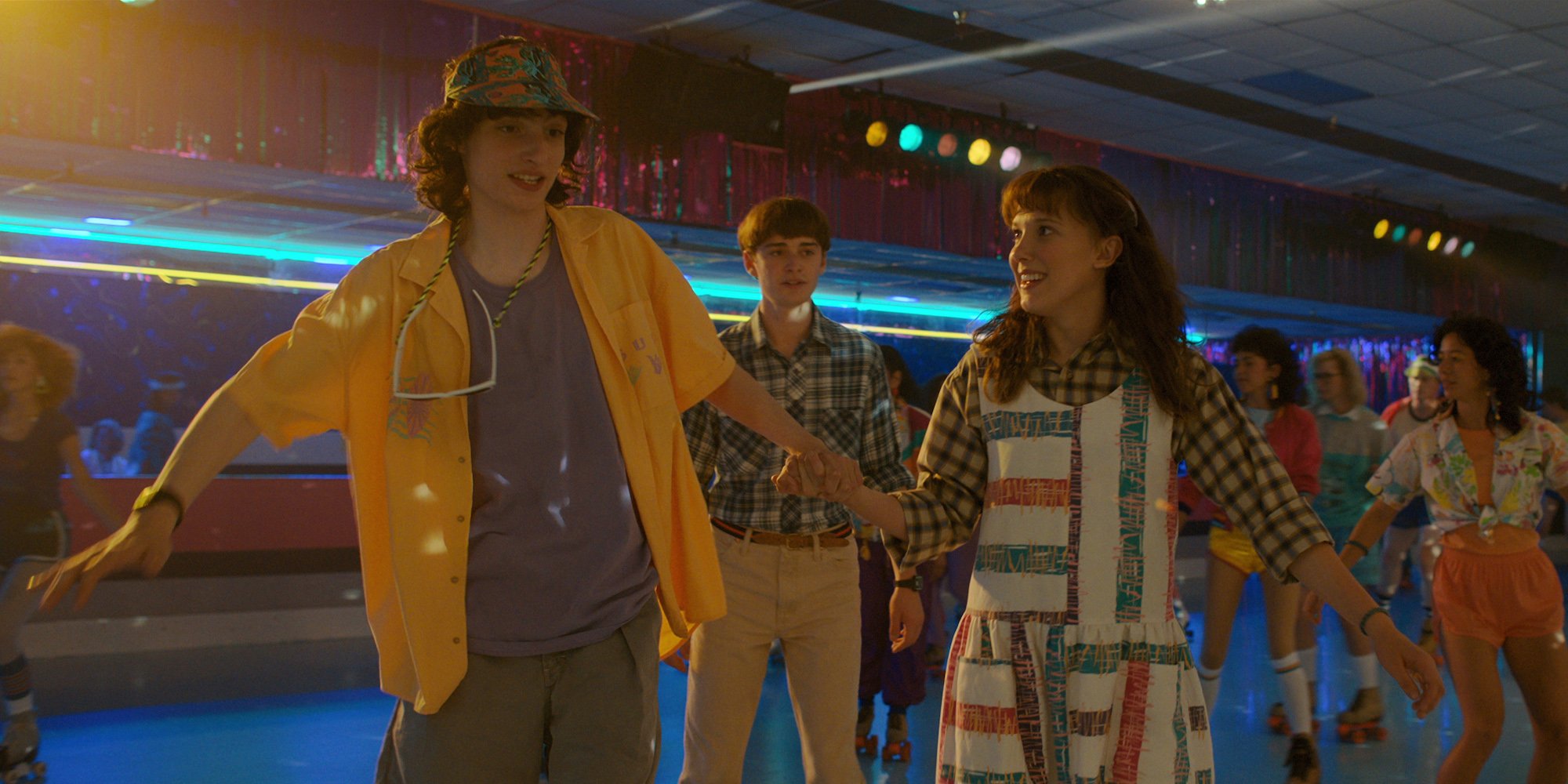 'Stranger Things' Season 3 spotlighted Eleven and Mike as a couple
Netflix touted Stranger Things Season 3 as the "summer of love" for the kids in Hawkins, Indiana, and while every couple went through a rough patch, they came out on the other side stronger than they were before. While Stranger Things Season 4 hints that things might not be going great for Lucas (Caleb McLaughlin) and Max (Sadie Sink) or Nancy (Natalia Dyer) and Jonathan (Charlie Heaton), Mike and Eleven still seem entirely in love.
Teenage love is complicated enough on its own, but throw in the long distance before folks had the ease of communicating through the internet, and it seems downright unfathomable. However, from the teasers and the trailer, it looks like Mike and Eleven weathered the storm.
The upcoming season shows how Mike can't wait to reunite with Eleven in California. Thankfully, it looks like it happens in one of the first few episodes of season 4. In a recent interview with Polygon, Wolfhard dives into some of his favorite scenes to film. They center around his character's relationship with Eleven, played by Brown.
 'Stranger Things' Season 4 star Millie Bobby Brown and Finn Wolfhard discussed their onscreen relationship
Stranger Things star Brown previously made her feelings about Eleven and Mike as a couple clear by saying she hopes the fictional characters eventually get married. Now, it looks like Wolfhard is on the same page. 
When asked about some of his favorite scenes to film, Wolfhard told Polygon, "Last season, I think back to when we were in the grocery store. I'm like, trying to explain what love is. To me, that's the most fun thing to do for the show."
Brown chimed in, "We've grown up together. We've done this for nearly seven years. And it almost is like a relationship that we always come back to after however long we're filming. And we're like, OK, this is where the characters are now. We can grow and do the scenes together. And we usually improv a lot too, with those types of stuff. So yeah, it's been really nice doing it with the same person for that long."
Finn Wolfhard likes the consistency in Mike and Eleven's relationship
Mike and Eleven remain the favorite couple in Stranger Things for most fans. Plus, it's a relationship that's remained steadfast throughout the series so far. Even though fans watched Eleven dump Mike with the iconic "I dump your a**" line in season 3, Mike ultimately confessed his love for her by the end of the season. The two said goodbye as Eleven moved to California with the Byers family. However, she and Mike made plans to meet up for the upcoming holidays.
"It's much more comfortable," Wolfhard explained to Polygon. "It would suck if it was like a soap and we were constantly changing girlfriends and boyfriends."
Stranger Things Season 4 Part 1 premieres on Netflix on May 27, 2022. Stay tuned to Showbiz Cheat Sheet for all your latest Stranger Things news!