'Stranger Things': Millie Bobby Brown Revealed Eleven Is Based on E.T.
When Millie Bobby Brown was cast as Eleven in the Netflix show Stranger Things, she had absolutely no idea how much her life would change. Like many actors, Brown was merely thrilled that she'd booked a job. However, she couldn't have predicted just how popular the show would become. Soon after the show was released, her character, Eleven, would make her a household name, an Emmy nominee, and a celebrity with millions of loyal fans.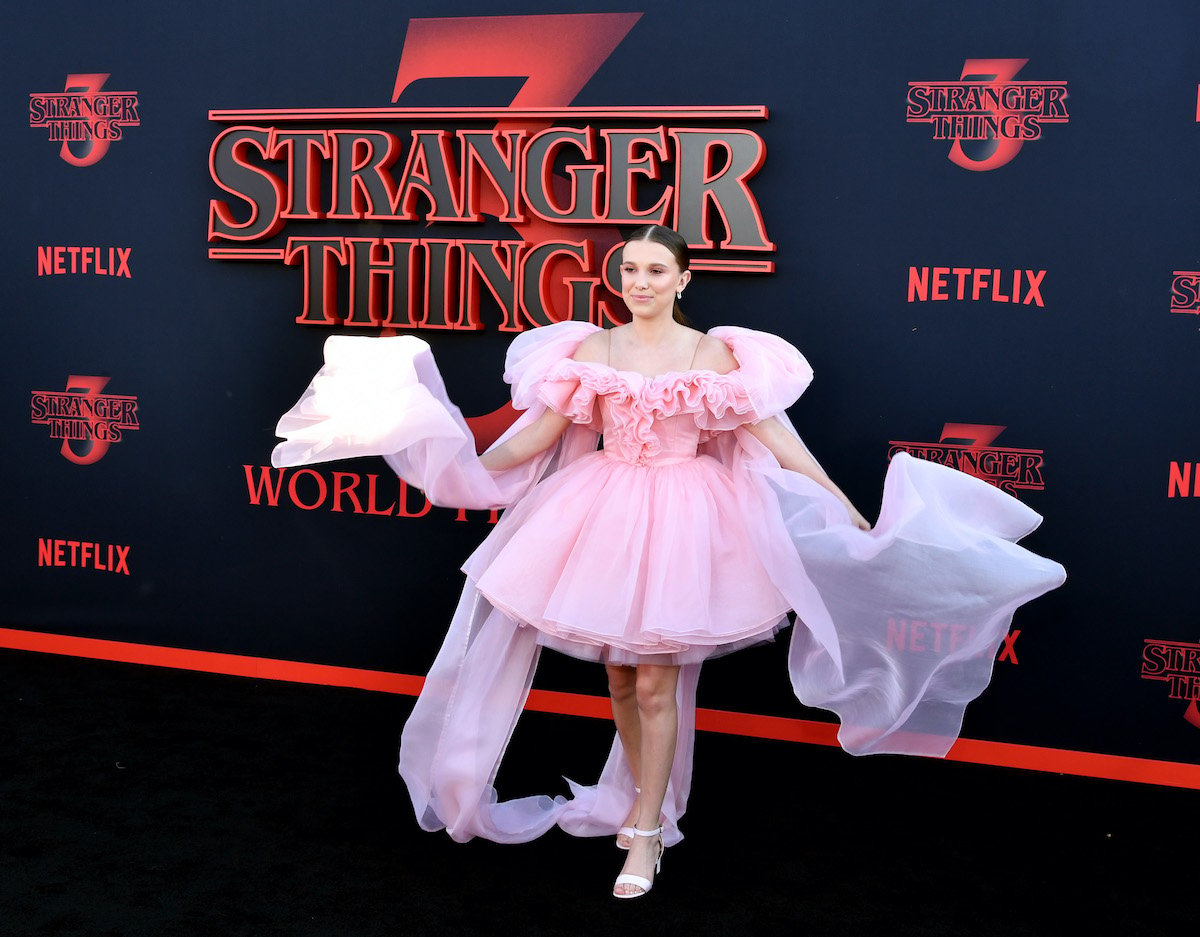 Though the entire cast of Stranger Things has found success, Brown is undoubtedly the breakout star of the show. Because her character, Eleven, was so different from everyone else, especially in season 1, Brown couldn't help but stand out. Not only did she have to tell her character's story with little to no dialogue, but she also looked physically different from her fellow castmates thanks to a shaved head.
Millie Bobby Brown didn't originally know she'd have to shave her head for 'Stranger Things'
Funnily enough, Brown had no idea that she would have to shave her head when she first auditioned for Stranger Things. Instead, that information was withheld from her for quite some time. And while Brown seemed totally on board with embracing a new look, her mother was less than enthusiastic. In an interview with Elle, Brown recalled her mother's shock about learning that her daughter would have to shave her head.
RELATED: Millie Bobby Brown Has 'Hannah Montana' to Thank for Her Interest in Acting
"Actually, they were very clever," the young actor shared about the Stranger Things creators and producers. "I got the callback and then I did a Skype meeting and there was nothing at all about head shaving! And then we flew over to L.A., and they were like, 'Are you ready?' And I was like, 'For what?' And I was next to Finn [Wolfhard], and Ross Duffer comes up to me and puts his hand out and goes, Bzzzzzzzzz. And my mom's like, 'No! That's not happening.' And I was like, 'Mom. You need to chill out; it's gonna grow back.' My mom was against it. And me and my dad were like, 'Come on. It's fine!'"
How Brown was able to get into character
Ultimately, shaving her head helped Brown get into the physicality of her character. However, she took a different approach to get into Eleven's mind. According to the Stranger Things star, when she first auditioned for the role she was given clips of old horror and sci-fi films to help craft her character. Turns out that her Eleven was actually based on the lovable alien, E.T.
RELATED: Millie Bobby Brown and Maddie Ziegler Slapped Each Other at a Sleepover
The 'Stranger Things' cast member based Eleven, on E.T.
"It was kind of like our trailer that we were to base our characters off," Brown recalled. "And my character was based off of E.T. I thought, This is very cool. I had never done a period piece before. I immediately fell in love with the whole experience itself: cutting off my hair, the script, my character. It was all phenomenal." Clearly, Brown has enjoyed her role on Stranger Things. We're sure fans of the hit series are chomping at the bit to see what's next for Eleven in Season 4.