'Stranger Things': The Surprising Way Producer Shawn Levy Got Permission to Use the 'Ghostbusters' Costumes
The Netflix series Stranger Things has always used a plethora of pop culture references within the show. Some of the most fun ways creators Ross and Matt Duffer and executive producer Shawn Levy have worked these into the show is through little head nods to other movies. 
Stranger Things Season 1 took inspiration from Steven Spielberg's E.T. the Extraterrestrial, while season 3 featured plenty of references to the 1985 hit, Back to the Future. The most notable movie referenced in season 2, however, was Ghostbusters.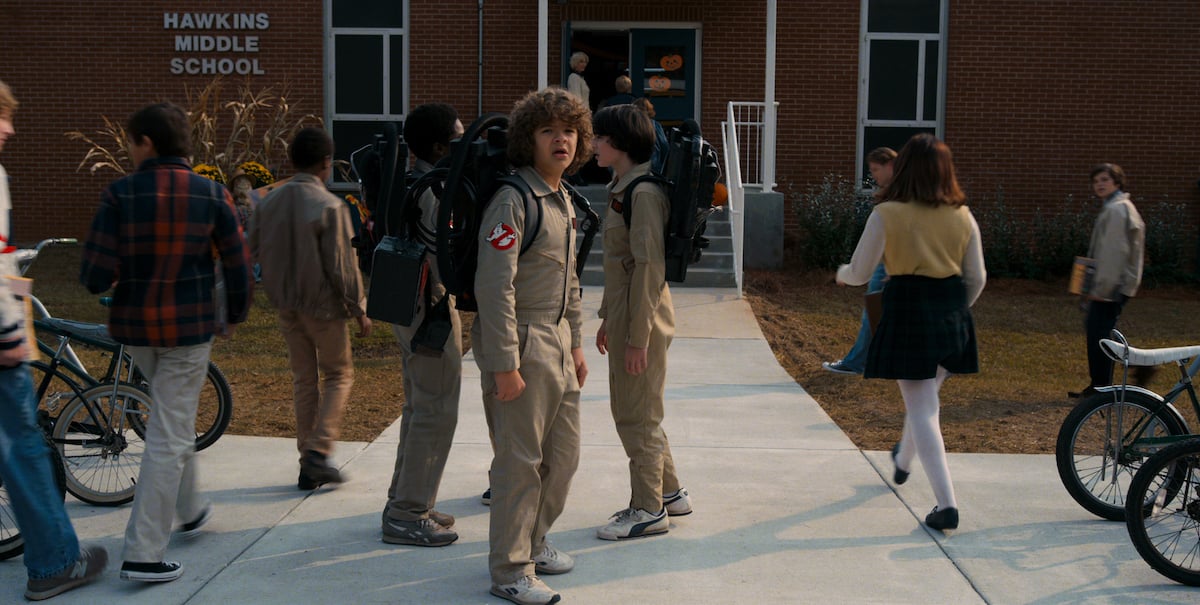 How did Shawn Levy get permission to use the 'Ghostbusters' costumes?
One of the best scenes in Stranger Things Season 2 is when Will (Noah Schnapp), Mike (Finn Wolfhard), Dustin (Gaten Matarazzo), and Lucas (Caleb McLaughlin) show up at school in their Ghostbusters costumes. The second season is set in the fall of 1984 when the movie peaked in popularity. Getting permission to use the trademarked outfits was a lot harder than Levy expected.
Levy sat down with Vulture and explained the lengths to which he had to go.
"In the Duffers' first script for season two, they wanted to use costumes from the original Ghostbusters. Much like using the Millennium Falcon on season one, this was a hard get. We went through conventional channels, and the answer was no. It was the same thing when we wanted to use "Thriller" for our trailer. In all three of those cases, the brothers turned to me and said: 'Warlock,' that's their nickname for me, 'We need Ghostbusters.' I said, 'Okay, leave this with me. I'm on it.' So I personally called [director] Ivan [Reitman] and he said yes!"
How else was 'Ghostbusters' incorporated into 'Stranger Things' Season 2?
As far as movie references go in Stranger Things Season 2, Ghostbusters was the most obvious. Not only did the costumes make their way into the show, but the theme song by Ray Parker Jr. did as well. 
Dustin also finds a little monster of his own this season in Dart, short for D'artagnan. Dart is a baby Demodog who Dustin stumbles upon rummaging through his trash after trick or treating. Some have compared Dart to Slimer from Ghostbusters, but others think that's a little far-fetched. Slimer was a hot dog eating slimy ghost while Dart resembled more of a tadpole. However, Dustin managed to catch Dart in his ghost trap, which was almost an exact replica of the original Ghostbusters' kind. 
There are other nods to the movie as well. In Dustin's room, some fans spotted a certificate naming Dustin as an official member of the Ghostbusters club. Plus, the Demodogs are very reminiscent of the monster that chased Louis Tulley (Rick Moranis) in the movie.
Fans can expect more movie references in season 4
So far, all three seasons have been laden with movie references, and that trend looks to continue into the future. The writers of Stranger Things posted a picture of a whiteboard with all the movies they watched during their Video Store Nights while writing the script for season 4. They implied that inspiration was taken from several of the films they watched, but they weren't specific as to which. Right now, we'll just have to wait until Stranger Things Season 4 debuts on Netflix in 2022.