'Stranger Things' Season 4: How 29-Year-Old Joseph Quinn Made Himself Look Younger for Eddie Munson
Joseph Quinn is a die-hard Brit who needed to transform into an 80's teen rocker from Indiana. To portray Eddie Munson, Quinn looked to thrasher metal, 80s movies, and gave up his favorite food.
Eddie Munson has become every fan's newest crush in Stranger Things Season 4, giving Steve a run for his money. Instead of the school athlete, Eddie is the bad boy people want to stay away from who dabbles in selling drugs. The character has a significant role in the new season among the other teen characters. Actor Joseph Quinn needed to appear younger to help bring Eddie to life on screen for Stranger Things Season 4.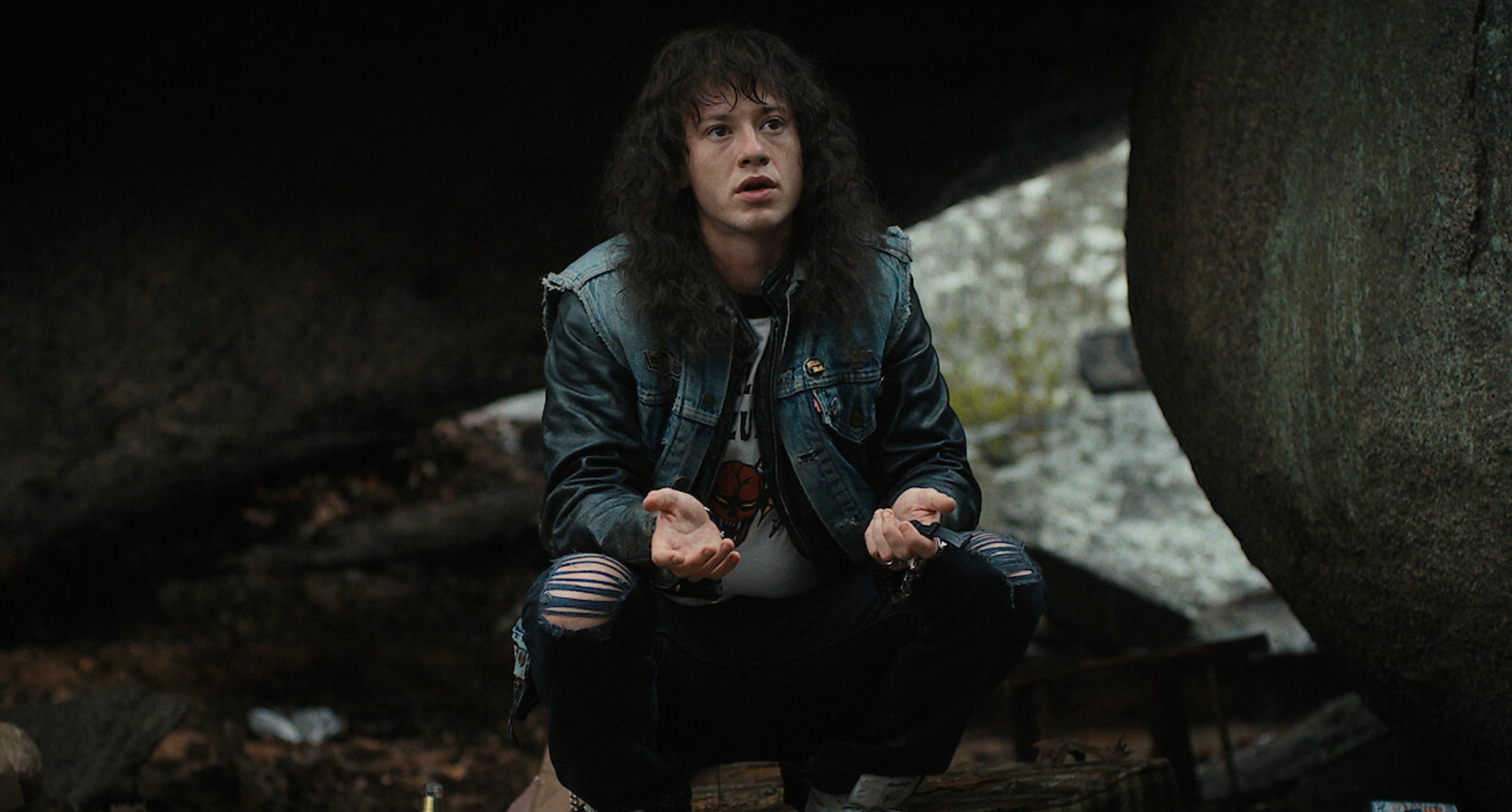 Eddie Munson is a 'delinquent' teen who tries his best to leave high school
Stranger Things has always focused on a group of young characters who have grown up as the seasons have passed. For the fourth season, the characters are in high school, and Dustin and Mile find themselves in a Dungeons & Dragons group called Hellfire club. The club's leader is the eccentric Eddie Munson, who stands out with his mullet hair, leather jacket, cut-off jean jacket vest, chain wallet, and overall bad boy exterior.
Munson is roughly the same age as Steve, Nancy, and Robin in the season. But he is in high school due to failing to pass his senior year.
While in the cafeteria in episode one, he proclaims, "Me, I am army-crawling my way toward a D in Ms. O'Donnell's. If I don't blow my final, I'm gonna walk that stage next month. I'm gonna look principle Higgins dead in the eye, I'm gonna flip him the bird, I'm gonna snatch that diploma. And I'm gonna run like hell out of here."
Eddie is a teen of the 80's who likes to drink Yoohoo, eat cereal and listen to thrasher metal. But Quinn is 29-years-old and wanted to look the part regarding his character's age.
Joseph Quinn let go of his favorite food to look like Eddie Munson in 'Stranger Things' Season 4
It is no secret that the actors who portray Steve, Nancy, and others in the series are much older than their on-screen counterparts. Quinn happens to be almost 10 years older than Eddie in Stranger Things Season 4. In an interview with The Hollywood Reporter, the actor reveals what he did to appear younger.
"I wanted to look younger, so I stopped eating pizza and drinking beer. (Laughs.) Trying to lose some weight to roll back the years," said Quinn. In an interview with Men's Health, he admits he is a "26-year-old (at the time) man who likes pizza."
By all accounts, fans agree that Quinn's adjustment to his diet helped immensely. Quinn embodies the renegade, left-back teen from the 80s. But the actor does attribute his transformation to his dialect coach to get the perfect American accent that almost drove him crazy and Eddie's hair.
Eddie's hair is something to be envious of, but Quinn admits it was a "monster" to put on for filming Stranger Things Season 4. "It does literally all the work for you. When you've got that look that's so different from yourself… just shut up and let the wig talk, really!" said the actor.
The actor has his 80s idols he would love to work with in the next season
Playing a younger character on screen is one thing. It is another to portray a character from the 80s. Quinn was born in the early 90s and did not get to experience the height of the era seen in Stranger Things Season 4. But the actor was dedicated to his role besides physically embodying Eddie.
Quinn admits he found some inspiration in The Breakfast Club but ultimately drew from people he knew. "There was a little reference to people who were older than me at school who impressed me, who seemed quite non-conformist," said Quinn.
When it comes to the 80s, Quinn has an idea of who he would want to appear in the final season. "You've got to get Michael J. Fox in, surely. Any iconic '80s actor? Mickey Rourke would be pretty cool," said the actor. But even he admits he is dying to work with Winona Ryder. Sadly, the actor could not hop on board with D&D.
After playing the new beloved role, Quinn described Stranger Things Season 4's Eddie as "Manic. Irritating. A kind of marmite. He probably hates it when you love him."