'Stranger Things' Season 4 Is the Duffers' 'Game of Thrones' Season in More Ways Than One
We've almost made it. The wait for Stranger Things Season 4 is almost over, and we're not sure we've ever been more excited. Recently, the creators of the show, Ross and Matt Duffer, called the upcoming season their "Game of Thrones season." In the interview, they meant it to describe the massive undertaking of season 4. However, it turns out that the show has another connection with the HBO series.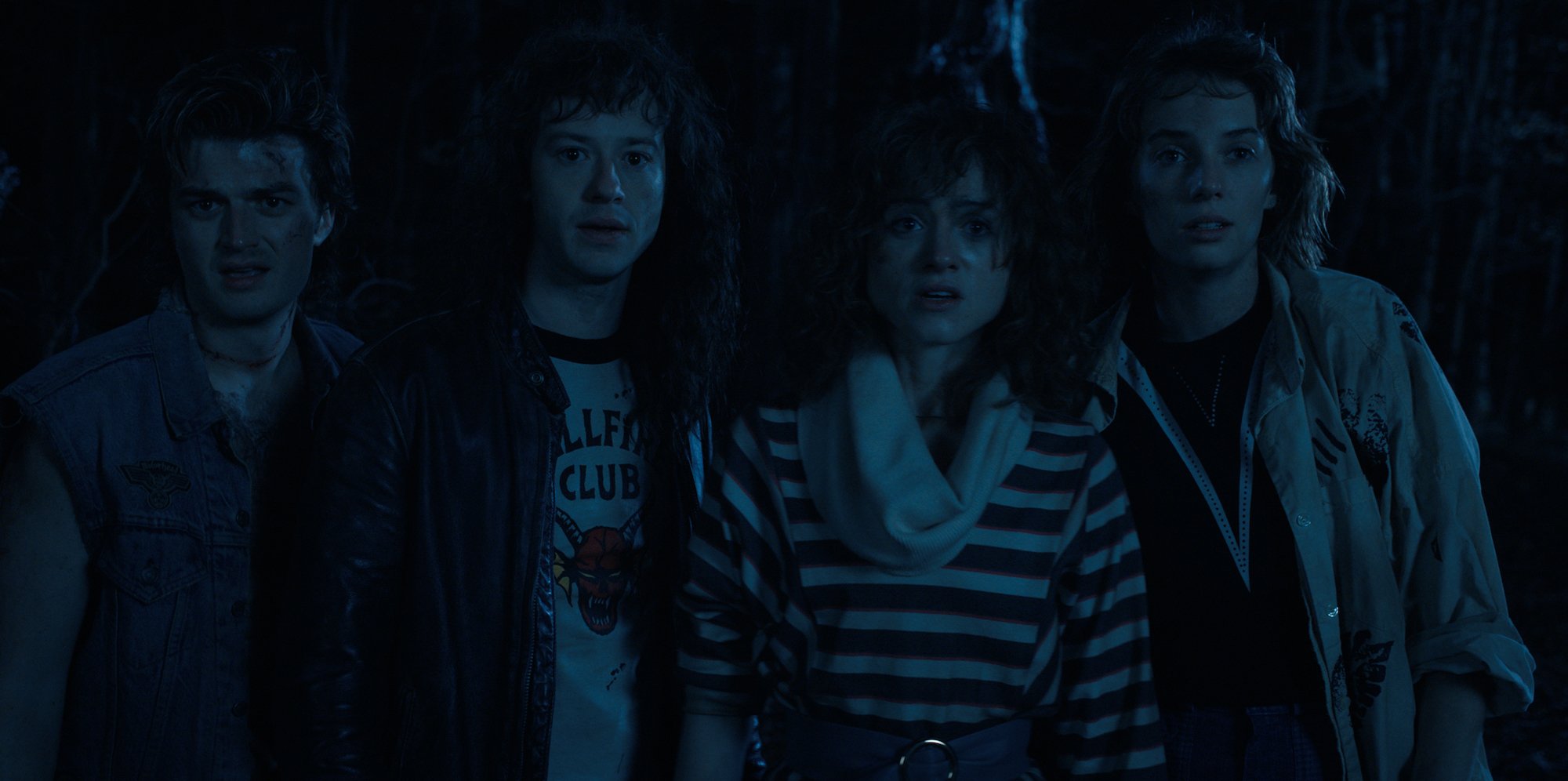 'Stranger Things' Season 4 spans more locations than any other season
The entirety of Stranger Things, up until season 4, takes place almost entirely in the fictional town of Hawkins, Indiana. However, in the season 3 finale, we watched as the Byers and Eleven packed up and moved to California. This puts a rift in the original friend group as more trouble pops up in Hawkins.
While much of Stranger Things Season 4 still takes place in Hawkins, it also partially takes place in Lenora Hills, another fictional town. Although, the filming location occurred in New Mexico. The similar landscapes allowed production to use it instead of a city in California. KOAT Action News spotted some cast members at Sawmill Market.
Plus, with Chief Jim Hopper (David Harbour) stuck in a Russian prison, many scenes were filmed in Lithuania. However, in the past, just one part of the party could never defeat the monsters from the Upside Down by just one part of the group. Instead, the battle has always required the skills of each member of The Party to take down the final big bad. This means everyone most likely ends up back in Hawkins for the final showdown.
RELATED: 'Stranger Things 4': Everything We Know About Eduardo Franco's Character, Argyle
The upcoming season has more than one connection to 'Game of Thrones'
During the Deadline Contenders Television panel, Matt Duffer told the audience, "We kind of jokingly call it our Game of Thrones season because it's so spread out, so I think that's what's unique or most unique about the season." However, that's not the only thread leading back to HBO's juggernaut series.
Stranger Things Season 4 introduces audiences to a handful of new characters. Eddie Munson, played by Joseph Quinn, serves as the leader of the Hawkins High School Dungeons and Dragons club called "The Hellfire Club." The full-length Stranger Things Season 4 trailer showed Eddie joining the Hawkins gang. At one point, Eddie stands on top of a trailer in the Upside Down as he furiously plays away on his electric guitar.
Game of Thrones featured more characters than most shows, but Quinn made at least one appearance. Quinn played a small part in Game of Thrones Season 7 as one of the Winterfell guards who meet Arya Stark (Maisie Williams) when she returns home.
'Stranger Things' Season 4 also stars Tom Wlaschiha, another 'Game of Thrones' alum
Quinn isn't the only former Game of Thrones actor to join the new cast in Stranger Things Season 4. The official Stranger Things Twitter account introduced us to Tom Wlaschiha, who plays Dmitri in the upcoming season. Netflix describes Wlaschiha's character as a smart and charming Russian prison guard," which means he's connected to the Russian plot with Hopper. However, Game of Thrones fans will recognize him as Jaqen H'ghar, one of the Men with No Name.
We're not sure if Quinn and Wlaschiha ever cross paths in Stranger Things, but thankfully, we only have a few more weeks to wait to find out. Stranger Things Season 4 Part 1 premieres on Netflix on May 27, 2022.
RELATED: 'Stranger Things 4': Why Doesn't Nancy Go to California to Visit Jonathan?