'Stranger Things' Season 4: Eleven's Head Gets Shaved… Again
Stranger Things Season 4 is only weeks away, and the show has yet to give fans anything of significance regarding the plot for the upcoming season. Besides the four posters dropped on Feb. 17, 2022, and a few images from the new season, fans don't know many clues about the plot. However, Uno dropped a massive hint about the Stranger Things Season 4 plot with Eleven. Here's what we know.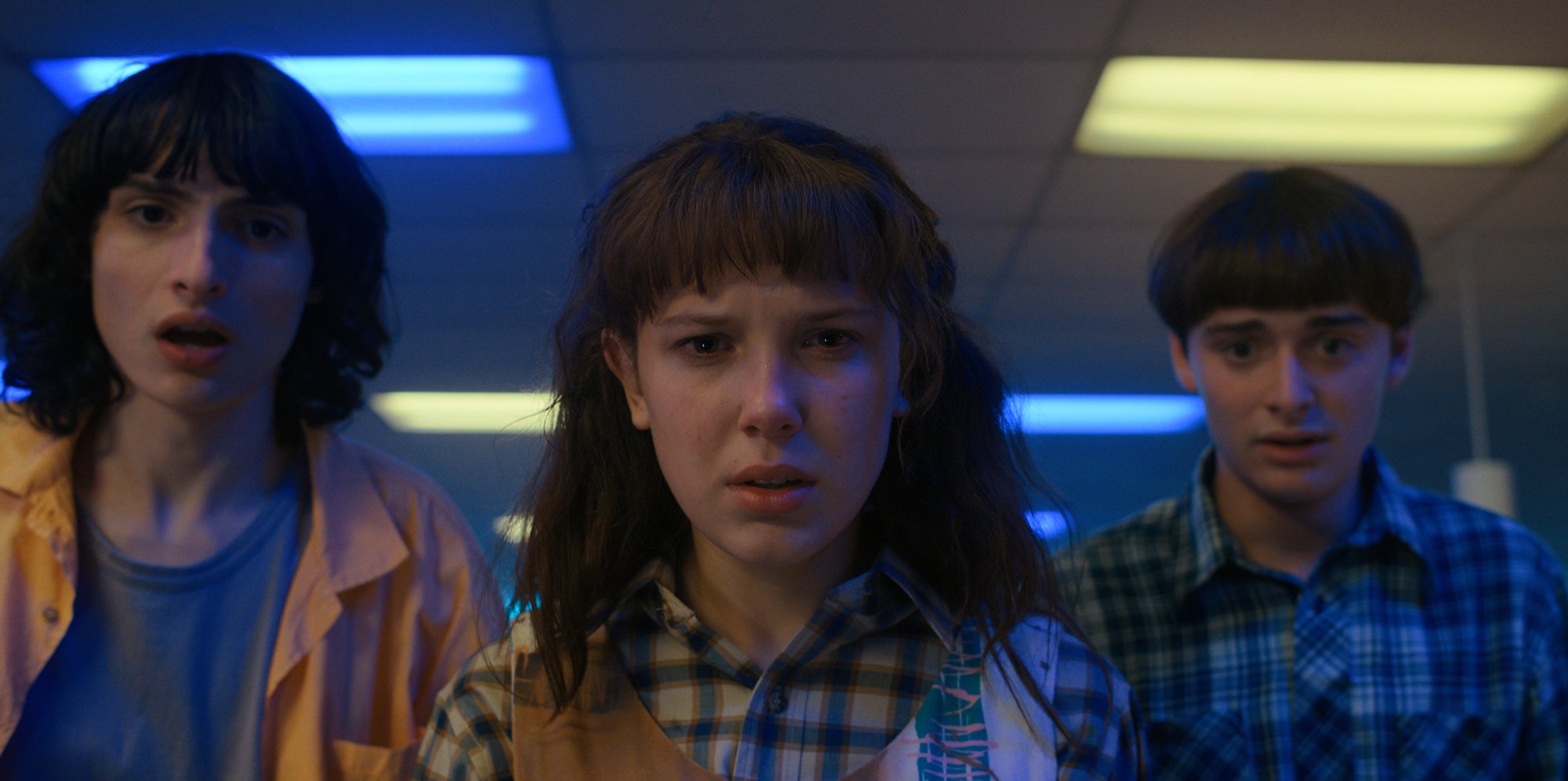 'Stranger Things' Season 4 features Eleven with a shaved head, according to the Uno cards
From teaser trailers to production stills, every image we've seen of Stranger Things Season 4 shows Eleven with a haircut similar to her now-adoptive mom, Joyce. In fact, one of the running jokes on social media targeted how all of the characters seem to have bangs in the upcoming season. Now, Uno just threw a twist into things with the image of Eleven the company used on their card.
The Toy Authority on Instagram revealed special Stranger Things Season 4 Uno cards. Each one features a character from the upcoming season. However, on the Stranger Things Season 4 card with Millie Bobby Brown's character, she's sporting a shaved head, something fans have yet to see in any of the teasers or promotional images.
RELATED: 'Stranger Things': 4 of the Freakiest Moments From the Series
What does Eleven's shaved head mean for the character?
For those who might be a little confused as to why Stranger Things Season 4 featuring Eleven with a shaved head is such a big deal, allow us to refresh your memory. In Stranger Things Season 1, Mike, Dustin, and Lucas stumbled upon a tiny Eleven in the forest during a storm. Eleven, played by Millie Bobby Brown, sported a giant, oversized t-shirt and a shaved head. We later learn that evil Dr. Brenner (Matthew Modine) shaved her hair off in order to conduct experiments using Eleven's telekinesis in his secret government lab.
Since her escape, Eleven has worked at growing her hair out. We can't blame her. The child just wants a normal life in the '80s. (Don't we all?) Therein lies the reason why Stranger Things Season 4 showing Eleven with shorn hair is so significant.
Eleven would never shave her head on her own accord. This means that at some point in Stranger Things Season 4, Eleven gets captured by Dr. Brenner once again so he can conduct experiments on her.
We know Dr. Brenner appears in 'Stranger Things' Season 4
One of the early teaser trailers released for Stranger Things Season 4 featured Dr. Brenner's voice from season 1. Fans heard the words, "Eleven, are you listening?" as the camera panned through Hawkins National Laboratory. Plenty of viewers took note of Brenner's flared pants, hinting that this scene occurred in the past when Eleven was very young.
However, hardcore fans eventually put together that Brenner will also appear in the present day in Stranger Things Season 4. The poster for Eleven in the upcoming season shows her walking through a destroyed lab with a reflection of her younger self in a cracked mirror. Many believe this poster alludes to the Stranger Things Season 4 episode titled "The Massacre at Hawkins Lab."
Stranger Things Season 4 Part 1 premieres exclusively on Netflix on May 27, 2022.
RELATED: 'Stranger Things' Season 4 Will Finally Shed Light on Pennhurst Psychiatric Hospital