'Stranger Things' Season 4: Fans Are GaGa Over Eddie Munson – and Rightfully So
Stranger Things has a habit of introducing lovable characters. First, it was Steve Harrington, then Alexei and Robin, and Stranger Things Season 4 introduced Eddie Munson. Fans have been over the moon in love with Eddie since he appeared on the screen. Played by actor Joseph Quinn, fans can not get over the leather jacket, Dungeons & Dragons player, and hard rocker.
[WARNING: This article contains spoilers for Stranger Things 4 Volume I]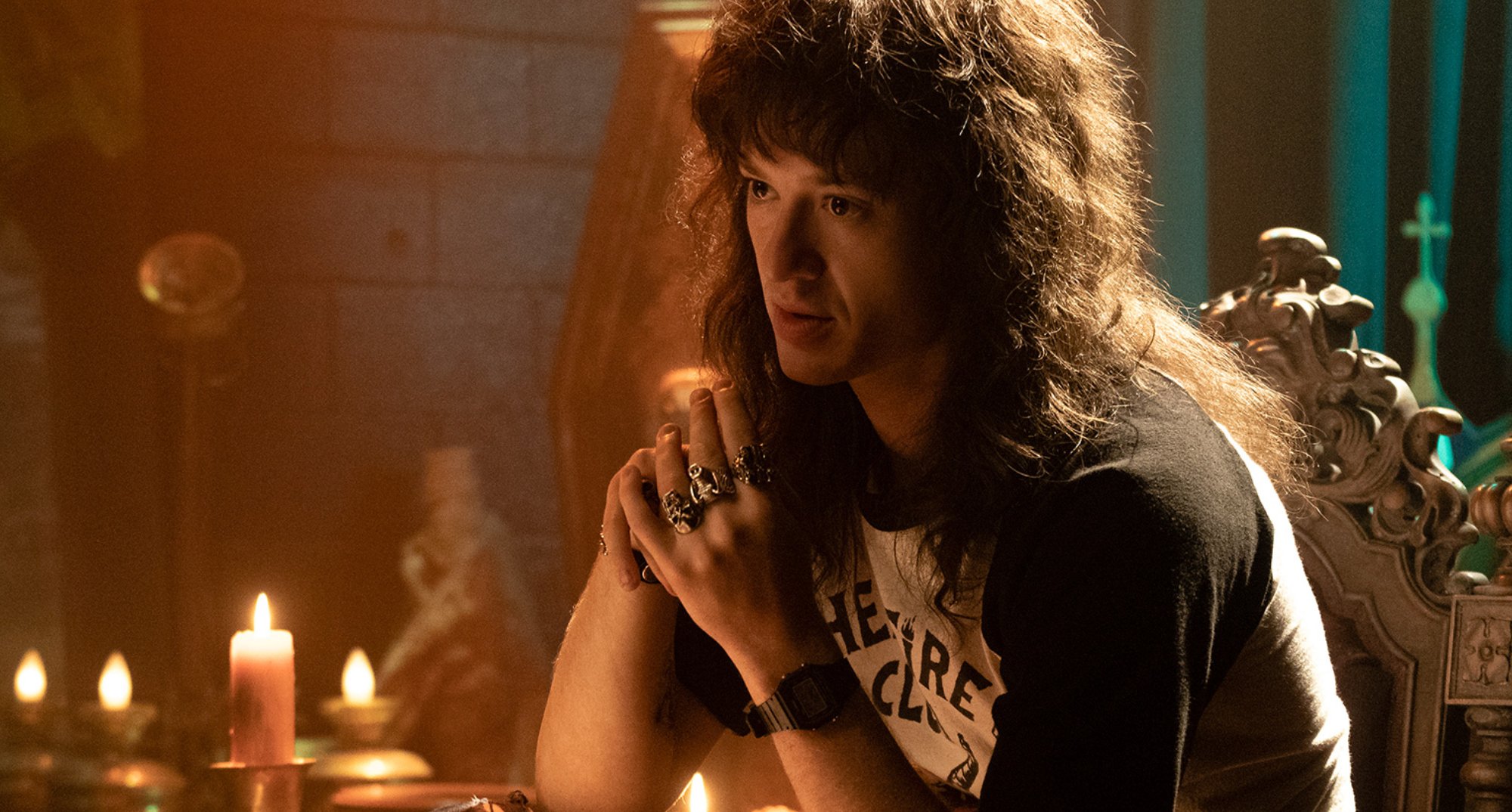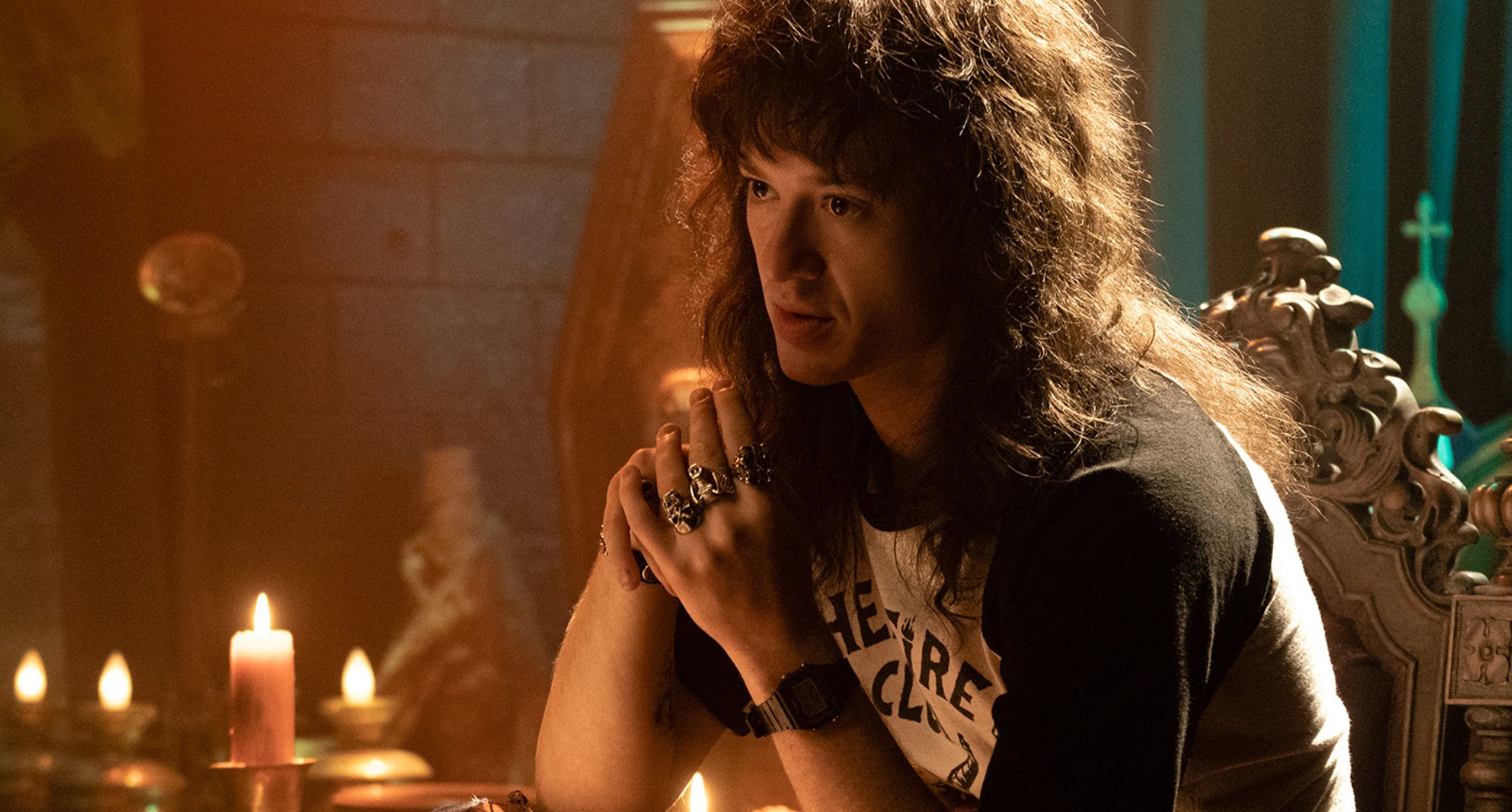 Eddie Munson is thrust into the bizarre mystery of Hawkins in 'Stranger Things' Season 4
When Mike and Dustin learn Lucas will not be joining the D&D game orchestrated by the Hellfire Club leader, they panic over having to tell Eddie. The character is somewhat of a bad boy but with charm and charisma. He is also a die-hard D&D fan and player. He is the one who introduces the infamous future villain, Vecna, while playing D&D.
Eddie's story becomes complicated when he witnesses Chrissy's horrific death in his trailer. Scared of what occurred and knowing his criminal record, Eddie flees and goes into hiding. But Dustin, Steve, Robin, and Mike realize Hawkins has a new bad guy and need Eddie to learn more details.
Stranger Things Season 4 Volume I thrust Eddie into Hawkins's drama and its supernatural mystery. Eddie has cemented himself as a worthwhile character, and fans worry might die. But beyond this, fans have gone gaga over his looks and overall charm.
Not all the attention is on Vecna, but Eddie Munson and his adorableness
RELATED: 'Stranger Things': Duffer Brothers Reveal the Reason for Eleven's Broken Speech
Fans on Twitter can not keep quiet about their newfound crush on Eddie. Between his smile, comedic tone, and overall rocker look, who would not fall for him? Not to mention his ability to accept the inexplicable and join the characters in saving the world.
"im so sorry but i literally could not care about anything and anyone else while watching stranger things bc im constantly worrying abt eddie munson's safety, that man is now everything to me," said one fan on Twitter. Another fan comically Tweeted, "men should apologise for not being eddie munson actually."
The comments about Eddie keep rolling in with official Netflix accounts saying, "not to be dramatic but i'd literally die for Eddie Munson," and a fan Tweeting, "stranger things knew exactly what they were doing with eddie munson."
Fans are locked into almost every aspect of Eddie in Stranger Things Season 4, from his envious hair to his dazzling smile. "when eddie munson smiles, a year is added to my life tbh," said one fan on Twitter. It is safe to say that Eddie stole fans' hearts for good.
What is next for Eddie in the second half of 'Stranger Things' Season 4?
RELATED: 'Stranger Things' Season 4: The Series Paid Homage to Freddy Krueger With Victor Creel and Small Easter Eggs
Joseph Quinn has previously expressed he hopes his character stays until the fifth season. But fans are slightly worried he is the lamb put out to slaughter for the greater good of the other characters. As fans know, Eddie and the characters are in the Upside Down, looking further into Vecna.
But previous trailer teasers have shown what is now confirmed to be Eddie having an epic guitar solo in Stranger Things Season 4 Volume II. Matt Ramos on Twitter commented, "This is Eddie playing a song in one of the final episodes of #StrangerThings4, and I just know this is going to be one of the hardest scenes in history."
Another fan responded by saying, "I literally cannot wait for the sight of Eddie Munson absolutely shredding guitar in the upside-down." Fans speculate the character will use music to distract the creatures of the Upside Down from the other characters.
RELATED: 'Stranger Things' Season 4: Joseph Quinn Felt 'Like a Sociopath' With American Accent