'Stranger Things' Season 4 is Offering Exclusive Content, But You Have to Go to Walmart to Get It
The showrunners behind Stranger Things Season 4 have remained pretty tight-lipped about the upcoming season of the Netflix smash hit, but now they're willing to give fans a sneak peek at some exclusive content. Just like with all things in life, there's a catch. You have to go to your local Walmart to get it. For those with a love for nostalgia and all things '80s, it will be a treat. Those who hate shopping at big box stores might find it to be more of a task. Here's what we know.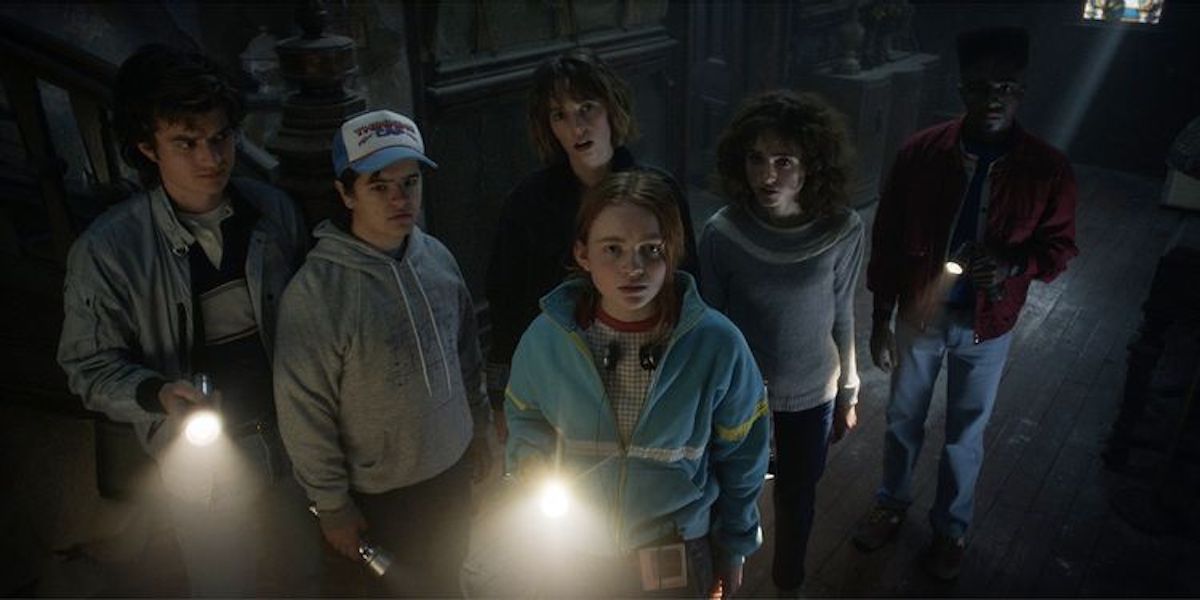 'Stranger Things' Season 4 is giving fans exclusive content through one particular piece of merch
We still have a few months to go before we can settle in to watch Stranger Things Season 4, but if you or someone you know is a fan of the show, we may have found the perfect Christmas gift. The series has teamed up with Walmart to sell a Crosley Cassette Player bundle just in time for the holidays. The set includes a blue cassette player and one cassette labeled "Top Secret, Do Not Share" on one side and "Off The Record" on the other. 
The description on Walmart's website reads, "Strange things are happening in Hawkins! Transport yourself there with this Walmart Exclusive Crosley Cassette Player bundle, including a cassette tape with a secret voicemail left by a mysterious figure from the upcoming season 4 of Stranger Things!"
RELATED: 'Stranger Things' Season 4 Might Be One Big Callback to '80s Horror
Who is the 'mysterious figure' the item's description is referring to?
We're not sure who the mysterious figure is, but there's a possibility it's Victor Creel. He's a new character this season, played by Robert Englund. In the most recent teaser trailer released at Netflix's global fan event, TUDUM, fans got a glimpse at the Creel family just as they moved to Hawkins. 
Creel allegedly murdered his entire family and is now living out his days in a psychiatric hospital for the gruesome murder. We're not so sure Creel is guilty, though. Could he have somehow gotten to a phone to leave the message on the tape? 
However, there's also a possibility it's Murray Bauman. Murray, played by comedian and actor Brett Gelman, was one of the people convinced the Russians had invaded Hawkins long before anyone else suspected it. Shortly after Stranger Things Season 3 ended, Murray left a message for Joyce Byers (Winona Ryder.) Fans could listen to by calling Murray's phone number. Fans spotted his phone number in one of the scenes, and the showrunners took advantage of it.
RELATED: 3 Theories About the Clocks in 'Stranger Things' Season 4 Teasers That Are Crazy Enough to Be True
The 'Stranger Things' Season 4 cassette player isn't just a cassette player
For those of you wondering what you're going to do with this outdated piece of technology once you've played the tape, don't worry. It's not just a cassette player. Other than the tape deck, it's Bluetooth accessible, has an AM/FM radio, and has a recording option. Plus, the radio comes with a few Stranger Things stickers to decorate the radio with. There's even a Hellfire Club sticker which fans know is the title of the first episode of season 4.
If someone in your life is a fan of the show, you can go ahead and preorder the cassette player now. However, it won't ship until November 19. In the meantime, you can look for more clues in the series by rewatching the first three seasons on Netflix.