'Stranger Things' Season 4 New Characters: Meet Eddie, Argyle, Yuri, and More
Stranger Things Season 4 finally arrives on Netflix in just a few days, and showrunners Matt and Ross Duffer promised fans the biggest season yet. With supersized episodes, multiple locations and plots, and a handful of Stranger Things Season 4 new characters, it almost feels like fans need to keep notes to keep everything straight. Don't worry, though. We've got you covered.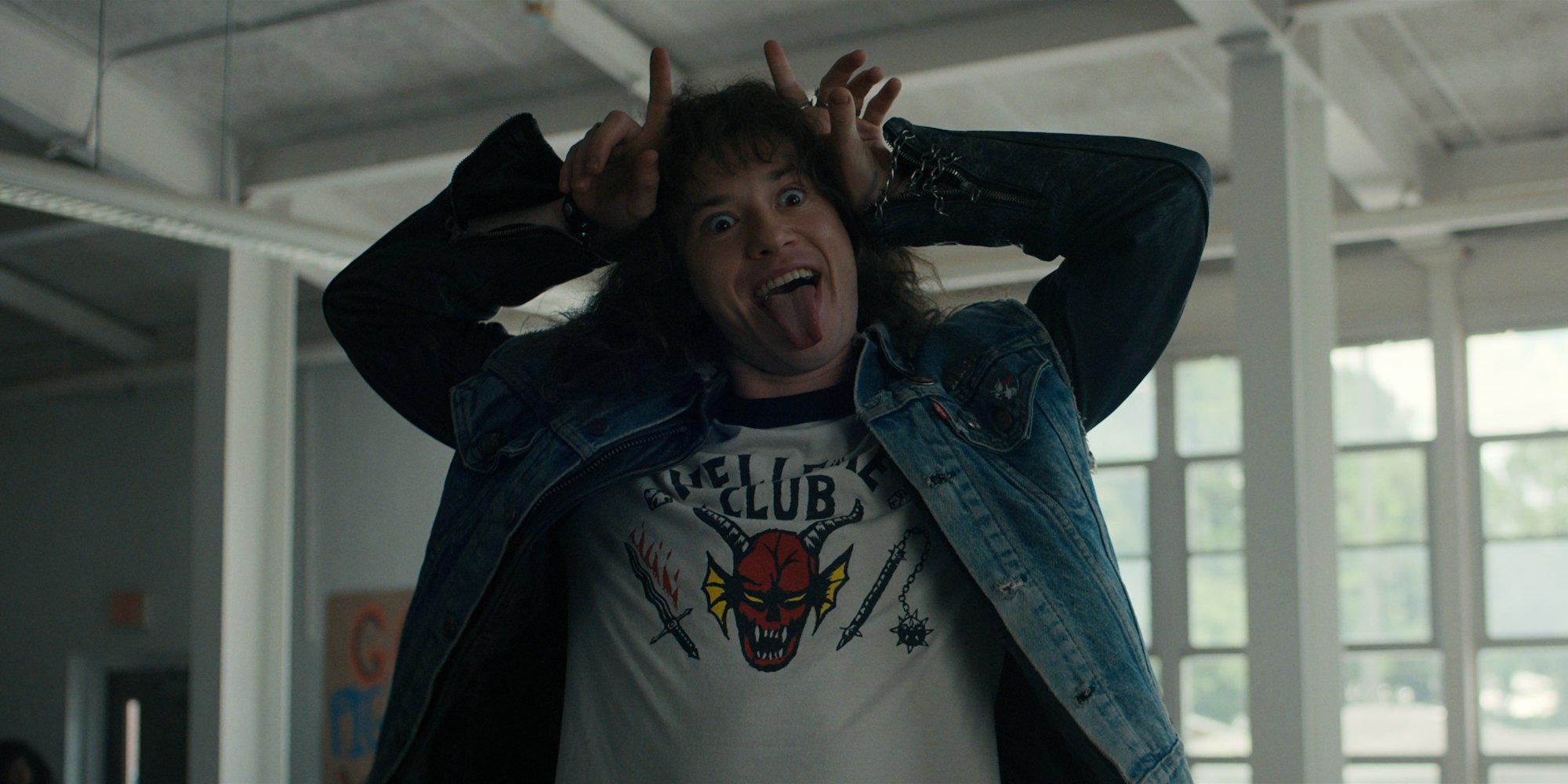 'Stranger Things' Season 4 new characters involved in the Hawkins storyline
Why not start where it all began? Up until this season, Stranger Things kept the action contained to the small town of Hawkins, Indiana. That's where the Upside Down opened up in season 1 and wreaked havoc on the Byers family. Viewers spend a lot of time in Hawkins in Stranger Things Season 4, which means fans meet some new characters there as well.
Chrissy, played by Grace Van Dien, is the captain of the Hawkins High School cheerleading squad. According to her character description, she's the most popular girl in school, but she has a dark secret she hides from her friends and family. Apparently, this cheerleader has some skeletons in her closet. One image from the Stranger Things  Season 4 full-length trailer shows Chrissy's eyes peering from behind Vecna's, this season's Big Bad, hand.
Eddie, played by Joseph Quinn, serves as the leader of the Hawkins High Dungeons and Dragons group called The Hellfire Club. Dustin and Mike befriended Eddie at some point in their freshman year. Eddie finds himself at the center of this season's mystery and relies on Dustin, Lucas, and the rest of the team's help. His style gives off "metalhead" vibes, but his charming nature quickly overrides any negative thoughts once people get to know him.
Stranger Things Season 4 also introduces us to a handful of high school jocks led by Jason Carver (Mason Dye). Jason dates Chrissy, and according to his character description, "when a new evil threatens Hawkins, his perfect world begins to unravel."
RELATED: 'Stranger Things' Season 4 Volume I Review: The Wait Was Worth It
We meet Argyle, Jake, and Angela in California
Out of all the new characters, Argyle (Eduardo Franco) might be the character fans might look forward to meeting the most. Argyle serves as Jonathan's best friend in California and has some pretty slick driving skills. When trouble follows the Byers and Eleven to California, Argyle gets wrapped up in the drama too. 
From the "Welcome to California" teaser trailer, we got glimpses of Eleven's life in California. While she put on a happy face for Mike, in reality, bullies target her regularly at school. Two of those bullies are Jake and Angela. Jake (Logan Allen) seems to fill the sidekick role, while Angela (Elodie Orkin) appears to be the queen bee of Will and Eleven's high school. Many believe Eleven finally gets her Carrie moment in Stranger Things Season 4, but fans have to wait until May 27 to find out.
The 'Stranger Things' Season 4 new characters include Yuri and Dmitri
With Hopper stuck in a Russian gulag, it's no surprise Stranger Things Season 4 introduces us to new characters in that plotline. One new character is Yuri (Nikola Djuricko,) "a seedy and unpredictable Russian smuggler who loves bad jokes, cold hard cash, and crunchy style peanut butter." Whether or not Yuri somehow ended up in prison along with Hopper is something fans need to wait to see.
Stranger Things Season 4 also gives us Dmitri, "a smart and charming Russian prison guard," played by Tom Wlaschiha. Hopper likely interacts with Dmitri during his time in Russia. Whether or not he can trust Dmitri is still up in the air.
Thankfully, fans only have a few more days to wait before they can meet all the Stranger Things Season 4 new characters for themselves.
RELATED: How Old Are the 'Stranger Things' Kids in Season 4?