'Stranger Things' Season 4: New Photos Hint at 'Horror Movie Vibe'
Get ready to be scared! The newest look at some photos from 'Stranger Things' Season 4 hint at the horrors to come for our favorite telekinetic kid and her friends.
Stranger Things Season 4 premieres in May, but showrunners have yet to release a full-length trailer, despite the impatience running through the fandom. Their promotional marketing has everyone scratching their heads as they release recaps of characters' situations. However, the show recently debuted new production stills from the upcoming season, hinting at a much scarier vibe.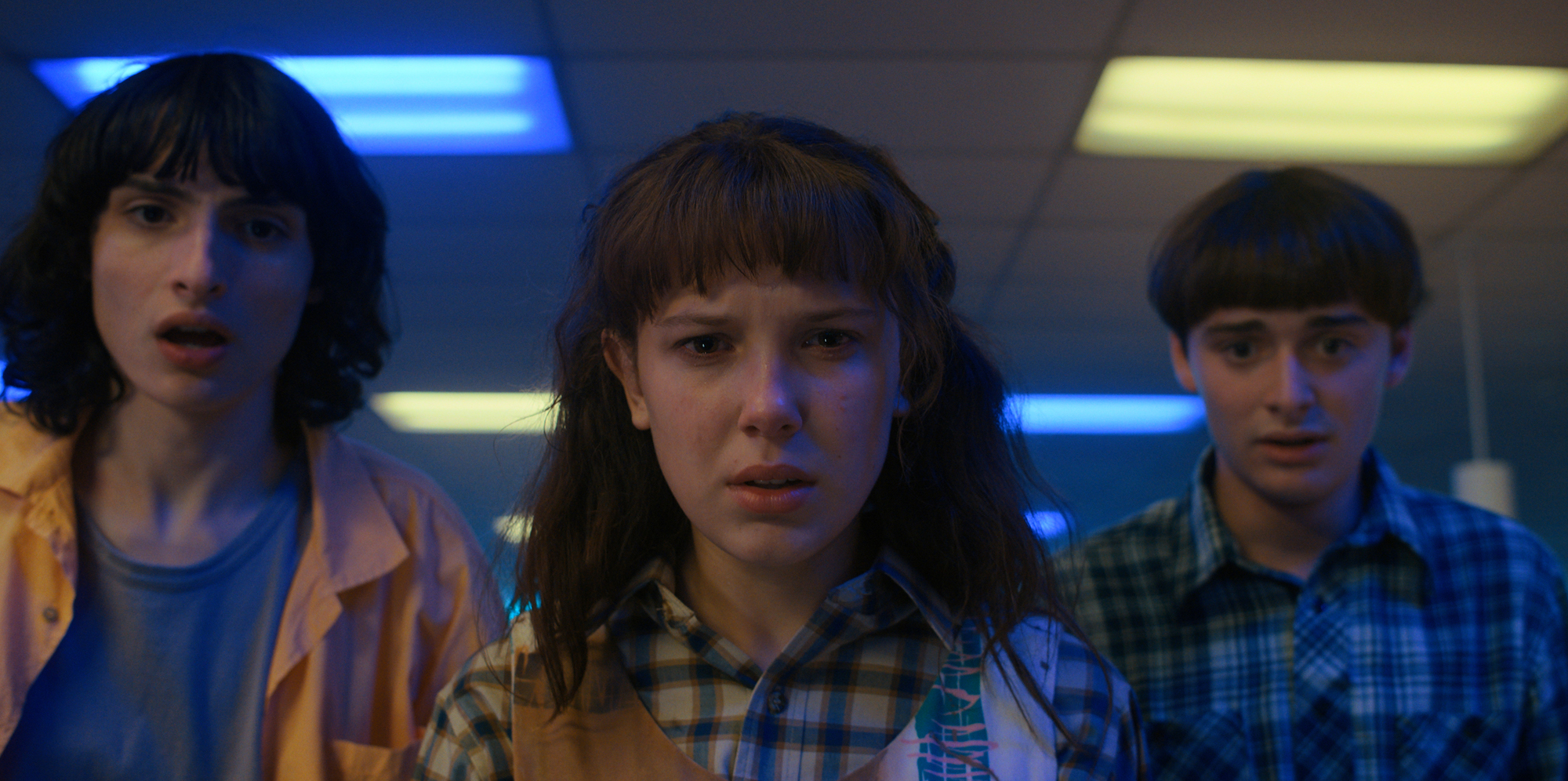 'Stranger Things' Season 4 takes place in several different locations
Up until now, Stranger Things has been set in one place and one place only – Hawkins, Indiana. The town has the misfortune of somehow acquiring a portal to an alternate universe known as the Upside Down. Monsters wreaked havoc on the residents of Hawkins, and when we last left the characters in Stranger Things Season 3, the new mall was decimated by a creature known as the Mind Flayer.
After those events, the Byers family, plus Eleven (Millie Bobby Brown,) moved across the country to Lenora Hills, California. We also know that part of Stranger Things Season 4 takes place in Russia and somewhere in the desert. Executive producer Shawn Levy hinted that the scope of season 4 would be massive, and the show plans to deliver.
Creepy haunted houses, Satanic Panic, and evil Russians play a part in season 4
When the Stranger Things Season 4 posters dropped on Feb. 17, the images showed fans a glimpse of some of the different locations. We know Victor Creel, a new character played by Robert Englund, is pivotal to the Creel House plot. Accused of murdering his wife and two children, Creel now lives in an insane asylum called Pennhurst. However, some clues revealed in August of 2021 hinted that Creel might be wrongly accused. 
The 1984 classic horror movie A Nightmare on Elm Street has been rumored as the inspiration behind some of Stranger Things Season 4, and cast members admitted that the newest season will elicit more scares than previous ones. 
Speaking on the podcast Present Company with Krista Smith, Ross Duffer, one of the series's creators, said, "When we pitched it to Netflix all those years ago, we pitched it as the kids are…The Goonies in E.T. That's their storyline. And the adults are in Jaws and Close Encounters and then the teens are in Nightmare on Elm Street or Halloween. But, this year, we don't have the kids. We can't do The Goonies anymore. And so, suddenly, we're leaning much harder into that horror movie territory that we love. It was fun to make that change."
The newest photos give off the horror movie vibes Duffer mentioned.
The Duffer Brothers say the fan theories for 'Stranger Things' Season 4 are 'startlingly accurate'
The Stranger Things fandom loves to speculate about the potential plots and storylines in the show before it premieres. With an almost three-year wait between seasons 3 and 4, the fans went into overdrive for Stranger Things Season 4 with their theories. However, they managed to hit the nail on the head with some of them.
Ross Duffer expects fans to be happy with the new season and went on to say that some of their theories were "startlingly accurate." Of course, he wouldn't say which ones. 
Duffer continued, "I'm constantly impressed with how sharp the fans are, and how quickly they're able to put something together with very, very little information." 
Stranger Things Season 4 Part 1 premieres on May 27, 2022.