'Stranger Things' Season 4 Posters Hint at Four Separate Plot Lines
'Stranger Things' Season 4 posters might give fans a glimpse into the four different plot lines of the upcoming season.
After what seems like the longest content drought ever, fans are finally getting Stranger Things Season 4 posters. On Feb. 16, 2022, Netflix tweeted out a cryptic message written upside down. Of course, any fan of the series knew it somehow related to the show, but what exactly the message meant was anyone's guess. However, the mystery's solved with the four official posters dropped today.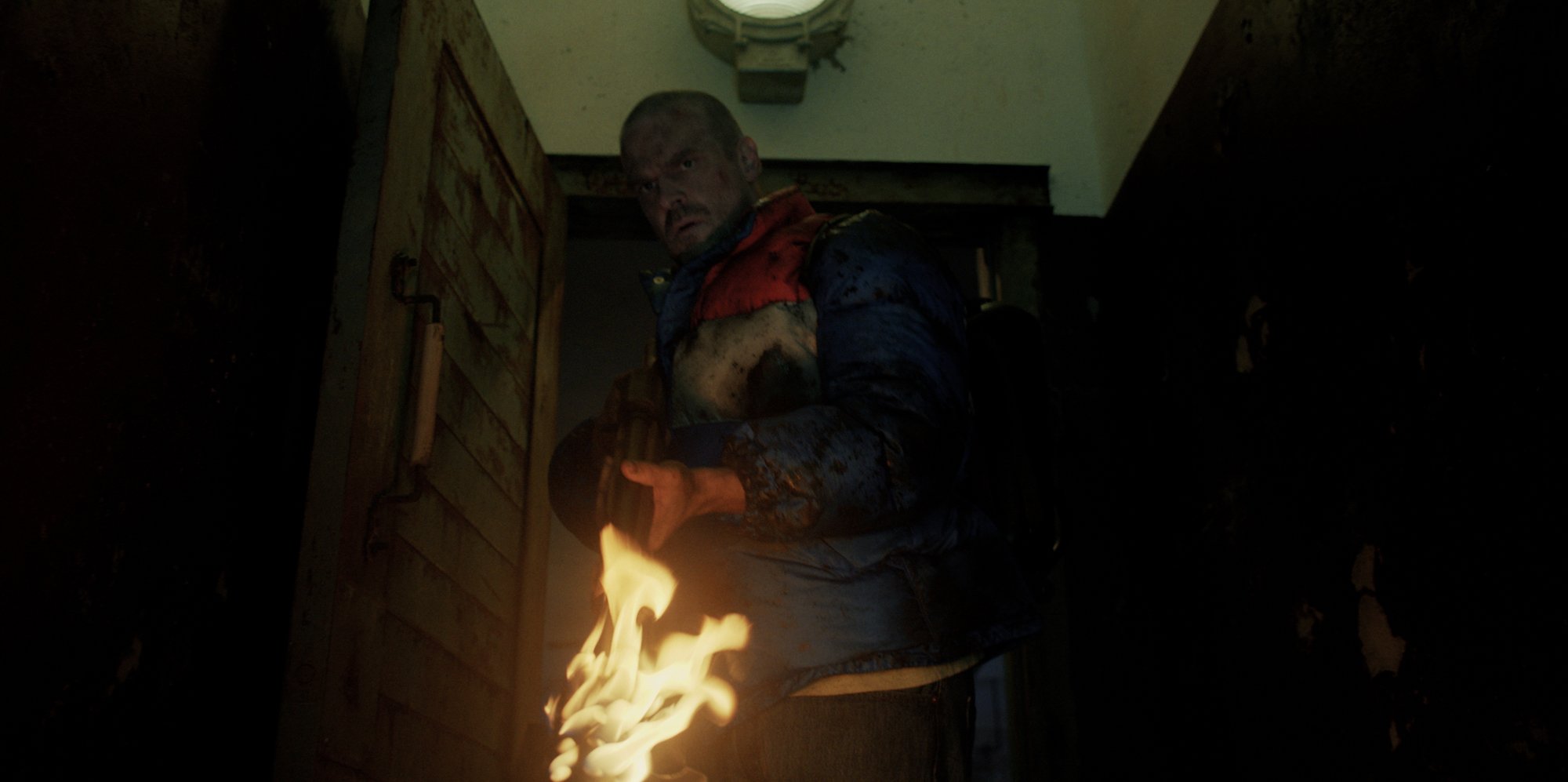 'Stranger Things' Season 4 poster 001 focuses on Hopper
When Stranger Things Season 3 ended, it seemed as though Hopper (David Harbour) died when closing the gate. However, a mid-credits scene heavily hinted that the beloved police chief survived. In February 2020, a teaser trailer showed Hopper alive and not-so-well in snowy Russia.
The Stranger Things Season 4 poster labeled 001 singles out Hopper. He walks between Joyce Byers (Winona Ryder) and Murray Bauman (Brett Gelman) in what looks like a Russian prison. He sports a shaved head, as viewers saw in a previous teaser. In front of him, a bright red area glows on the ground that looks suspiciously like a gate to the Upside Down. 
Poster 002 shows Eleven at Hawkins National Laboratory
We know one of the Stranger Things Season 4 episode titles is "The Massacre at Hawkins Lab." The Stranger Things Season 4 poster 002 shows someone (presumably Eleven, played by Millie Bobby Brown) walking through the halls of a destroyed lab. Zoom in closer on the photo, and a broken mirror shows the reflection of Eleven as a young girl wearing a hospital gown with a shaved head like fans saw in Stranger Things Season 1. 
The villain hinted at for Stranger Things Season 4 is complicated. Based on a Dungeons and Dragons character, Vecna might have the ability to create imaginary worlds. This might explain why we see an older Eleven walking through the halls with a younger reflection of herself in a broken mirror.
The third poster released gives fans a glimpse into the Creel House
In the upcoming season, Robert England plays a new character, Victor Creel. His house is the focal point of Stranger Things Season 4 poster 003. We've seen in previous teasers that Steve, Dustin, Max, Lucas, and Robin explore the house long after anyone lives there. The poster features these five, plus Nancy and Erica.
Accused of murdering his family, Victor Creel now lives in a psychiatric ward. However, the Stranger Things Twitter account showed microfiche newspaper headlines mentioning a vengeful demon. This led several to believe maybe Creel wasn't behind the murder of his family after all.
'Stranger Things' Season 4 poster 004 zeroes in on the characters in California
From the beginning, the Duffer Brothers pointed out that Stranger Things Season 4 spans multiple locations outside of Hawkins. The Stranger Things Season 4 poster 004 shows Jonathan, Will, Mike, and new character Argyle. The four boys walk down the street toward a similar glowing area on the ground that looks like a gate to the Upside Down. All four posters feature a luminous red area like this. 
The final poster released on Feb. 17, 2022, announced the release dates for the upcoming season
Many fans worry about the Duffer Brothers' plan to connect all of the plots with everyone so spread out this season. The final poster showed each group in different sections walking toward yet another bright red spot on the ground. 
The Duffers confirmed that the series would end with five seasons total, which means Stranger Things Season 4 looks to set everything up for the final showdown. Initially, rumors spread that production would film seasons 4 and 5 back to back, but that didn't happen after all. Stranger Things Season 4 Volume 1 arrives on May 27, 2022.