'Stranger Things' Season 4 to Be 'Twice as Long as Season 3,' According to Netflix
Fans are getting a super sized dose of 'Stranger Things' Season 4. The creators behind the show announced the upcoming season would be 'twice as long' as season 3.
After what feels like months of no new information regarding Stranger Things Season 4, Netflix dropped four new posters and announced an official release date for the series. The coronavirus (COVID-19) pandemic delayed filming of the show, and more than two years have passed since fans watched season 3. Desperate for any content, fans became frustrated with the lack of news, but now it seems as though Ross and Matt Duffer, creators of the show, are making up for the wait in a big way.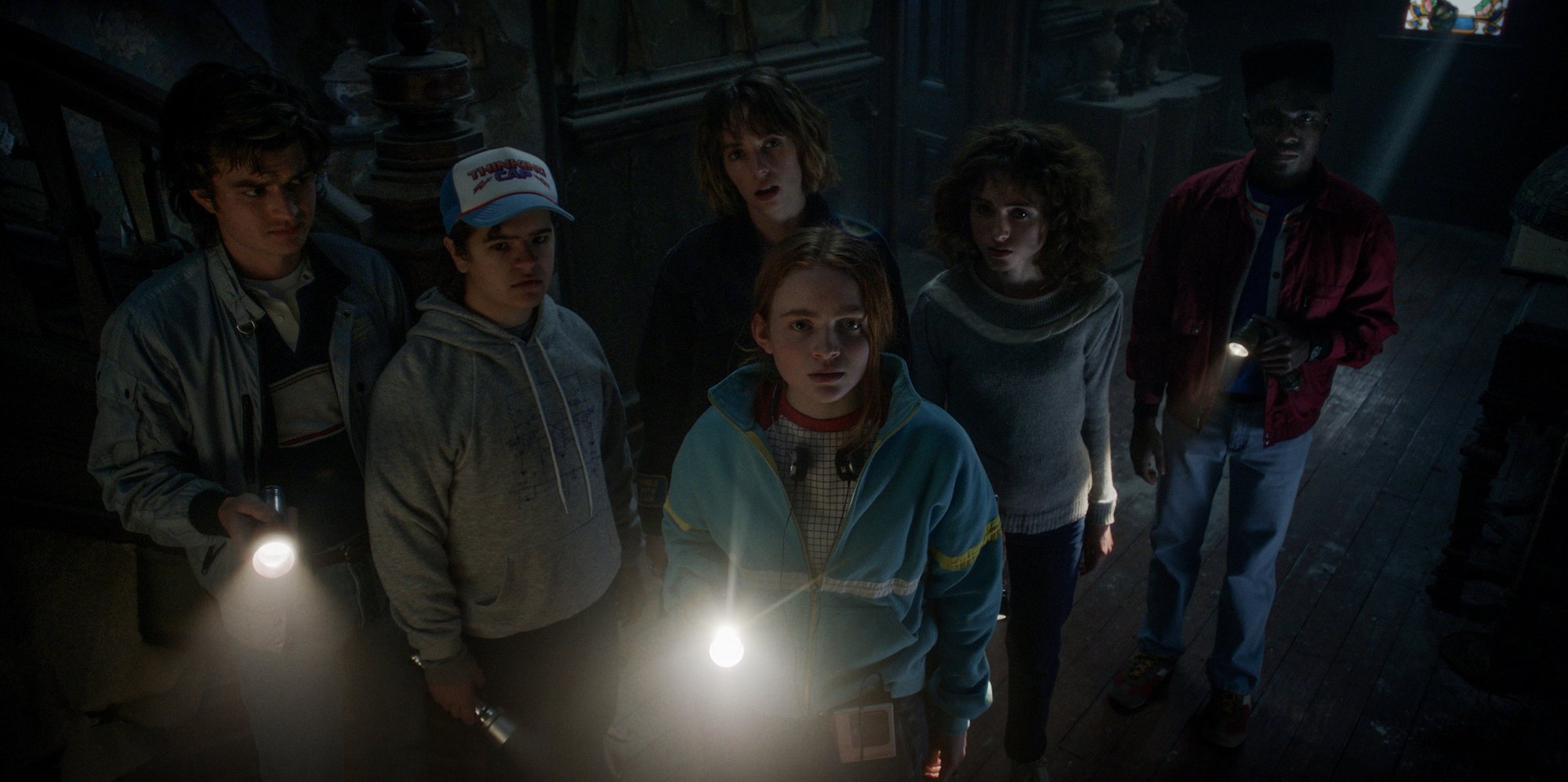 'Stranger Things' Season 4 shows the kids navigating the perils of high school and the Upside Down
Nothing comes easy in the lives of the kids from Hawkins, Indiana. When we last left the group in Stranger Things Season 3, the Byers and Eleven moved away while Mike, Lucas, and the rest of the crew were left to pick up the pieces. With no Chief Hopper around for that bit of added protection, everyone's situation looked incredibly bleak.
However, in a synopsis released by Netflix, Stranger Things Season 4 focuses on the fractured group of friends as they move on to high school in different locations.
The synopsis reads, "It's been six months since the Battle of Starcourt, which brought terror and destruction to Hawkins. Struggling with the aftermath, our group of friends are separated for the first time – and navigating the complexities of high school hasn't made things any easier. In this most vulnerable time, a new and horrifying supernatural threat surfaces, presenting a gruesome mystery that, if solved, might finally put an end to the horrors of the Upside Down." 
Netflix says 'Stranger Things' Season 4 will be 'twice as long as season 3'
One of the worries about the span of Stranger Things Season 4, aside from the actors' ages, was how the creators would fit such a large story into one season. Multiple filming locations and the length of time between filming and the release teased a much bigger season than the first three. However, Netflix and the Duffers tackled that problem as well. 
Netflix tweeted, "Not only is Stranger Things 4 going to be the most intense season so far, but it's also going to be the biggest! Nearly every episode is super-sized — literally! That means Season 4 is 2x as long as Season 3!"
With only nine episodes just like Stranger Things Season 3, that means each episode could clock in at almost two hours each. 
The Duffer Brothers released a letter to fans regarding the upcoming season
Along with the four posters and the release date for Stranger Things Season 4 Volumes 1 and 2, the Duffer Brothers released a letter stating their reasoning behind splitting the season into two volumes.
"Hi nerds! Do you copy?
It's been a little while. With nine scripts, over eight hundred pages, almost two years of filming, thousands of visual effects shots, and a runtime nearly twice the length of any previous season, Stranger Things 4 was the most challenging season yet, but also the most rewarding one. Everyone involved is incredibly proud of the results, and we can't wait to share it with you.
Given the unprecedented length, and to get it to you as soon as possible. Season 4 will be released in two volumes. Volume One will release on May 27th; Volume Two will release five weeks later on July 1st.
So that's the good news. It's coming soon. And it's bigger than ever. 
It's also the beginning of the end.
Seven years ago, we planned out the complete story arc for Stranger Things. At the time, we predicted the story would last four to five seasons. It proved too large to tell in four, but — as
you'll soon see for yourselves – we are now hurtling toward our finale. Season 4 will be the penultimate season; season 5 will be the last.
There are still many more exciting stories to tell within the world of Stranger Things; new mysteries, new adventures, new unexpected heroes. But first, we hope that you stay with us as we finish this tale of a powerful girl named Eleven and her brave friends, of a broken police chief and a ferocious mom, of a small town called Hawkins and an alternate dimension known only as the Upside Down. As always, we are grateful for your patience and support.
Over and out. 
Matt and Ross"
Now, the only thing left to do is set your alarms for May 27, 2022. We're finally heading back to Hawkins … and Lenora Hills, California … and Russia …