'Stranger Things' Season 4 Volume 2: New Photos Reveal Eddie Munson Is Still Alive – for Now
There is not long until fans get the second half of the fourth season of Stranger Things. Like most die-hard fans, waiting is excruciating and can cause mind-dizzying insanity. To help ease fans' hunger for information, Netflix has released new photos of the main characters for the second half of the season. Fans can see that the lovable Eddie Munson is still alive, but how long will it last in Stranger Things Season 4 Volume 2.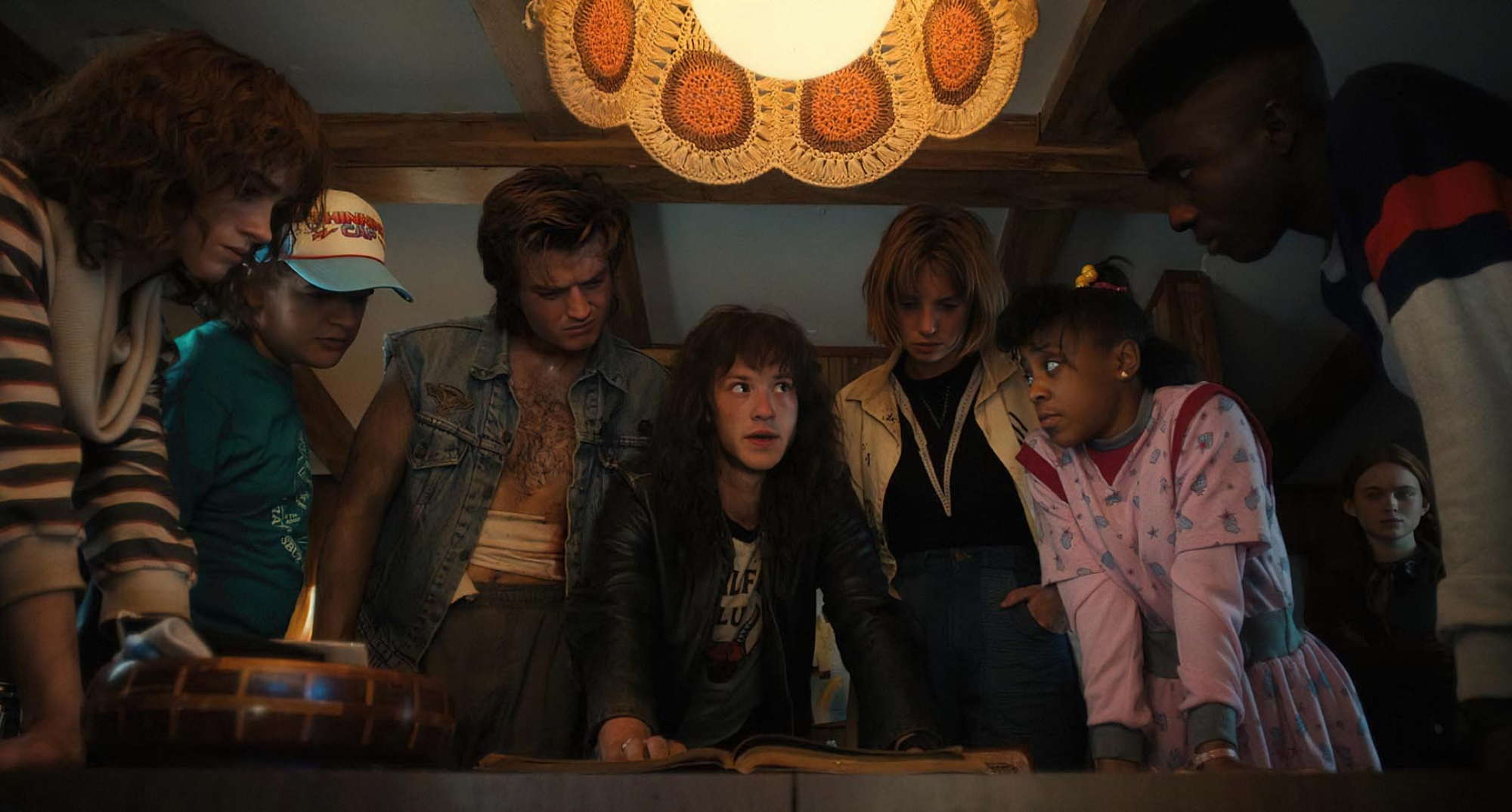 Eddie Munson joins the gang in helping save Hawkins from Vecna and the Upside Down
New fan-favorite character Eddie has become everyone's latest heartthrob. From delinquent metalhead, part-time drug dealer, and D&D player to help save the world, Eddie has proven himself of value. By the end of the first half of the fourth season, Eddie is in the Upside Down with Steve, Robin, and Nancy.
They have faced the dangerous creatures of the Upside Down and found a way to communicate with Dustin and the others. In the finale, Dustin and the others go to Eddie's camper and learn it is an exit to and from the Upside Down. The last fans see of Eddie is him falling onto his questionably stained mattress.
Theories and speculations have circulated since the finale of Eddie's fate in Stranger Things Season 4 Volume 2. The Duffer brothers have previously warned that every character is in jeopardy, but what about Eddie?
New photos show Eddie helping hatch a plan against Vecna in 'Stranger Things' Season 4 Volume 2
RELATED: 'Stranger Things' Season 4: How 29-Year-Old Joseph Quinn Made Himself Look Younger for Eddie Munson
Entertainment Weekly has released new photos for the second half of the season to keep fans enthralled until premiere time. Fans again swoon over Eddie in two brand new photos of the character. In one photo, Eddie is driving what s likely a large van and accompanied by Steve and Robin.
While Eddie shows off his dazzling and somewhat mischievous smile, Robin and Steve look at him with worry and unsure. Could Eddie be planning to do something extreme? The second photo has Eddie center stage among the characters in a house. The characters could have left Eddie's trailer to a more secure location.
Fans see Eddie strategizing a plan to deal with Vecna. Everyone is there, even Max, oddly placed farther back from the other characters. As the photos prove, Eddie is still alive, at least for the first few episodes of Stranger Things Season 4 Volume 2. From the teasers and snippets of what fans know so far, is Eddie still in danger of death?
Previous season teasers show Eddie and the characters returning to the Upside Down
RELATED: 'Stranger Things' Season 4: Joseph Quinn Listened to Thrash Metal – and 1 Album in Particular
Fans have had multiple theories of Eddie possibly dying by the end of Stranger Things Season 4 Volume 2. While Quinn hopes he can stay until the fifth season, fans think otherwise. Many have called out the series for the use of introducing lovable characters who becomes the "sacrificial lamb."
Eddie has a high chance of dying with how the season is going so far and the Duffer brothers teasing that no one is safe. In previous teasers, fans saw Eddie in an epic guitar solo in the Upside Down. Fans also see Eddie geared up alongside Dustin, fighting off monsters.
The new photos show the characters and Eddie back in Hawkins but will likely return to destroy Vecna once and for all. All the red herrings of Eddie's demise will likely occur in the second half.
Stranger Things Season 4 Volume 2 premieres on July 1, 2022,
RELATED: 'Stranger Things' Season 4: Joseph Quinn Worried the Duffer Brothers 'Made a Mistake' Casting Him